CHICAGO — Viral videos and infographics circulating on social media misrepresent a new Illinois law that will eliminate cash bail, legal experts and public policy advocates said.
The Pretrial Fairness Act will become law Jan. 1 and is part of a long-running campaign to address issues with cash bond, which advocates say leads people who have not been convicted of charges to remain in jail because they cannot afford the bail a judge assigned them.
The law is part of the SAFE-T Act, which Gov. JB Pritzker signed in 2021. It has already been partially implemented throughout the state. 
Here's the key: The law does not mean judges cannot keep people in jail.
The law eliminates cash bail as a standard, but a judge still can detain someone depending on the criminal charges, or if they think a person poses a danger to the community or may flee.
A post earlier this month from WFCN News — a small, conservative outlet in Southern Illinois, according to WGN — wrongly claims the law will create "non-detainable offenses" such as aggravated battery or driving under the influence, arson, second-degree murder and kidnapping.
Citing that incorrect information, others posted incorrect information on TikTok and other social media, generating thousands of views and comments. Some labeled the act the "Purge Law," equating it with the 2013 horror film in which all crimes, including murder, are legal for a 12-hour period. In some of the videos, users incorrectly argue people suspected of crimes will be released from jail en masse once the law goes into effect.
Republican gubernatorial candidate Darren Bailey, who has repeatedly called Chicago a "hellhole," seized on the issue, saying at a West Loop news conference that "Chicago is living the purge." Bailey has an apartment in the John Hancock Center, according to the Sun-Times.
Legal experts involved with the writing and implementation of the law said the false claims going viral are a scare tactic.
"There is no automatic extinguishing of court orders through legislative actions," said Sharlyn Grace, a senior policy advisor with the Cook County Public Defender Office. "No one [who wrote the law] has ever suggested that on Jan. 1, lawful court orders evaporate and jail doors just open."
Grace said the law would trigger rigorous detention hearings that involve a judge deciding whether a defendant should be detained before trial.
"What will happen, and what will always happen, is that the court will take steps to address previous orders if they have determined that the law has changed," Grace said.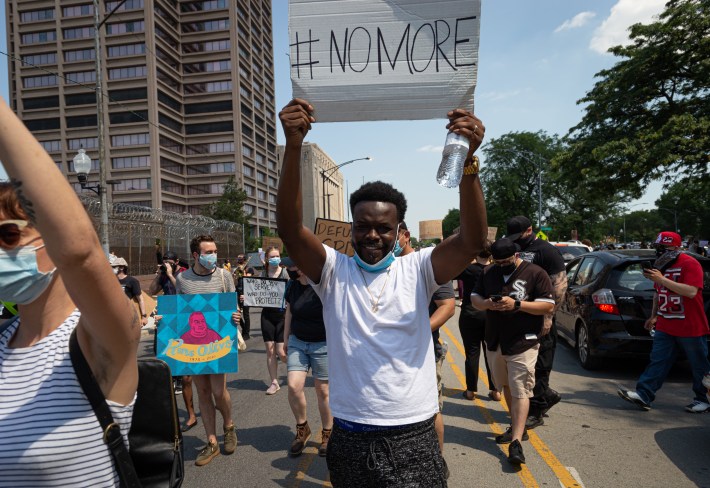 Legal experts also debunked a misleading infographic and speech often referenced in the clips from the suburban Orland Park mayor that lists aggravated battery, kidnapping and arson among a number of "non-detainable" offenses.  
While it is true that the law includes a list of offenses under which judges can no longer detain a person pre-trial because they pose a safety threat, people charged with the offenses the videos label as "non-detainable," as well as any Class III felony and above, can be held for other reasons, including because they are a flight risk, Grace said.
A "flight risk" is broadly defined as anyone who is planning to evade prosecution by concealment, Grace said. She also said that almost any offense committed with a gun will likely have a separate gun possession charge, for which a judge can detain someone. 
"There are several pathways to, when someone who is accused of a charge and presumed innocent, [they] can be denied release and end up in jail awaiting trial," Grace said. "Those [videos and graphics] are taking one pathway, and they're acting like it's the only pathway."
READ MORE:

The TRIIBE: How A 'Purge' Law Misinformation Campaign Could Undercut Landmark Criminal Justice Reform

Injustice Watch: There's No 'Purge Law': Debunking Right-Wing Propaganda About The SAFE-T Act
Alexa Van Brunt, a Northwestern Law professor and director of the MacArthur Justice Center, said kidnapping — a charge many of the videos and infographics touch on — is a rare charge. The much more common charge of aggravated kidnapping, or kidnapping with the use or threat of a weapon, remains a detainable offense, she said.
Grace and Van Brunt said the purpose of the law is to ensure access to money no longer determines whether someone is jailed while awaiting trial. They pointed to studies by Loyola University that showed similar laws in Washington, D.C., and elsewhere did not lead to any measurable effect on violent crime, as well as a study by the JFA Institute that showed bond reforms led to a decrease in people rearrested on charges of violent offenses. They said only 3 percent of people released in the study period had a new allegation of criminal violence. 
"The narrative [of the 'Purge Law'] comes from the intentional political manipulation to try to stoke fear about people being released, and it's just very confusing for me to figure out what people in that position want," Grace said. "They are arguing to retain a system in which people are able to pay money bonds and get out of jail, but they are saying that they need that system — which facilitates release — to keep people in jail."
Grace said a 34-person commission advised legislators on the law. It included 23 members of the public safety or legal community, including prosecutors, sheriffs and judges. 
Van Brunt said the purpose of the reforms is to put the burden on the prosecution to show good reason for why a defendant should be detained pre-trial, although the decision remains with judges on a case-by-case basis.
"If someone's going to be detained, it should not be because they don't have cash," Van Brunt said. "It should be because there's been a showing by clear and convincing evidence by the prosecutor that there's an identifiable public safety threat or the person is a flight risk."
In the months before the law takes effect, advocates have been busy arranging social services to support people who are released and provide them resources to keep them out of jail pending trial.
Lawndale Christian Legal Center and the Bail Project launched the Community Release with Support project in December 2021. The pilot offered drug addiction treatment, housing programs, job readiness, mental health services and violence prevention programs.
This year, the groups expanded on that effort to add housing services.
Partnering with the Chicago Low-Income Housing Trust Fund, the groups will offer safe and stable rental units to low-income people released from Cook County Jail who are awaiting trial. Participants will pay no more than 30 percent of their income on rent, and the Chicago Low-Income Housing Trust Fund partners with landlords to pay the rest.
Van Brunt and Grace said they're frustrated by misinformation spreading on social media, and the law should not be framed as a public safety issue. 
"This is a well-funded and coordinated misinformation campaign. It is designed to make people afraid," Grace said. "The reforms in the Pretrial Fairness Act are safe."
Watch our "On The Block" TV show on The U, CW26 and MeTV.
Listen to "It's All Good: A Block Club Chicago Podcast":