MCKINLEY PARK — A Southwest Side alderman is stepping down from City Council, but he's endorsing his former chief of staff to succeed him.
Anabel Abarca, a real estate attorney, announced her candidacy Tuesday for 12th Ward alderman. If elected, she'd replace Ald. George Cardenas, who is not seeking reelection to the seat.
The 12th Ward, which covers most of McKinley Park and Brighton Park, will have a new alderperson no matter what: Cardenas won his primary bid for the Cook County Board of Review. No Republican has joined the ballot, meaning Cardenas is likely running unopposed in November.
A spokesperson for Cardenas confirmed the alderman will step down from City Council in November. He was first elected in 2003 and Abarca is the first to announce her candidacy to replace him.
RELATED: Ald. George Cardenas Wins Cook County Board Of Review Seat, Will Leave City Council By The End Of The Year
Abarca said her parents immigrated to Chicago from Mexico in search of a dream nearly 40 years ago.
"They knew the promise held by this country and came to the greatest city, Chicago, to forge a life for themselves. Like many before, they hoped to play a small part in building a better Chicago. I hope to build upon that dream in building a better 12th Ward," she said.
In a joint press release, Cardenas said Abarca "has been a voice and leader in the ward for the past 10 years."
"I am confident that Anabel has the leadership skills, government experience, and vision to succeed me as alderwoman of the 12th Ward. Anabel will be a strong advocate for public safety, equitable development and infrastructure, and a leader in environmental justice issues," the alderman said.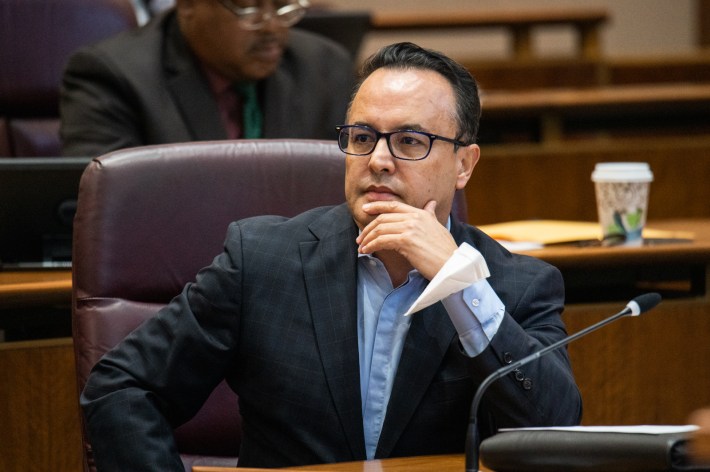 As someone whose Mexican immigrant parents raised her on the North Side, Abarca's intimately familiar with the struggles of first-generation families, whether it's navigating complicated city services or seeking help in Spanish, she said. She wants to be in a position to help others navigate local government, she said.
"The families in Brighton Park and McKinley Park remind me of my own: hard working abuelos y abuelas taking care of grandchildren, mom and dads working night shifts to provide, and first-generation kids being translators for their families," Abarca said in a statement. "Like many of the residents, my parents sent me to Chicago Public Schools. Also like many of the residents, I took out student loans and had to work while going to school full-time."
Abarca told Block Club her experience dealing with constituent services while she was the head staffer for the 12th Ward from 2012-2016 would help her if she were elected alderperson. During Abarca's time as chief of staff, Cardenas headed the city's Committee on Environmental Protection and Energy and was chair of the Chicago Latino Caucus and the mayor's deputy floor leader, which gave Abarca a window into the city's legislative process, she said.
Abarca also said being an attorney would give her a unique perspective in City Council.
Dealing with issues around public safety, business corridor development, proper school staffing and environmental and resident health would be some of Abarca's top priorities if she's elected to the office, she said.
Abarca graduated from Taft High School and DePaul University and received a master's degree from Arizona State University in public administration. Most recently, she graduated from Loyola University Chicago's School of Law.
Before Abarca was Cardenas' chief of staff, she was a congressional aide to Rep. Mike Quigley and worked on the 2011 congressional campaign for Tammy Duckworth.
Abarca has served on the board for nonprofits such as Latinos Progresando, McKinley Park Development Council and the El Valor Associate Board.
Abarca lives in McKinley Park with her two dogs.
Listen to "It's All Good: A Block Club Chicago Podcast":