CHICAGO — Ald. Howard Brookins Jr. (21st) will retire after almost 20 years serving parts of Auburn Gresham and Washington Heights.
The 21st Ward alderman will finish out his term, but he does not plan to run for reelection in February, according to a news release. He was first elected in 2003.
Brookins, 58, is one of the longest sitting City Council members and wants to "hand the reins over to a new generation of leadership," according to his office. His father, Howard B. Brookins Sr., was a seasoned legislator who served in the state House and Senate.
"For the 19 years that I have served alderman of the 21st ward, I have walked in the footsteps of my father, and I took pride in modeling servant leadership for our beautiful communities," Brookins said in a statement. "I am thankful for having the trust of my community as we worked together to provide greater economic opportunity and prosperity for our people."
The announcement comes less than a month after Ayana Clark, a staffer to Rep. Bobby Rush, said she would challenge Brookins for his council seat. At the time, Brookins said he would run for reelection.
But Brookins will instead join a long list of aldermen who are resigning, not running for reelection or pursuing another office. Notably, he ran for one of 10 countywide seats on the Cook County Circuit Court in the June primary election, a bid he ultimately lost.
RELATED: Ayana Clark, Rep. Bobby Rush's Staffer, Running To Unseat Longtime 21st Ward Ald. Howard Brookins Jr.
As alderman, Brookins once chaired the Chicago City Council Black Caucus, where he helped rename Lakeshore Drive after Jean Baptiste Point DuSable, one of Chicago's first non-Indigenous settlers, and advocated for reparations for victims of disgraced police commander Jon Burge, according to his news release. As chair of the transportation committee, Brookins helped start the city's electric scooter program.
Brookins' time in the 21st Ward saw the opening of the area's first Starbucks, the expansion of affordable housing and opening of a charter school, according to his office. Recent years have seen the openings of Wild Blossom Mead and Winery and Cinema Chatham. The area's newest development is Buddy Bear Carwash at 201-357 W. 83rd St., a $5 million project which received approval to move forward last month.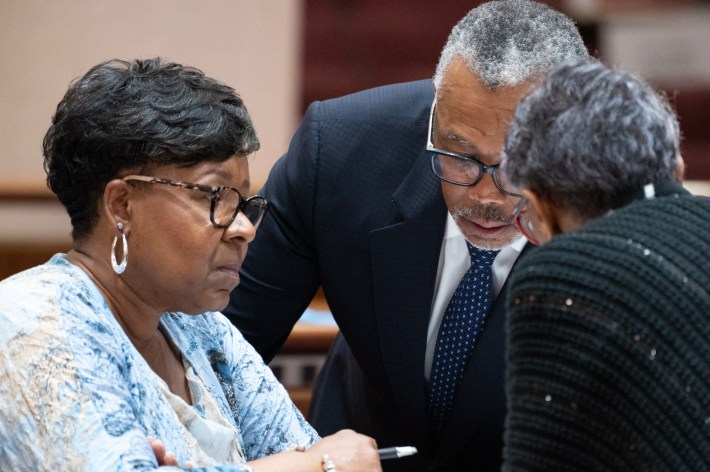 Brookins was a public defender and assistant state's attorney before joining City Council.
But his tenure has not been without scandal.
In 2017, Brookins was fined $5,000 by the Chicago Board of Ethics for failing to keep track of hours worked by four aides. His former chief of staff, Curtis Thompson Jr., was in 2015 sentenced to 15 months in prison on a bribery charge after accepting a bribe at the alderman's holiday party from an FBI mole, according to the Tribune.
RELATED: Here's A Full List Of City Council Seats Likely Up For Grabs In 2023
Brookins said last month he hopes to help run his family's funeral home business, alongside his sister, when he leaves office.
Brookins also plans to "remain politically active" as "guidance and counsel" to young people in the 21st Ward Young Democrats organization, he said in Wednesday's news release.
"I have faith in their leadership and history shows us that the Black movement works best when the new generation takes over at the right time," Brookins said in the news release. "I believe now is that time, at least for our community here in the 21st ward."
Listen to "It's All Good: A Block Club Chicago Podcast":