WEST TOWN — A vegan cafe and doughnut shop in West Town are rebranding under one name — while launching an incubator for plant-based food companies in the store.
Since 2013, Upton's Breakroom, 2054 W. Grand Ave., has been the public-facing cafe of Upton's Naturals, which produces meat alternatives sold in grocery stores around the United States.
The cafe sells all-vegan sandwiches, nachos, mac and cheese and other items. In 2020, Upton's launched its Liberation Donuts brand at the location, featuring about a dozen vegan doughnut flavors.
To streamline operations, Upton's is merging the two brands into one, calling it Liberation Kitchen.
Under the rebrand, Liberation Kitchen will continue to offer Upton's regular menu items, doughnuts, as well as an expanded dessert section.
The company is also launching a partnership program to rent out kitchen space to newer vegan food companies from Chicago.
The building that houses what is now Liberation on Grand Avenue was formerly Upton's retail production headquarters. But since the company moved to a larger facility on the West Side in 2017, much of the space has been "somewhat underutilized," Vice President Nicole Sopko said.
Sopko said the extra space will be rented to smaller brands that may not have regular access to a commercial kitchen. Upton's will also help the companies with business guidance and support while giving them the opportunity to sell their food at the cafe.
"Now we have the opportunity to share the benefit of our decade-plus of experience running a business with these companies that are coming in, so helping them figure out product labeling and back-end and sales taxes and all of these things that might not be a huge task individually on their own, but when you put it all together and it's all something that you've never done before, can be a lot," Sopko said.
The first company Liberation is working with is Snackie Chan, a vegan sushi brand. Vegan teriyaki rolls, sushi and other items will be available for purchase at Liberation for September.
Sopko said Upton's is looking at the next month as a pilot of sorts for the partnership program, and it will make adjustments accordingly. She said it's a mutually beneficial way to highlight independent brands in the competitive plant-based food industry.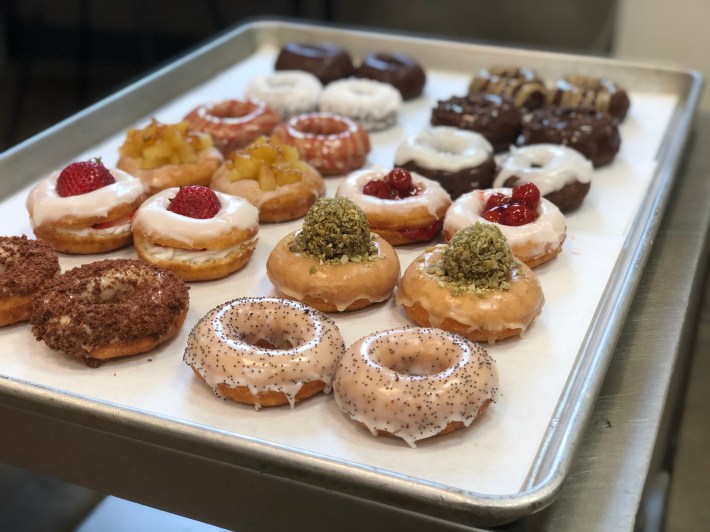 "To me, it's worth the extra time that it's taking to figure this out and to put these arrangements in place because, I mean, on the other side of it, maybe that'll really make a difference for this business and their ability to grow and their ability to reach more people. I think that that part is very cool," she said.
Liberation Kitchen is open 11 a.m.-7:30 p.m. daily and opens 9 a.m. Friday-Sunday for doughnuts.
Listen to "It's All Good: A Block Club Chicago Podcast":