GOLDEN GATE — A South Side bike advocacy group is pushing for better cycling infrastructure on the Far South Side.
Deloris Lucas, the founder of We Keep You Rollin' Bike and Wellness group, is fighting for better biking lanes in Golden Gate, one of Chicago's southernmost neighborhoods south of 130th Street, north of the Little Calumet River and west of the Bishop Ford Freeway.
Since 2015, Lucas' organization has held community bike rides and pop-up events and steadily built a robust network of bicyclists looking to highlight the need for better cycling protections on the Far South Side.
Recent deadly crashes with drivers and bicyclists have put a spotlight on bicyclist safety in Chicago — and Lucas hopes the Far South Side can get some of that attention.
Lucas also wants to help make bicycling a more viable option for people seeking to improve their quality of life, she said.
"We've got a big job to do to make the city safer, and I advocate mostly for the Far South Side because we're building from [nothing]: no bike lanes and no biking infrastructure in my immediate area," said Lucas, who lives in Golden Gate.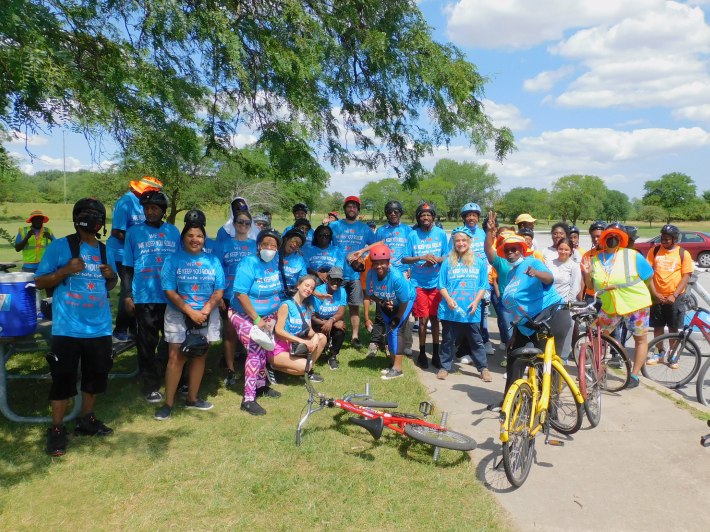 Lucas teaches bike safety tips and how to safely navigate busy streets like Indiana Avenue and the corridor from 130th to 138th streets. Bicycling on these and other local streets would be made easier and safer with bike lanes, she said.
The area also could benefit from barrier- and buffer-protected bike lanes, greenways, marked shared bike lanes, bike routes and off-street trails available in other parts of the city, Lucas said.
There are some protected bike lanes in nearby Roseland, Pullman and West Pullman, but Lucas would like to see that infrastructure implemented on a wider scale, she said.
Lucas has joined initiatives to try to make those safety features a reality, including the Riverdale Community Area Multimodal Transportation Plan, which was developed through a partnership between the city and the Chicago Metropolitan Agency for Planning. Lucas previously served on the steering committee for the plan, she said.
The plan includes recommendations for improving non-motorized access to transit services, recreation and job opportunities in Eden Green, Golden Gate and Riverdale, according to the Chicago Metropolitan Agency for Planning website.
Poor infrastructure has led to decreased walkability and bicycling opportunities in the area, according to the plan. Speeding drivers, near misses and high concentrations of crashes could also deter people from bicycling in the area,.
Even some streets marked as low-stress routes recorded high numbers of crashes involving pedestrians and bicyclists, according to the plan.
While Lucas has always been interested in bicycling, it wasn't until she moved from the North Side to the South Side and found biking to be less safe that she decided to become a safe biking advocate, she said.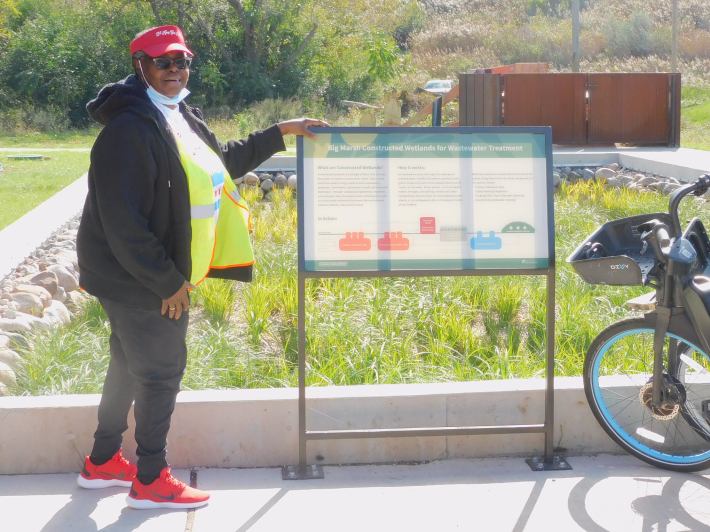 Now retired and occasionally working as a substitute teacher, Lucas has the time to dedicate to improve cycling conditions for her and other South Siders, she said.
"When I came back to the neighborhood, that's when the advocating really started to take off," Lucas said. "I noticed that the community lacked a lot of things that [I'd seen] up north that I didn't see in my community. Now I'm the homeowner here, so I'm really invested into making it better."
Some of the same infrastructure issues Lucas encountered when she first moved to Golden Gate have not been resolved, she said.
Lucas believes there are people in the community who are interested in cycling but don't because of fast traffic and "because we don't have bike lanes … . It's a hazard," she said.
Bike lanes near the proposed 130th Street station of the long-delayed Red Line extension will become necessary, as well, Lucas said.
"It's not the answer to everything," Lucas said. "People may have some other issues as to why they don't cycle. But it's a duty of mine to keep that topic going in the community, so … we can support getting those items that we need, that make us safer. We got to keep it going."
Listen to "It's All Good: A Block Club Chicago Podcast":