PORTAGE PARK — The husband-and-wife duo between Bistro 6050 are selling the snack shop and creperie — but it's not closing.
Bistro 6050 at 6050 W. Irving Park Road has spent five years serving a variety of housemade snacks, teas and ice creams inspired by cuisines from all over the world. Co-owner Chris Touwaide said he and his wife, Roselle Prisno, are now looking for someone to take it over.
Touwaide and Prisno want the new owner to maintain the shop's high quality of food and keep serving the community. The transfer of ownership includes the name of the shop, access to its customer base and all of the recipes created by Prisno, the couple said.
A month-long coaching session by Prisno will also be available to the new owner, she said.
"We hope that the person already knows about running a hospitality business, but the bottom line is to keep the recipes consistent," Touwaide said. "We don't want to disappoint the neighborhood. … That is part of our commitment to the neighborhood because we live here, too. We share our daily life with our customers."
Priso has prepared a "recipe bible" so whoever takes over the business can feel confident in the menu, she said.
"I streamlined all the recipes. … There are ways of making the recipes without being a chef," Prisno said. "As long as you are willing to work, you can do what I can do."
The business is on the market for $293,000 and could be expanded or franchised, according to the sale listing. The upstairs apartment where the owners live is also available under a separate contract.
Touwaide, who is from Belgium, is selling the business not because things have gone poorly since the pandemic — the business grew 20 percent in the past two and a half years — but because he misses Europe, he said.
Touwaide and his wife, who is from the Philippines, plan to move to Valencia, Spain, to "start the next episode of our lives," he said.
There, the couple is thinking about opening a crepe shop with flexible hours, possibly called Open Anytime, Prisno said with a laugh — but first, they hope to rest and enjoy the Spanish seaside.
"First of all, [we will] rest, recuperate … but knowing myself, I cannot sit without doing anything, so maybe I will set up another business," Touwaide said.
Touwaide and Prisno have lived in 12 countries. Their travels were the inspiration for Bistro 6050 and its global cuisine, Touwaide said.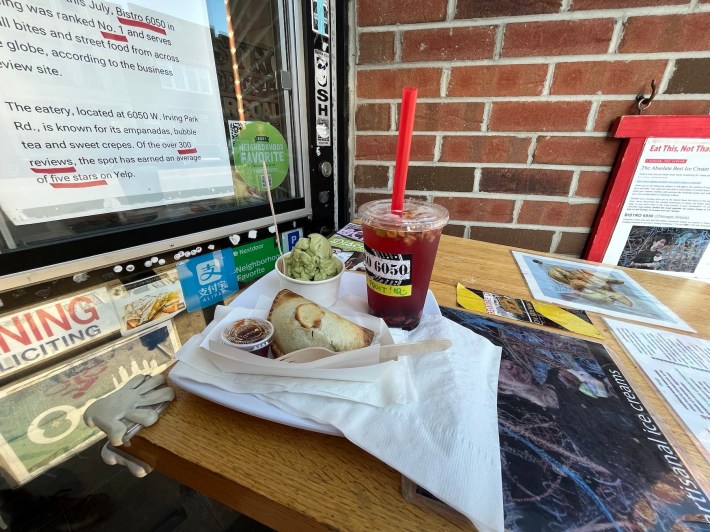 From Peruvian empanadas to Thai bubble tea and European desserts such as avocado ice cream, Bistro 6050 has been a favorite for Far Northwest Siders since it opened in 2017.
The spot has been named in several "Best Of" listicles by local publications. In 2020, Yelp reviewers named it the Best Takeout Restaurant in Illinois, and it's also been named one of the United States' best ice cream spots, according to Business Insider. Last month, the site listed Bistro 6050 as the top place to eat in Chicago.
Neighbor Yosie Lopez, who has lived around the corner from the shop for about 10 years, said it's sad the owners are selling the business, but she's happy they are not closing it.
"It's a weird feeling because I've known them since the beginning," Lopez said as she picked up her order at the shop's takeout window last week.
The owners want to make sure whoever takes the helm of their business will treat customers the same way they do: with neighborly respect, humor and attentiveness.
"I will do my best to make sure it's carried on the way we [do] it," Touwaide said.
The owners will miss the Portage Park community and chatting with its customers, they said.
Prisno, who didn't have a culinary background, began cooking for fun 10 years ago and realized she had a passion and skill for making high-quality food and drinks, she said.
"I didn't know I had this talent," she said.
There is no timeline for the sale, but interested buyers can contact the owners' real estate agent, Christopher Vargas, online or at 773-745-1000.
For now, it's business as usual — or, as Touwaide likes to say, "Bistro as usual."
Bistro 6050 is open 4-10:30 p.m. Monday-Thursday, 4-11 p.m. Fridays, noon-11 p.m. Saturdays and noon-10:30 p.m. Sundays.
Listen to "It's All Good: A Block Club Chicago Podcast":