WICKER PARK — A Wicker Park theater known for hosting comedy shows and plays is launching a weekly marketplace to highlight local artists, makers and performers.
The Den Marketplace is 10 a.m.-3 p.m. Sundays at the Den Theatre, 1331 N. Milwaukee Ave., which has called Wicker Park home since 2010.
The first market will take place Sunday with more than 30 artists and makers selling their wares, as well as a performance from local drag queen Bella Donna, live DJs, a brass band and more.
Ryan Martin, Den Theatre's founder and owner, said he was inspired to start the marketplace after hosting similar events over the past few years, like the Bazaar of the Occult and the winter location for the Wicker Park Farmers Market.
Martin also found inspiration while visiting similar events in New York City and across Chicago, he said.
"All those things kind of came together, and I was like, 'I can do this at the Den and I can do it at a time when it doesn't interfere with shows,' because we mainly operate during the evening," Martin said. "We have a huge ground-floor space with two bars and a great lobby area and … even our theater is conducive to setting up tables and vendors."
Initial vendors include a jewelry maker, clothing designer, bakers and various artists. Not every vendor will be at the market each week, Martin said.
Food will be available from local chefs, on top of brunch cocktails from the Den's bar.
Martin said he sees a link between his venue and the independent artists and craft makers it is now hosting. The Den Theatre started as a small single-theater venue in 2010 and has grown to include five performance spaces.
"The Den started on the second floor as this ragtag single theater and just managed to hang in there over the years and then grow," he said. "It's like all small business owners, just trying to live the dream, trying to make their thing a reality, whatever idea they have."
The Den Marketplace is accepting submissions for vendors and performances. The theater requires proof of vaccination against COVID-19 to attend the marketplace and all performances.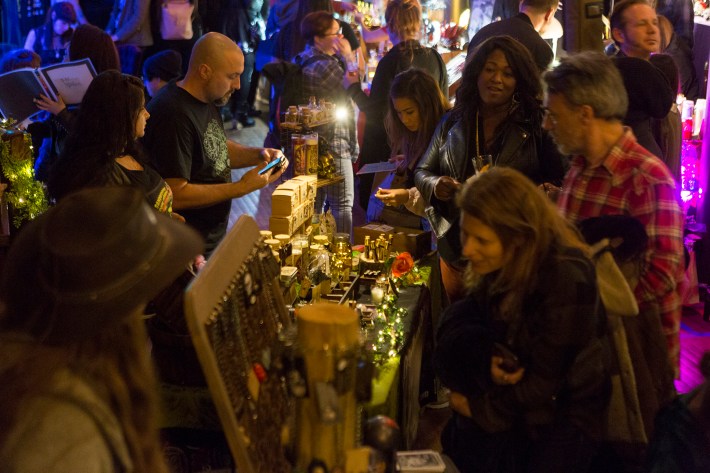 Listen to "It's All Good: A Block Club Chicago Podcast":