CHICAGO — Seven residents, five from the South and West sides, were appointed Monday to Chicago's first civilian police oversight board.
The interim commissioners have been long-awaited: The commission was created after City Council approved it in July 2021 after months of negotiations between Mayor Lori Lightfoot and aldermen to create a civilian-led police oversight agency. Officials spent the year since then picking the interim commissioners — who will be replaced via election next year.
The commission is meant to build trust between the Police Department and residents while helping reform the agency.
The seven interim commissioners were announced Monday by Lightfoot. They were nominated and advanced through an open application process where alderpeople recommended 14 candidates and Lightfoot picked seven, according to a news release.
Ald. Carlos Ramirez-Rosa (35th), speaking at a Tuesday morning news conference with the Empowering Communities for Public Safety Coalition, said he's excited about this milestone and encourages Chicagoans to step up and run for district council.
"People have marched, people have come to City Hall, people have emailed their legislators, people have called their legislators, we have had meetings with the mayor," Ramirez-Rosa said. "There has been so much work to get us to this point. And what's the reward for good work, hard work? Even more work."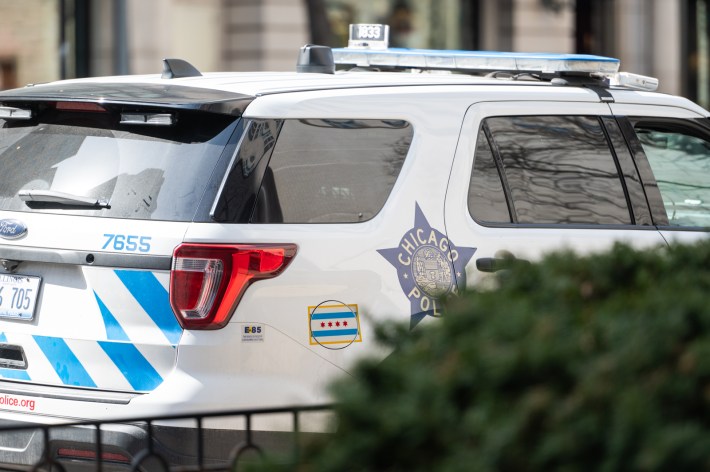 Lightfoot appointed attorney Adam Gross to serve as the commission's executive director in January.
Gross will lead the staff to carry out the daily work of the commission and serve as a liaison between the commission, the Mayor's Office, the Police Department, the Chicago Police Board and the Civilian Office of Police Accountability.
The seven interim commissioners will serve until the 2023 election of three-member councils for each of the city's 22 police districts.
Those three-member councils will convene local meetings and be charged with oversight and improving the level of trust between the community and the department. They will also nominate candidates for the citywide commission to be appointed by the mayor.
Jackie Baldwin, of the Jewish Council on Urban Affairs, said at Tuesday's news conference that now is the time to step up and create meaningful, long-term change. Baldwin encouraged listeners to vote for their district councils next year.
Arewa Karen Winters, founder of The 411 Movement, lost her teenage nephew in 2016 to police violence. She plans on running for district council, she said at the news conference
Karen Winters said she hopes to address the historical racism ingrained in the city's police department and "confront its overwhelming tendency to police Black and Brown communities."
The district councils "will afford us the chance to not only speak truth to power, but power to power," she said.
The interim commissioners:
Yvette Loizon is a South Side resident and partner at Clifford Law Offices. A former assistant state's attorney, she previously served as chief legal counsel to the Illinois State Police, where she was responsible for supporting public safety initiatives and ensuring law enforcement accountability, according to the Mayor's Office. She lives in Beverly and is a parent.
Anthony Driver Jr. is a South Side resident, community activist and public affairs specialist. He previously served as political and legislative coordinator for Service Employees International Union Healthcare IL, according to the Mayor's Office. He has been a lead organizer for the Raise Chicago Coalition, which advocated for raising the city's minimum wage to $15. Driver has a bachelor's degree in political science from Howard University.  
Oswaldo Gomez, of Humboldt Park, is a community organizer and one of two youth representatives on the commission. He is a master's student at the University of Chicago pursuing a degree in public policy, and he worked with the Grassroots Alliance for Police Accountability and Empowering Communities for Public Safety Coalition to create the civilian oversight commission. He hopes to encourage young people to engage with conversations on police reform, according to the Mayor's Office.
Cliff Nellis, a West Side resident, is founder and executive director of the Lawndale Christian Legal Center, which provides integrated legal and social services to court-involved youth. He holds a Master's of Divinity from Trinity Evangelical Divinity School. He earned his executive MBA from the University of Chicago Booth School of Business in 2022 to scale up the Lawndale Christian Legal Center's operations across Cook County, according to the Mayor's Office. Cliff lives in North Lawndale and is a parent.
Remel Terry is a West Side resident and community leader and advocate. She has dedicated her life work to the advancement of the Black community and its youth, working with groups such as the American Civil Liberties Union, Anti-Defamation League and Black Lives Matter on issues related to social justice, police misconduct and accountability, according to the Mayor's Office. Terry is the second vice president of the Chicago Westside NAACP and has partnered with grassroots organizations to address inequity in legislation and enforcement, economic advancement, education, American legal system reform, health, affordable housing and political action.   
Isaac Troncoso is a North Side resident and community advocate. He is an emerging adult representative on the commission and seeks to amplify young voices in the policymaking space. Troncoso has worked on Chicago-area political campaigns and with non-profits, according to the Mayor's Office.  
Rev. Dr. Beth Brown, a North Side resident, has been a Presbyterian Church pastor for 30 years and is at the Lincoln Park Presbyterian Church. She has worked on justice issues related to mental health, public safety, community organizing, civil rights and advocacy on behalf of marginalized populations. She has also advocated for LGBTQ+ people for more than 20 years as a queer pastor, according to the Mayor's Office.
Listen to "It's All Good: A Block Club Chicago Podcast":