ALBANY PARK — The American Indian Center's gymnasium turns into a colorful clothing sewing assembly line Wednesday evenings as children play and free food is shared.
Nizhoni Ward, a 17-year-old singer, model and business owner, is leading the workshops at the center, 3401 W. Ainslie St., so community members can make ribbon skirts for Native girls at reservation schools in Arizona and the Midwest to preserve Indigenous culture.
The Nizhoni Hozho Project workshop expands on a project Ward started in 2018. After taking a pause because of the pandemic, the program is back and expanding, with a goal to make 50-70 skirts and donate them to schools.
The program is free and meets 4-6 p.m. Wednesdays through Sept. 21 at the center. Volunteers learn how to make the skirts and about Indigenous culture.
Ribbon skirts are traditionally worn by Indigenous women and girls; they've been worn to highlight social issues and causes, such as the fight to stop the Dakota Access Pipeline.
"Ribbon skirts are looked to as sacred and resilient [and] are a big example of strength and political causes," she said. "I want girls to feel powerful and confident in themselves."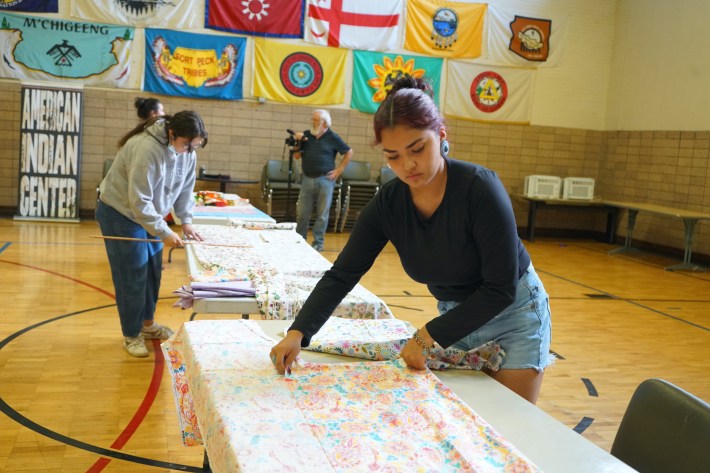 Ward, who lives in suburban Homewood and is a youth council member with the American Indian Center, hopes the workshop can teach folks about Native culture and Indigenous people in the Midwest while giving back to the community.
"It's about spending time with people, listening to their stories, making connections," Ward said.
Delaney Bonaquisti, a new Albany Park resident with an interest in history, wanted to get involved in her neighborhood, learn more about Native culture and support the cause, so she attended a workshop, she said.
"I am here to learn and actually be a decent neighbor," Bonaquisti said.
Ward plans to deliver the skirts to her old school in Tuba City, Arizona, at the end of September. She is talking to other schools and cities to expand the project and reach girls in rural, low-income Native communities in Minnesota, Wisconsin and Michigan.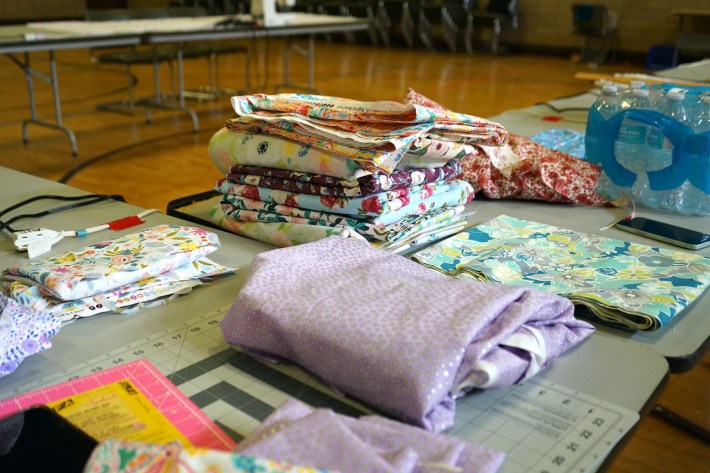 Ward, who is Navajo and Choctaw, began the Nizhoni Hozho Project in 2018 after attending sixth grade at the Tuba City Boarding School on the Navajo reservation in Arizona. During the school's culture weeks, Ward wore traditional ribbon skirts from her clan made by her grandmother and mother, but she noticed her classmates didn't have cultural garments.
Ward and her family began making some. She delivered them to her classmates, who were blown away by the gift — and grateful to have garments that represented their culture, she said.
Ward was born in Arizona but moved to Illinois when she was 2 years old. Growing up in the suburbs, she didn't see other Native girls and her culture represented, and she didn't feel proud of being Navajo, she said.
That changed when Ward attended the Arizona boarding school and reconnected with her culture and family members. Giving away the skirts and seeing them worn made her feel proud of her identity, she said.
"That was a very eye-opening moment for me because there are kids [there] who look like me and were wearing traditional attire and taking pride in it," Ward said. "I was proud to see and experience that."
Since 2018, Ward and her family have made more than 300 skirts, she said. She hopes to keep making them and reaching new Native communities around the country.
To help fund the project, Ward created her own business during the pandemic, selling handmade beaded earrings online and at pow wows. She held the title of Miss Indian Chicago from 2018 to 2019 and is the first Native American to win the Miss Teen Globe U.S., a pageant-style modeling competition.
During the pandemic, Ward began making masks for the American Indian Center to support the local Indigenous community and Albany Park residents.
Melodi Serna, the executive director of the center, said Ward is "one of the brightest stars we have" and her workshop exemplifies kindness and humanity.
"She is an important part of who our youth are and what we hold as values for our youth; she has always been that," Serna said. "Our kids, youth council or not, it all comes back to traditional values and what they hold as important — and how do they lay the foundation and the work for the next seven generations?"
Listen to "It's All Good: A Block Club Chicago Podcast":