HUMBOLDT PARK — A 50-year-old man was killed and a 40-year-old woman wounded in a drive-by shooting Friday night at a Humboldt Park restaurant.
The shooting occurred about 9:20 p.m. Friday. Witnesses said the victims were inside Curramba, a Colombian restaurant at 2701 W. Division St.,
The man was inside a restaurant when someone shot him and drove off, police said. The gunman was outside the restaurant and shot through a window, hitting the victim in his neck, police said.
The man was taken to Stroger Hospital, where he was pronounced dead, police said. 
The man was identified as Felipe Ruiz Santiago, of the 2100 block of North Laporte Avenue, according to the Cook County Medical Examiner's Office.
The woman's hand was grazed by a bullet, police said. She was taken to St. Mary's Hospital, where she was treated and released.
The man was not the intended target in the shooting, police said.
The alleged shooter was arrested shortly after the murder, police said. Charlie Moreno, 41, was caught in the 3300 block of West August Blvd. He was charged with first degree murder, attempted murder and as an armed habitual criminal, police said.
No motive in the shooting was released, but more information could be released when he appears in bond court Monday.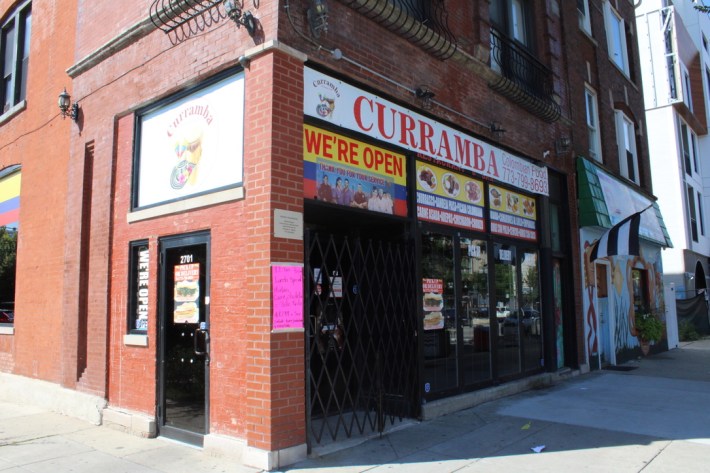 Remnants of police tape could be seen on the sidewalk in front of the restaurant Saturday morning. 
Neighbors and business owners said the commercial block is generally quiet and peaceful, and they had never experienced a shooting on that corner.
An employee at the Family Dollar across the street from the restaruant said she was working when the shooting occurred. She said she heard multiple gunshots and saw someone drive west.
Josephina Calderón, an employee at El Rescate, which provides social services to Latinx LGBTQ youth and is next door to Curramba, said that she had been at the restaurant earlier Friday night. The shooting was very unusual, and it's shaken residents and restaurant workers in the neighborhood, she said.
"It's quiet here. We support each other," she said. "It's weird; this is a very nice area."
Watch our "On The Block" TV show on The U, CW26 and MeTV.
Listen to "It's All Good: A Block Club Chicago Podcast":