LOGAN SQUARE — Michael "Mikey" Bankston III had an unyielding passion for life and was the kind of person who always found a reason to celebrate, even when things got difficult, his family said.
While at Trinity College in Connecticut, Bankston dedicated himself to his philosophy studies and organizing a hip-hop festival. After graduating, he moved back to his hometown of Chicago, taking time to figure out his next step and prioritize his mental health and family time over his career goals, said his mother, Molly Cruz.
It was during that time the 26-year-old was killed in Logan Square. Bankston intervened as a man attacked his girlfriend the morning of Sept. 17, 2021, when the man involved shot Bankston, police and prosecutors said.
Jesus Garcia, 22, was charged with first-degree murder.
RELATED: Man Killed In Logan Square Was Shot After He Tried To Help A Woman Being Assaulted, Prosecutors Say
Bankston's family and friends, as well as local leaders, are paying tribute to him — a "kind-hearted, pure soul," as his uncle described him — with a block party and an honorary street sign this weekend.
The block party is 8-10 a.m. Saturday on Wrightwood Avenue from Spaulding to Sawyer avenues, the block where Bankston lived. A program will follow at noon.
That stretch of Wrightwood Avenue will soon be called "Michael H. Bankston III Ave." under a city-approved ordinance introduced by Ald. Carlos Ramirez-Rosa (35th).
"His life matters. This is not just some random guy. No; this is a well-loved person that had so much potential that the world is missing out on," Cruz said.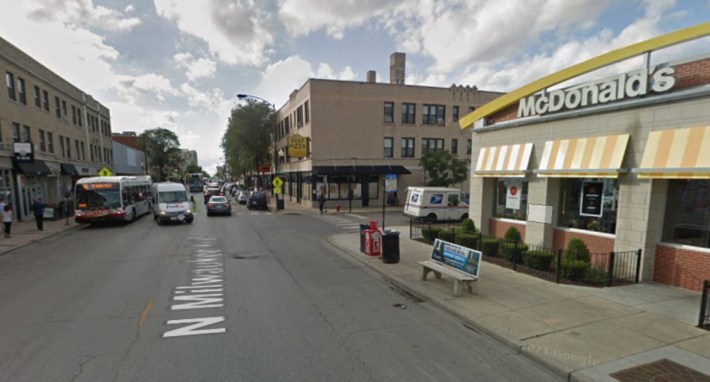 The early morning shooting occurred in the 2600 block of North Milwaukee Avenue, authorities said. Bankston was grabbing McDonald's after a night out with friends when he saw Garcia arguing, following and grabbing a woman he was dating, prosecutors said. The woman kept trying to walk away, which prompted Garcia to pick her up and carry her toward the apartment they shared, they said.
When Bankston saw Garcia grab the woman by her shoulders and neck, he got out of his car and ran over to the woman to ask if she was OK, prosecutors said. Garcia and Bankston argued, then Garcia pulled out a gun and shot Bankston, prosecutors said.
Garcia fired more shots at Bankston as he ran away, hitting him multiple times, prosecutors said. Bankston was unarmed and didn't threaten Garcia, prosecutors said.
RELATED: Man Chased Down And Fatally Shot On Milwaukee Avenue In Logan Square Early Friday, Police Say
Garcia was identified as the shooter by several witnesses, and surveillance videos showed his face and some of his tattoos, prosecutors said. Garcia also confessed to the murder, telling police he shot Bankston "one or two times" because he was afraid Bankston would do something to him.
Garcia's case is pending, and he's next due in court Aug. 30, said Tandra Simonton, a Cook County State's Attorney's Office spokeswoman.
Bankston grew up in Chicago with his close-knit family, moving from Belmont Cragin and Logan Square to the Dunning area. He had a total of six siblings, some step.
Bankston attended Canty Elementary School and Rauner College Prep before heading off to Trinity College on a scholarship through the Posse program, Cruz said.
A dreamer with a creative streak, Bankston studied philosophy at Trinity and was active in arts groups on campus, including the samba ensemble and Trinity's Temple of Hip Hop festival, but he aspired to work in medicine, family said. Watching his grandmother suffer from Parkinson's disease, he wanted to find a cure for the illness, Cruz said.
Cruz said her son had a deep love and respect for their family that he showed in little ways, like walking his sister to school, bragging about her cool backpack on Snapchat and putting a Valentine's Day stuffed bear Cruz bought him on display in his apartment when she came over.
"He was in constant communication with me. We spoke daily," Cruz said. "If I'd text him, he'd text me back right away. He always responded. He didn't come off as a kid that's like, 'I'm grown. I don't live in your house.' He was like, 'Yeah, mom.'"
Bankston's uncle, Ernesto Rodriguez, said the young man's strong familial relationships defined him, in life and in death.
"Him seeing a woman being mistreated made him triggered … because he respected and valued his mom so much. It just speaks to his character and how he treated women," Rodriguez said.
Bankston was also a writer, an aspiring clothing designer and a graffiti artist who wrote graffiti under the moniker Pupil Performance and worked with the local group AnySquared.
Cruz said the last time she saw her son he was proudly showing off a magazine he was featured in as a local graffiti artist.
"He said, 'Mom, trust the process. I'm going to get there,'" Cruz said. She interpreted it to mean that he was going to find peace and fulfillment, wherever life took him.
Bankston was driving for Uber and picking up freelance writing jobs to pay the bills when he was killed, Cruz said.
"He was on that discovery path," Cruz said. "He was very big on mental health. Like, 'I feel anxious. I feel this. … let me take a step back.'"
While Cruz is grateful to police and prosecutors for bringing her family justice, she said she's chosen not to focus on Garcia and instead celebrate her son, who "had a passion for everyone." The Saturday event will feature DJs — Bankston loved listening to music — and graffiti art.
"I won't absorb my energy to even acknowledge him," Cruz said of Garcia. "Everything I can say will always be for my son, about my son."
Rodriguez said city leaders and lawmakers need to do more to prevent more young people from being killed on Chicago's streets.
"We're very much still heartbroken, very much still in disbelief," he said. "There are moments when we sit and laugh and we think about some of his mannerisms, some of the things he used to do and the jokes he'd tell, and we still can't believe he's not with us.
"It doesn't feel real. A piece of our family is missing. I don't think it's something we'll ever feel fully healed from."
Saturday's block party and street sign unveiling ceremony is open to the public. Wrightwood Avenue from Spaulding to Sawyer avenues will be shut down to traffic and parking for the day.
Watch our "On The Block" TV show on The U, CW26 and MeTV.
Listen to "It's All Good: A Block Club Chicago Podcast":