SOUTH SHORE — A South Shore community garden's free summer jazz series wraps up this weekend, and its organizers are planning programs for the rest of Chicago's warm season.
As part of the Jazz On the Green concert series, the Mira Raven Sextet will perform for free 5 p.m. Sunday in the South Merrill Community Garden, 7030 S. Merrill Ave. In case of rain, the show will be rescheduled to 6 p.m. Wednesday.
The garden opens an hour before the performance for tours, and guests must bring their own lawn chair or seating. To RSVP to the event through Facebook, click here.
"It's really important to activate some of these local community spaces with jazz music, because jazz is a music not only about creativity, but about working together and collaborating together," said bandleader Miranda Sprague, who performs as Mira Raven.
"Everybody gets a chance to say something in jazz. That is a very peaceful music, it's a living music, and I feel that's what we need in our communities."
Sprague is the sextet's vocalist. She will be joined by Sharel Cassity on alto saxophone, David Boykin on tenor saxophone, Robert Irving III on piano, Ernie Adams on drums and Josh Ramos on bass.
The Mira Raven Sextet's performance will close out the inaugural season of the community garden's Jazz On the Green series. This year's performers were ILLville Vanguard, Margaret Murphy-Webb and Boykin and his project, the SEBAU.
Sprague performed excerpts from "The Lynching Of" — an "avant-garde jazz hip hopera" about two activists for Black liberation — with Boykin and the SEBAU in the garden last Friday.
Jazz On the Green brings culture to the block, rather than expecting neighbors to seek it out at cultural centers, music venues or other institutions, event coordinator Iyonna Rivers said. The series is supported by the city's Chicago Band Roster grant.
"It is an opportunity, especially for folks in South Shore, to commune in sacred space," Rivers said. "If they've never heard of the South Merrill Community Garden, now they know. Every guest that we've welcomed in the garden was surprised to see it, how beautifully it was laid out and the level of care in it."
The non-traditional setting is a perfect fit for Sprague, whose Coffee Jazz Collective has sought out gigs on porches, at businesses and in community spaces since it was founded in 2017, she said.
"It allowed me to have jazz in multiple different places outside of [music] venues — restaurants, nonprofits, really expanding where jazz music could be," Sprague said.
The South Merrill Community Garden's name doesn't fully convey its role in the neighborhood. Youth and senior programs, cultural exchanges — such as a recent Brazilian soirée with food, music and capoeira — and public safety initiatives coexist with an active gardening space.
The space encourages "a bigger conversation" about how gardening can help "create community at a molecular level," Rivers said. "People toil over it, they plant, they grow, they weed … gardeners are very proud of the space, and it just creates a multi-purpose environment."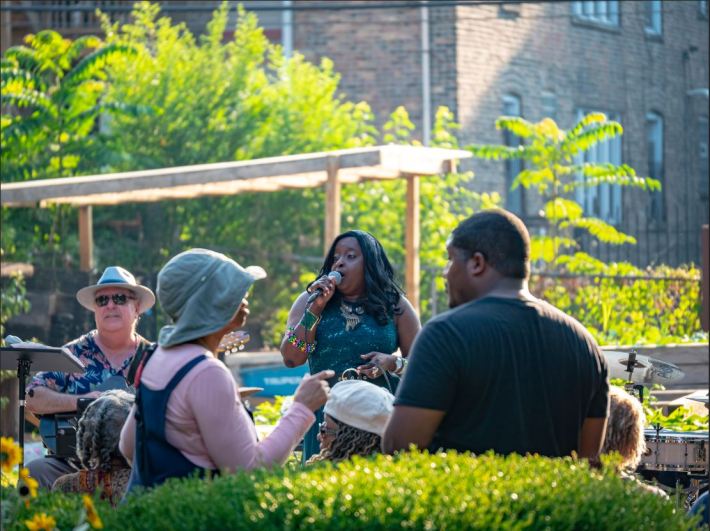 Another cultural exchange event at the South Merrill Community Garden is in the works for Sept. 16, and poet Tara Betts will read excerpts from "Refuse to Disappear" there Sept. 17.
Rivers is also working with a nearby community garden to organize a blues performance next month, she said.
"I think that the Jazz On the Green series will continue next year," Rivers said. "My goal is for it to not only live in our community garden, but in other community gardens, so gardeners know they can showcase their space and that there is a mechanism to support that."
Listen to "It's All Good: A Block Club Chicago Podcast":