ALBANY PARK — A LGBTQ-owned candle shop opened in Albany Park last week, offering customers hand-poured creations as well as a chance to make their own.
Married couple Curtis Bumgarner and Andrew Cookson are behind Scent Queens Candle Co. & Apothecary Shoppe at 3728 W. Montrose Ave. Along with candles, the shop sells room sprays created by the couple, handcrafted items from local vendors and plants. 
The shop's scents include a Blushing in the Library soy candles with peony, leather and mahogany notes. The couple also created a mulberry-scented candle after someone's suggestion via social media, Bumgarner said. 
"We both grew up in homes where our mothers were huge candle people. They had candles for everything," Bumgarner said. "That's my favorite part of the year when it comes to candles because I just love the smell of pine. It reminds me of like Christmas and growing up the '80s and '90s."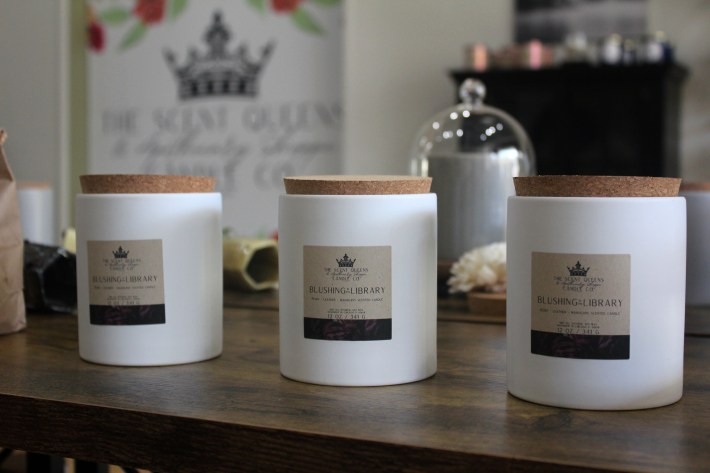 All of Scent Queen's candles are made from all-natural soy or coconut waxes and don't use paraffins, Bumgarner said. Bumgarner designs the fragrances while Cookson mixes the oils and wax, Bumgarner said. 
"My husband is the more math and science guy," Bumgarner said. 
Scent Queen's signature candles also pay homage to specific places and people, including one that's a nod to Cookson's home country of England. The Queen uses a combination of powder, iris, green leaves, rose, jasmine, neroli, violet, amber and dark musk notes to approximate what Queen Elizabeth II's signature scent would be.
"For him, we created the Royal Line where we try to figure out like what fragrance does the queen wear?" Bumgarner said. "We study the notes and make a candle out of what we think is familiar with that fragrance."
Bumgarner is from North Carolina and has designed candles that smell like wildflowers or floral arrangements that would be found easily in the South, he said. 
The shop also has a custom candle corner where customers can design their own scents with help from the owners, Bumgarner said.
"We help them pick their fragrances, wax blends, wicks and vessels. Then they can make the candle right here in the store and come back and pick it up in two hours after it's dry," Bumgarner said. 
The couple have long been fans of candles and started making their own for family and friends in 2019. When the pandemic hit, they were spending so much time at home they decided to grow their hobby into a business, Bumgarner said. They launched an online store in November.
"The name comes from, and this is going to sound crazy, but that's the age-old name of gay guys. That's where we we got the name queens from, because we're two gay men," Bumgarner said.
The couple chose Albany Park for their first physical location because they live nearby and fell in love with the interior of the Montrose Avenue store with its tin ceiling, plaster walls and hardwood floors, Bumgarner said. 
That interior inspired the apothecary part of the business's name, he said.
"It's like this place has been preserved somewhat in its own little time capsule. It was perfect for a candle company and for use to name it an apothecary shoppe because it just gives you that old world feel," Bumgarner said. 
Both still have day jobs, but they hope to grow the business to become their main focus, Bumgarner said. 
The shop is open 5:30-8 p.m. Wednesdays, Thursdays and Fridays, 10 a.m.-6 p.m. Saturdays and 10 a.m.-4 p.m. Sundays.
Listen to "It's All Good: A Block Club Chicago Podcast":