BRONZEVILLE — Community opposition to a proposed Near South Side high school is intensifying, as skeptical residents rebuffed Chicago Public Schools and Chicago Housing Authority representatives who promoted the plan at a neighborhood meeting Tuesday.
Residents packed into the basement of Mt. Carmel Baptist Church, 2976 S. Wabash Ave., to learn more about the proposed school at a meeting organized by the Lugenia Burns Hope Center. A similar meeting organized by People Matter was held in Chinatown last week, where representatives from Lugenia Burns and the Coalition for a Better Chinese American Community participated in a panel discussion on the issue.
People at both events blasted CPS and the CHA for a lack of transparency, accusing the agencies of cloak-and-dagger tactics to make way for the open-enrollment high school, which is to be built on the site of the former Harold Ickes Homes at 2400 S. State St. Activists from both organizations are calling for the school to be relocated to The 78 megadevelopment site.
The school would serve 1,200 students within proposed boundaries in the South Loop, Chinatown, Bridgeport and Bronzeville. The students in the area are 39 percent Asian and 31 percent Black.
Kareem Pender, director of Family and Community Engagement for CPS, touted his "homegrown" bonafides as he pitched the school to the audience, telling them the agency had consulted with CHA residents and CPS families before deciding on the South Loop site.
"This high school will represent the most diverse high school in the city of Chicago. African-American and Asian students are traveling approximately to 95 different high schools across the district right now, and the new high school will shorten that distance to approximately 2.5 miles," said Pender. He said the facility would relieve overcrowding at schools like Kelly in Brighton Park and Juarez in Pilsen.
Pender said support for existing high schools would be addressed under the district's "full reimagine neighborhood high school plan," which would involve CPS working with residents, community members and local school councils to rework programs, resources and dollars CPS is putting into neighborhood schools. The initiative would allow for "additional investments" in Phillips and Dunbar high schools and elementary schools in the area, he said.
But the 244 units of public housing promised to displaced residents must be returned before the school is built, said Roderick Wilson, Lugenia Burns Hope Center's executive director. He said the CHA's decades of displacing residents to make way for developments has eroded public trust.
"It's not about the high school. It's about what we were promised," Wilson said. "There was a systematic moving of Black people using public dollars out of the city … but we were told people could come back. … Nine years later, they've got some houses almost built, but nobody's living in it."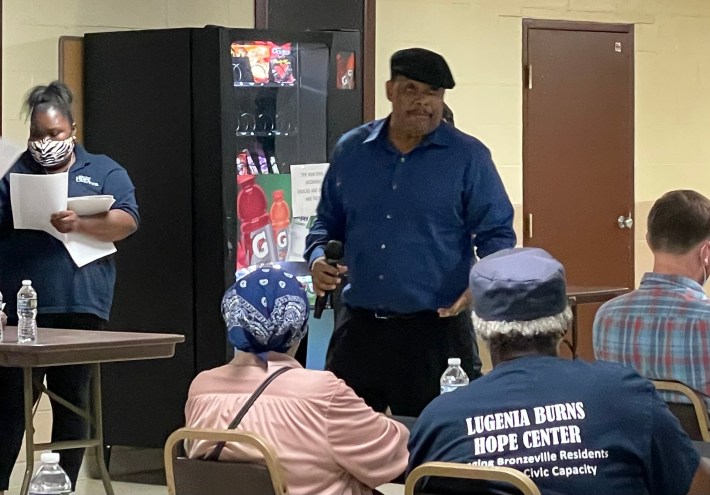 Activists are also calling for CPS to repurpose Jones College Prep to allow more neighborhood students to attend.
CHA Chief Development Officer Ann McKenzie told residents the 244 units of housing promised would be returned as part of an adjacent mixed-use development called Southbridge, though she was unclear on whether there would be larger units to accommodate families. There have been 206 units built so far.
If the proposed plan falls through, the land-lease agreement made between CHA and CPS in July says the land returns to the housing agency.
After last week's community meeting, some Chinatown parents started circulating a petition to urge the city to move the site to The 78 megadevelopment in South Loop. It's collected nearly 200 signatures so far.
Parent Michelle Yang said the petitioners will collect as many signatures as they can to persuade both agencies to reconsider their position.
"If the Black, Chinese and Latino communities support the school moving to The 78, what's the problem?" Yang said. "Why can't they listen to what the people want? This is going to impact their lives. Give the people want they want because they're the ones living here."
Listen to "It's All Good: A Block Club Chicago Podcast":