BRIDGEPORT — A neighborhood taqueria has reopened in Bridgeport under a chef who runs two restaurants in Pilsen.
Chef Carlos Garcia, who also runs Taco Azteca and El Berrinches, took over The Adelitas in Bridgeport, 3355 S. Morgan St., earlier this month. The restaurant had a soft opening under the same name and a different menu Thursday.
Garcia said this eatery is a bit more elevated than his other two restaurants and has slightly higher-priced dishes. The menu includes customer favorites from his other two restaurants, new dishes and vegetarian and vegan options, he said.
"I don't think Bridgeport has a 100 percent Mexican concept place," Garcia said. "I wanted to show them something beyond a classic taqueria. More than anything I wanted to bring [the neighborhood] something new."
Everything is made "desde cero" — from scratch — Garcia said. He said it was also important to him to partner with local businesses to supply ingredients, like his meat and fish.
While Garcia's menus have classic Mexican dishes — tacos, pozole and tortas — he said he also likes to give dishes a twist, which can be seen with his favorites: a pan-roasted mahi-mahi with a passionfruit salsa or shrimp with mole rosa.
Appetizers cost $5-$11, while entrees are $19-$29. A duo of gourmet tacos are typically about $9.50, except on Taco Tuesdays, when customers can mix-and-match tacos for $3.50 each.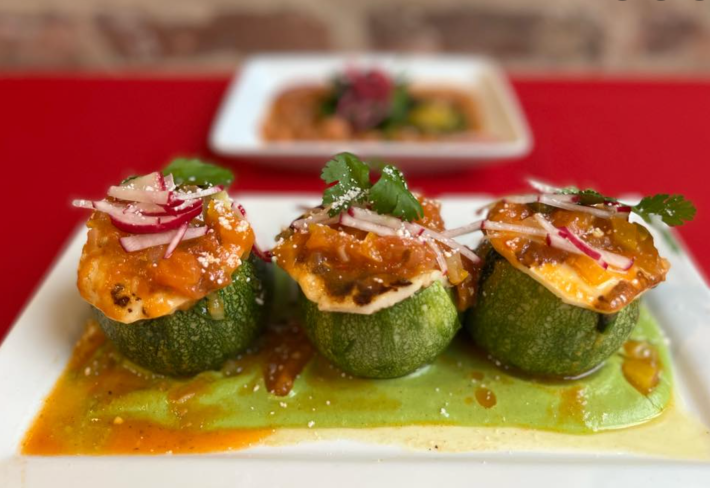 Garcia moved from Puebla, Mexico, to Pilsen with his family when he was 12, he previously said. Growing up, he never put much thought into becoming a chef, he said. Aside from taking a cooking class in high school, Garcia didn't have experience in the kitchen. 
Garcia said his uncle, who was a sous chef at Lincoln Park seafood restaurant King Crab, got him an interview with the chef. The chef offered Garcia a one-week trial to learn his station. If he got the hang of it, he could stick around; if he couldn't, he would be out of a job, he said.
Garcia worked at King Crab for five years, then went to Le Cordon Bleu College of Culinary Arts for five years. During his studies, he worked as a chef at Taco Joint, where he learned how to run a kitchen and a restaurant, he said.
Garcia returned to Mexico for two more years of culinary studies. He returned to Chicago and worked at Salpicón, a modern Mexican restaurant in Old Town.
Garcia opened Taco Azteca, 2151 W. Cermak Road, in 2015. He opened El Berrinches, 1807 S. Ashland Ave., February 2020. El Berrinches has been closed for the past four months, but Garcia said he has plans to reopen.
The Adelitas is open 10 a.m.-10 p.m. Tuesday-Thursday and 10 a.m.-11 p.m. Friday-Sunday. The restaurant is BYOB with no extra fee while its liquor license is pending, Garcia said.
The restaurant is also offering 25 percent all menu items until Sunday.
Listen to "It's All Good: A Block Club Chicago Podcast":