CHICAGO — Laurie Viets started calling Chicago Public Schools three weeks ago to make sure her son had a bus ride for the first day of school Monday.
After extended waits on hold, Viets was given the name of the bus company serving her son's school, she said. She began calling the company Thursday, but she "couldn't get any real human on the line," she said. When no bus came Monday, Viets waited 30 minutes to speak with someone at CPS — and was told the district didn't have a report of her family requesting a ride for her son, she said. 
Finally, officials told Viets the soonest her son could secure a spot on a bus would be Sept. 7, she said. Viets' son has autism, cannot get to school independently and has transportation included in his individualized education program.
"I feel screwed because I thought I did my due diligence, sitting on hold, calling back the school, just to hear today he has not been routed at all and isn't in the system," Viets said. "Now we're scrambling trying to figure out who I could ask to drive him."
Parents said they've spent hours calling CPS throughout the summer, often not getting through and, when they do, they are encouraged to accept a $500 monthly stipend to arrange their own transportation.
More than 1,200 diverse learners whose families made requests after July have not yet been routed, CPS CEO Pedro Martinez said at a Wednesday school board meeting.
And parents have reported other issues, saying buses didn't show up or have travel times that exceed the up-to-90-minutes each way previously promised by CPS.
One parent said her child is traveling four hours to and from school.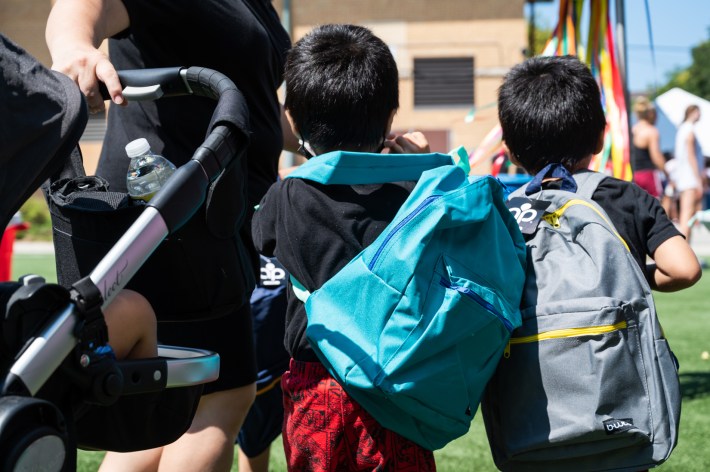 There are 365 families who have routes that take longer than 90 minutes each way, Martinez said. The average route is 39 minutes, and 80 percent of routes are less than an hour long, he said.
"We still have a national drivers shortage. That has not stopped," Martinez said. "We know these routes are long and ask our families to continue to be patient with us."
The issues echo problems CPS had last fall, when about 2,100 CPS students were left without a ride on their first day due to a driver shortage. Many struggled to get bus rides for months.
The school district is legally required to provide transportation for students with special needs, so it prioritized seats on buses for those kids.
A district spokesperson said CPS was still facing a driver shortage, with 430 vacant spots. But on Aug. 2, a spokesperson said it would be able to fulfill all the 15,700 ride requests submitted so far.
CPS leaders now aim for all rides for highest-priority students to be arranged by Sept. 6, Martinez said.
Families of students with disabilities who don't get bus rides routed will get a $25 daily stipend, a spokesperson said. The school district has added five staffers to its transportation hotline to speed up response time, Martinez said. 
CPS has informed some general education students in selective programs they won't have a space on the bus and can instead receive a free CTA pass, said CPS spokesman Evan Moore. More than 100 eligible students have applied for passes so far, interim Chief Operating Officer Charles Mayfield said at the Wednesday meeting. 
In emails to parents obtained by Block Club, the school district has cited a national shortage of drivers for "continuing to make transportation a challenge." CPS employs 15 private bus vendors and is working with them to incentivize the job by raising pay to a minimum of $20 per hour, a spokesperson said. 
But as the school district worked to raise pay, it lost drivers to suburban school districts, Martinez said. CPS has exhausted its search for bus vendors and is adding transportation types such as vans and taxicabs, Martinez said.
RELATED: Chicago School Bus Driver Shortage Leaves District And Parents Scrambling As First Day Draws Near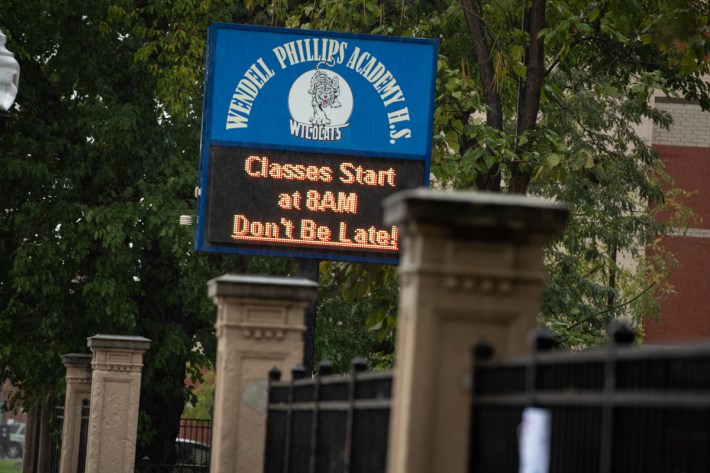 Even parents who have secured bus routes said their children have endured long, uncomfortable commutes this week.
Albany Park parent Clarissa Edwards sends her 16-year-old daughter to The Cove School, a K-12 special education school in suburban Northbrook, after receiving the accommodations through mediation with CPS. 
CPS is responsible for busing Edwards' daughter and other special needs students to the school, which started classes Aug. 18, Edwards said. The first pickup time on the route this year is 5 a.m., and the students arrive ahead of school at 8:30 a.m., Edwards said. 
Edwards said her daughter, who has severe anxiety and cannot travel to school independently, had a panic attack Friday due to spending more than two hours on the school bus. 
"She's on a loud bus with other kids with high needs for over two hours; eventually, you're going to get sensory overload," Edwards said. "It's always chaotic and unpredictable at the beginning of the year when they're setting up routes, but the extraordinary travel times this year are not normal." 
Edwards and Christine Palmieri, a special education parent and member of the Special Education Advocates Coalition of Chicago, said they've frequently called their vendor, Illinois Central School Bus, to receive clarity on their children's bus routes. 
The company told Palmieri her son is on a route with 12-15 students, while another bus to the same school has four students, she said. The bus company has additional drivers available, but they received crammed and inefficient pickup routes from CPS transportation, Palmieri and Edwards said.
Illinois Central did not respond to requests for comment, and CPS did not directly answer a question about routing disparities. 
Palmieri's son has an individualized education program and starts school Wednesday at The Sonia Shankman Orthogenic School, a therapeutic school in Woodlawn. He will have four hours of travel time a day between their Lakeview home and school — twice as long as last year, Palmieri said. 
"The way they're splitting up the bus routes makes no sense. It's set up so there's no choice but to accept the stipend instead," Palmieri said. "They're hoping more families throw up their hands and take them so it will make their current routes sufficient."
CPS offered families $1,000 for transportation last year, then fell months behind on some of the payouts. Others rejected the stipend as impractical for students with disabilities and said they weren't enough to cover costs of gas or ride-hailing services, Palmieri said earlier this month. 
Edwards said CPS is indifferent to adding drivers and speeding up transportation services because "of their systematic issue of prioritizing dollars over children." 
"They're consolidating routes to save money and strong-arming parents to accept insignificant reimbursement and sign away their legal right to transport," Edwards said. "We're talking about our kids who have the highest needs." 
Listen to "It's All Good: A Block Club Chicago Podcast":