SOUTH SHORE — Community organizer Harold Lucas was a purveyor of "tough love" — and his neighbors showed him just how much they loved him back during a Monday memorial.
Lucas, known as the "Godfather of Bronzeville," died Aug. 9 after a prolonged illness. He was 79. The self-taught organizer was known for his blustery political commentaries and unfailing generosity.
More than 100 people gathered Monday at The Quarry, 2423 E. 75th St., to celebrate Lucas' life and legacy. Organized by activist and longtime friend Will Crosby, the nontraditional memorial told the story of Lucas' life through the people he loved most as they shared anecdotes about "Buzzie." 
"Someone wrote on Facebook that when Harold came into the room there was either a sigh or a groan," said Paula Robinson, co-director of the Bronzeville Community Development Partnership. "His story was one of survival while being reminded in this society that you have nothing coming.
"He had a hard time winning because there was always something else to fight for."
"Buzzie," Lucas told Robinson, was short for "Buzzard."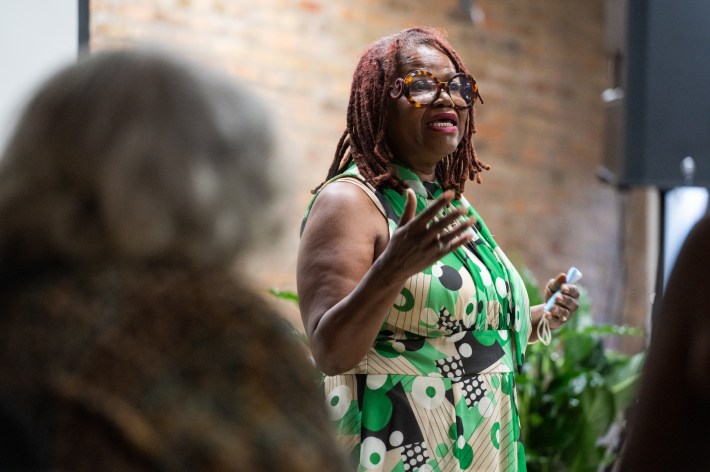 A fixture on WVON-AM, Lucas' segments were teachable moments where listeners could learn how power and influence moved in the city, particularly on the South Side.
Lucas rebelled against convention and classism and believed in the power of Black media, pouring his efforts into publications like South Street Journal to keep Bronzeville residents in the know. He considered St. Clair Drake and Horace R. Clayton's "Black Metropolis" — about Black Americans moving to and living in Chicago in the early 20th century — a holy text and was known to quote from it during community meetings.
The activist was also influential in saving a number of historic Bronzeville buildings, including the Overton Hygienic and the Chicago Bee, which are now national landmarks. As president of the Black Metropolis Convention and Tourism Council, Lucas believed the preservation of cultural heritage honored people who came before and secured Bronzeville's economic future.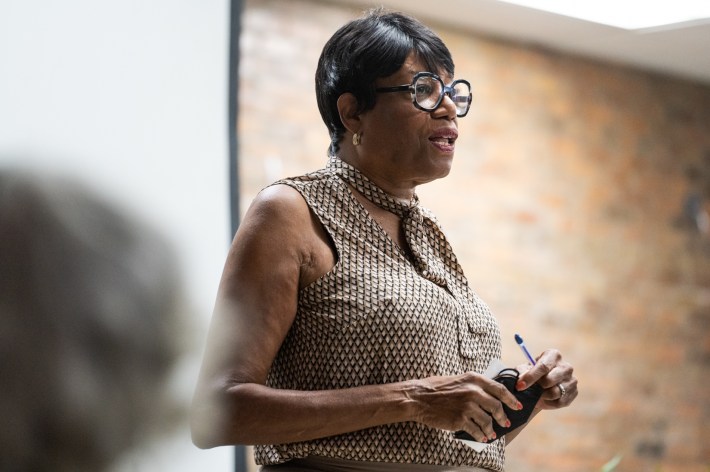 To that end, Lucas pushed for reinvestment, often spearheading efforts to get dollars back into Bronzeville, from drafting proposals for empowerment zone funding to guiding hundreds of tourists through his beloved neighborhood.
"He gave us the ability to look at buildings in a different way in Chicago. To not just look past, but to wonder why and what it meant to the people who came here to have a better life," said South Side Drive publisher Yvette Mayo, who emceed the event. "Those buildings were destinations for them. They were shelter in more than the physical sense."
Fellow activist Beverly Reed Scott remembered Lucas as an organizer with a knack for gathering passionate, dedicated people for a good cause.
"I became a better person in serving my community, in loving my people, in having grace and understanding for my people that weren't the 'suits and ties' because Harold cared for all people. He was like a brother," said Scott, who runs the Soul Garden Empowerment Center.
Ald. Pat Dowell (3rd), who met Lucas more than 40 years ago through a colleague when she was working at a mental health center, said he was "outspoken with a clear vision, perspective and ideology" she grew to appreciate when they worked together at the Mid-South Planning and Development Commission. Though they didn't always see eye to eye, they believed in uplifting the African American story and their contributions to Bronzeville, she said.
The alderwoman said efforts are underway to raise money for a plaque honoring Lucas in the Chicago Bee Branch Library, and a proclamation will be signed by Mayor Lori Lightfoot and the City Council once they are back in session.
Lucas' nephew, Louis Lucas, remembered the man who loved his community fiercely.
"Bronzeville was the soul of my uncle. All he wanted to do was save Black people," Louis Lucas said. "As a kid, I didn't understand, but as you get older you see the injustice we go through, the hard times we go through and you try not to crumble under the pressure.
"He never backed down. He never crumbled. He got up every day and fought for his family and community no matter what, even when it seemed like they weren't fighting with him. He taught me to stand up and be accounted for."
Listen to "It's All Good: A Block Club Chicago Podcast":