CHICAGO — The Anti-Cruelty Society and PAWS Chicago are waiving pet adoptions fees Saturday during a Clear the Shelters event.
The national event is meant to help shelters find permanent homes for dogs, cats and other animals in need.
Animal shelters across the city have said they are facing "catastrophic" overpopulation and have encouraged Chicagoans to foster or adopt.
Here's what you need to know:
Anti-Cruelty Society
People can adopt a pet and have the fees waived noon-5 p.m. Saturday at The Anti-Cruelty Society, 510 N. La Salle St., or one of its adoption locations, organizers said.
Participating adoption shelters:
River North Adoption Center, 510 N. LaSalle Drive
South Loop Everyday Adoption Center, 1101 S. Canal St.
PetSmart Partners with Adoptable Cats: PetSmart Kingsbury, 1415 N. Kingsbury St.
PetSmart Andersonville, 5210 N. Broadway
PetSmart Wrigleyville, 3740 N. Halsted St.
PetSmart Evanston, 2221 Oakton St.
PetSmart Brickyard, 6655 W. Grand Ave.
There will also be vendors, giveaways and more at The Anti-Cruelty Society's River North location.
Participants can buy anything they need for their new pet on-site — such as bowls and toys — and an adoption team will be there to answer questions and provide training and behavior resources. Hills Pet Nutrition will give away pet food to people adopting that day.
There will also be a photo area where people can dress up their new pet in a bandanna for a family photoshoot.
"This event is just a really great opportunity for the Chicago community to come and help clear our shelters so we can make room for lots of other animals in need," said Rachel Klousnitzer, the Anti-Cruelty Society's director of marketing and communications.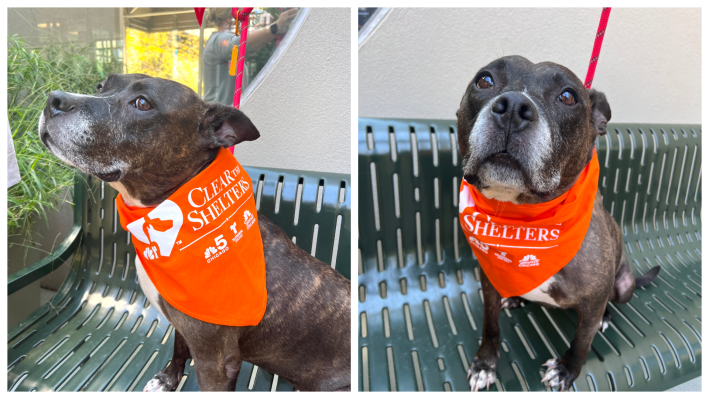 Clear the Shelters is hosted with NBC Universal Local, which is teaming up with animal shelters nationwide this month to host adoption promotion events.
On average, 90 percent of animals available for adoption for Clear the Shelters day are adopted at the event, Klousnitzer said. That number includes cats, dogs and small animals such as rabbits and guinea pigs.
"It's just a really fun day," Klousnitzer said. "We have people who come in from all over Chicago to adopt."
People can also foster a pet for up to one week if they're not sure they're ready to adopt.
Animals are adopted and fostered on a first-come, first-served basis. The Anti-Cruelty Society recommends filling out an online application to help speed up the process.
Adoption and fostering tips:
Adopters must be at least 18 years old and have a government-issued ID, such as a driver's license.
Animals eligible for fostering or adoption are listed on The Anti-Cruelty Society's web directory. To start the process online, you can choose a pet, create an account and submit the subsequent application.
Stop by the shelter, 510 N. La Salle St., for same-day adoptions.
More information on the fostering process is here, which includes completing a Foster Interest Form and attending an orientation session at The Anti-Cruelty Society's headquarters or virtually via Zoom.
The Anti-Cruelty Society also recently launched a Foster on the Spot program.
PAWS Chicago
PAWS Chicago will host an adoption event 11 a.m.-5 p.m. Saturday at its Lincoln Park Adoption Center, 1997 N. Clybourn Ave., said spokesperson Corinne Lederhouse.
The shelter team is particularly hoping to find homes for dogs more than 50 pounds and for pets that have been at the shelter for six months or more and are more than 1 year old.
The pets that will be adoptable through the event can be viewed online.
PAWS Chicago's $100 training deposit fee will still apply to animals adopted on Saturday, but adoption fees will be waived.
PAWS Chicago adoptions are by appointment and walk-ins are welcome but subject to space availability, Lederhouse said. 
More information
Listen to "It's All Good: A Block Club Chicago Podcast":