UKRAINIAN VILLAGE — A clothing and jewelry boutique in Ukrainian Village is selling off its inventory before rebuilding after a fire temporarily closed the store last week.
A small fire broke out in the kitchen behind Squasht Boutique, 2556 W. Chicago Ave., Thursday, leading to smoke damage that will keep the store closed for the next month, owner Lesley Timpe said.
Neighbors smelled smoke and called 911 shortly after the fire broke out, Timpe said, allowing firefighters to quickly arrive on the scene and keep the fire contained to the kitchen.
Timpe is hoping to be back in business by Oct. 1.
"We're going to have to basically get the kitchen remodeled and then they're going to have to do the mitigation where they get all the chemicals, the toxins [out], she said.
In the meantime, Timpe is holding a sidewalk and online sale this week to offload her clothing inventory before rebuilding Squasht's collection.
None of the clothing in the store was physically damaged, but some has a lingering smoky smell, Timpe said. She's been airing the clothing out since the fire and said the smell has been fading every day.
"Clothing is in near-perfect condition with no burn marks or singeing. Clothing may have a slight smoky smell. The smell is not very strong, we promise!" a notice on Squasht's website reads. "A quick wash or dry clean will remove any smell that may have lingered."
The sidewalk sale will run 2-7 p.m. Tuesday, Wednesday and Thursday this week, with the online sale running throughout the week. All apparel will be marked down 33 percent, while jewelry will be for sale at full price.
Timpe is also accepting online donations to support the business while she's closed.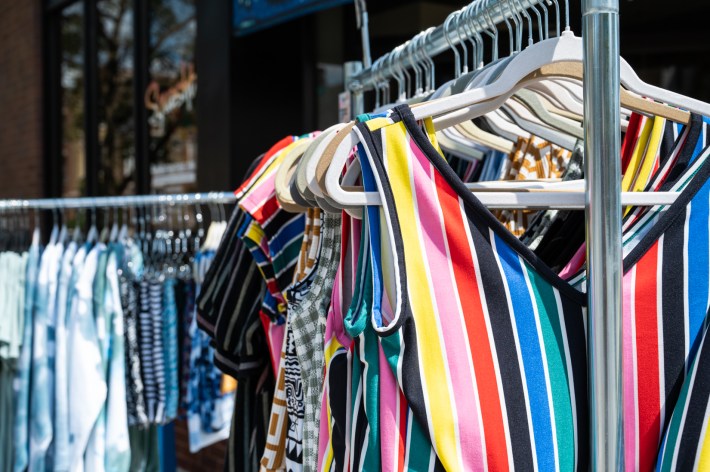 A designer herself, Timpe has owned and operated Squasht for the past 12 years. She sells clothes under the Squasht brand, while also focusing on handmade women's apparel from independent designers in Chicago and across the country.
She said the fire and its aftermath have been an "emotional rollercoaster," but she's been buoyed by an outpouring of community support from around the neighborhood.
Timpe she's already had an influx of orders since launching the online sale Tuesday morning. And after clearing out the remaining inventory, she's planning to fully restock with new items before reopening.
"What COVID taught me is pivoting. So I'm like, pivot, pivot, pivot, pivot, pivot. So I'm like, well, now we're doing this," she said. "Restarting, it's going to be a whole process, but I have high hopes for it."
Listen to "It's All Good: A Block Club Chicago Podcast":