MOUNT GREENWOOD — Droves of Beverly and Mount Greenwood neighbors lined 103rd Street Friday to welcome back one of their own: Danny Golden, the off-duty police officer who was paralyzed from the waist down in a shooting outside a Beverly bar a month ago.
Golden was released from the Shirley Ryan Ability Lab Downtown Friday, where he's undergone in-patient rehabilitation. After greeting a crowd of supporters with a broad smile, the 32-year-old officer was escorted by a parade of police cars from Shirley Ryan to his Mount Greenwood home, with the procession traveling through Bridgeport, Canaryville and Beverly on the way.
Hundreds stood outside Queen of Martyrs Catholic Church and School, where Golden graduated from eighth grade in 2005 before attending and graduating from St. Rita of Cascia High School. Many created their own signs in support of Golden, while others held up Blue Lives Matter flags and "We Support DG" signs that have been available at Ald. Matt O'Shea's 19th Ward office and other locations in recent weeks. 
"This is such a tight-knit community where people will always come out to support when someone is going through a hard time," said Marilyn Conway, a Mount Greenwood resident who stood on the corner of 103rd and Sawyer to greet Golden.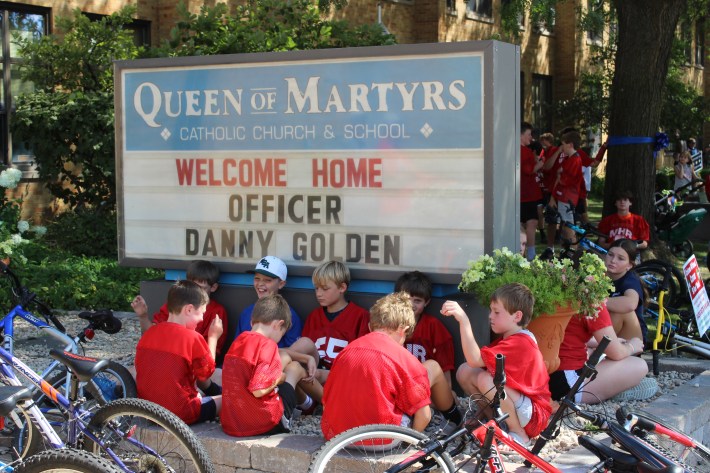 Jim Hardiman, who works for the maintenance department at Queen of Martyrs, said he was outside the church to support police. 
"Hopefully this will get something going in the right direction, he said.
Watch neighbors welcome home Danny Golden on 103rd Street:
In the early morning on July 10, Golden, a six-year member of the department, was out celebrating with friends and family at Sean's Rhino Bar near 104th and Western after playing in the neighborhood's Papa Hops 16" Softball Tournament.
Golden was shot in the back after a verbal altercation turned into a bar fight that ended with two people shot, officials said. Prosecutors have said Golden was not involved in the fight and was trying to break it up.
Prosecutors and defense attorneys have not said what led to the fight. Three men have been charged in the shooting and have pled not guilty.
RELATED: Off-Duty Cop Paralyzed In Beverly Shooting Was Trying To Break Up Fight Outside Bar, Prosecutors Say
Golden was taken to Advocate Christ Medical Center in suburban Oak Lawn after he was shot. Soon later, he learned he was paralyzed from the waist down. 
On Friday, hospital employee Katherine Stepanian was on 103rd Street to cheer Golden on.
"I saw all the support he had at the hospital and wanted to carry it through," she said.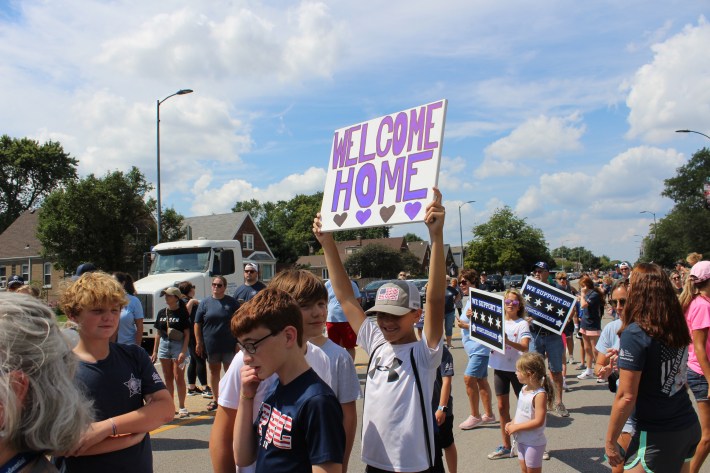 Friday's procession ended near Queen of Martyrs, where the largest crowd gathered. People watching from an upstairs balcony at 103rd and Central Park Avenue chanted "DG, DG, DG" as Golden rode by on the passenger side of an unmarked police car.
The car stopped often as people passed Golden food, gifts and their well wishes.
"I don't know Danny, but after all he's been through, we all feel like we know him," Conway said. "He's such a fighter, and you always see a smile on his face."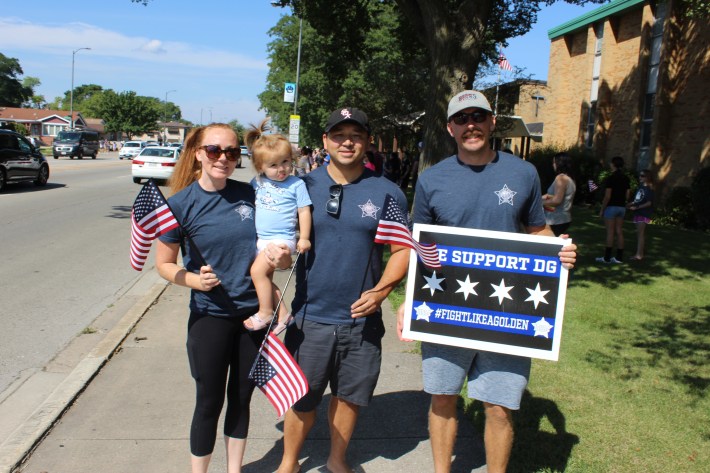 In turn, Golden made a point to stop and thank his neighbors for their seemingly endless support. A GoFundMe raised an astounding $1.4 million for Golden's recovery, neighborhood businesses launched fundraiser after fundraiser to help and families posted "Fight Like A Golden" signs outside their homes.
Speaking to a crowd Friday, O'Shea said he couldn't be prouder of the way the community stepped up to support the Golden family.
"You mark my words, Danny Golden is going to walk again," O'Shea said, according to ABC7. "Danny Golden is going to continue to serve on the Chicago Police Department. Danny Golden is going to marry his sweetheart next October — he's going to make his way down that aisle."
Listen to "It's All Good: A Block Club Chicago Podcast":