ROGERS PARK — The Rogers Park Metra station is set to get its first renovation in 30 years, a move that is being hailed as much-needed by neighbors.
But since the project won't be completed for about five years, neighbors are asking Metra and Union Pacific to boost upkeep of the existing, derelict train stop.
Metra officials detailed plans this week to rebuild the Union Pacific-North line station at the corner of Ravenswood and Lunt avenues. The project would demolish the existing warming house at street level in favor of a new one on track level as well as widening of the existing platform so more train cars can open at the stop.
Other improvements include a rebuilt wheelchair ramp, improved lighting, electronic signage, new seating and new trash bins. Bike parking would be moved from the street under the train viaduct to station property, said Andrew Roth, station and parking director for Metra.
Structural improvements are also planned for the station's embankment walls and the bridge spanning Lunt Avenue.
The project is in its early stages. It is still seeking federal and state funding as the project design moves forward, Roth said. Construction could start in 2025 and be completed in 2027.
While the upgrades are welcomed by neighbors, some said that Metra and its landlord, Union Pacific, need to do more to service the station in the near-term.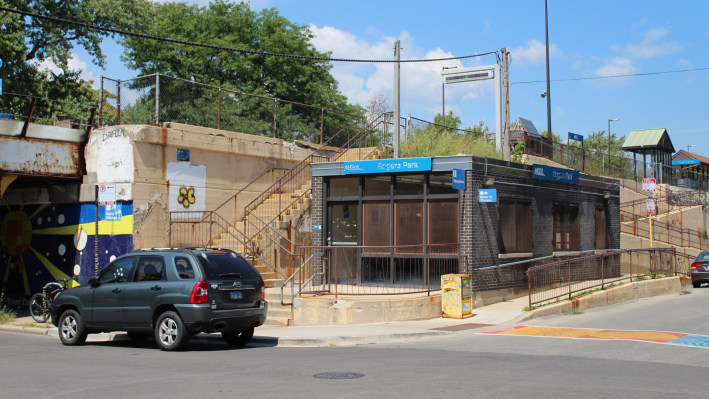 Basic maintenance of the station has been "deplorable" in recent years, said Brian White, organizer of the community garden on the station grounds.
"There just seems to be zero attention to basic maintenance at the Metra station," White said at a community meeting hosted by Ald. Maria Hadden (49th). "It's incredibly frustrating to hear this project is gonna be three years [away] and it's literally falling apart around our heads as we speak."
One neighbor, Viral Mistry, said he commutes from the Rogers Park Metra station to the northern suburbs, which puts the condition of the local station in stark focus.
"It's particular frustrating for me because I have to commute up to the north shore and i have to pass all of the very well maintained, beautiful stations," Mistry said. "I'm glad to hear there are plans. I'm just really disappointed in this timeline."
The timeline is due to issues of funding and the design review required of federal and state agencies, Roth said.
Also at issue is that Metra does not actually operate the Rogers Park station.
The station is part of the Union Pacific-North line that operates on tracks owned by the giant rail company. Union Pacific operates the trains and the stations, including routine maintenance, Roth said.
Lindsey Douglas, senior director of public affairs for Union Pacific, said the company will work with local officials on issues of maintenance. It will also work with the community on preserving a viaduct mural and community gardens on the site.
Hadden said her office is in regular contact with Union Pacific, "usually to less than satisfactory responses." She said her office will work to see that upkeep issues are addressed.
"I will also say and echo … our constituents frustration in the station going 30 years without a renovation and going so neglected," Hadden said.
Some North Shore suburbs have financed major upgrades to their Metra stations on the Union Pacific line but Chicago has not done the same, Metra officials said at the meeting.
The train infrastructure is 100 years old while Metra has been in existence since the 1980s, Roth said.
"We inherited stuff that was very old," Roth said. "It takes awhile to work around the whole system. Metra has had a large effort since it was created … to play catch-up."
Metra late last year broke ground on a new Metra station at Peterson and Ridge avenues just south of Rogers Park. It is also putting the finishing touches on a renovated Ravenswood station on the Union Pacific-North line.
The crosswalks outside the Rogers Park station received colorful upgrades earlier this year.
Listen to "It's All Good: A Block Club Chicago Podcast":