WICKER PARK — Four staffers at Wicker Park's Milk & Honey Café walked off the job last week, saying new leaders cut into their tips, created a toxic work environment and did not care for the cafe like its original owner.
The staffers quit Aug. 9 after months of issues at the cafe, said two former employees involved with the walkout. But owner Brad Cimaglio said employees were not willing to stick with his company, Vitality Holdings Group, as it searched for the right general manager and changed policies to balance pay.
Milk & Honey Cafe remains open, and workers have been replaced, Cimaglio said. 
Former employees said the problems stretch back to September, when the cafe's founder, Carol Watson, sold the business to Cimaglio's Vitality Holdings, which also operates three Black Coffee and Waffle Bar shops and a bar in Minnesota.
Working at the quaint cafe, 1920 W. Division St., had previously been "the best job I've ever had," said Krista Galauxy, a pastry chef who walked out alongside three front-of-house staffers. Watson was present, morale was high, employees had long-held systems of doing business and the business felt connected to the neighborhood, Galauxy said.
But when Cimaglio took over, he seldom came in, often ignored employees when he did, and he called women employees "girls," "emotional" and "high-strung," Galauxy said.
"There was a sense he didn't care about the place and he was just rolling with a successful business," Galauxy said. "It was to the point of being aloof and smug. We lost regulars because we didn't have relationships in the neighborhood anymore." 
The misogynistic comments attributed to Cimaglio "never came out of my mouth," he said.
Cimaglio said he was at the cafe every three to five weeks and never received complaints about his attendance. He offered to keep on the general manager of three years, and give her a larger role to handle daily operations, but she left for another job. Cimaglio eventually hired someone picked by the former general manager and by Watson, "so people who've been there would be mostly running the show," Cimaglio said. 
"We're sorry that the staff members who left were unhappy. We wanted to provide a job where they could make a decent income with flexible hours, and that's what we thought we were doing," Cimaglio said. "Apparently we were not. That's on me to accept the blame and do better."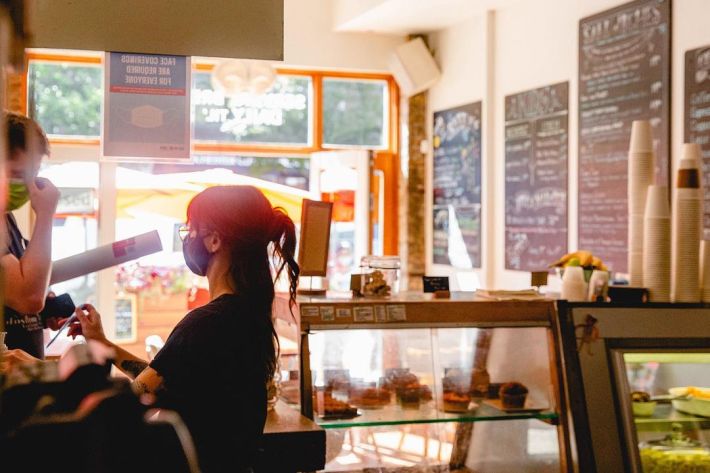 Tensions began to boil over at the cafe when the new manager left at the end of June, Cimaglio said.
The cafe struggled to pin down a replacement, two former employees and Cimaglio said.
The situation stretched front-of-house staffers thin, food quality suffered, service lagged and kitchen staff turned over, Galauxy said.
Cimaglio said issues were partly due to front-of-house employees "wanting to keep a tight staff so they could keep tips, the tradeoff being people have to step up if others take time off."
Another issue: The tip-out policy was changed by the previous manager shortly before she left, former employees and Cimaglio said. Tips were pooled weekly instead of daily, leading to reduced wages for those who typically worked busier shifts, former employees said. 
In July, a new pick for general manager was fired after less than a week for showing up late, Galauxy said. 
With no general manager, Cimaglio added a third employee to front-of-house shifts, splitting tips three ways instead of the usual two, Cimaglio and former employees said. 
Cimaglio said the situation "put us in a tough spot and highlighted the tension."
Cimaglio gave front-of-house employees $100 bonuses, but he did not raise their pay from tipped minimum wage because "most of our budget" had been going to increase what back-of-house employees were paid to make it more balanced, he said.
Front-of-house employees consistently made $25-$35 per hour, while kitchen employees, "we had to raise to $20 an hour or over," Cimaglio said.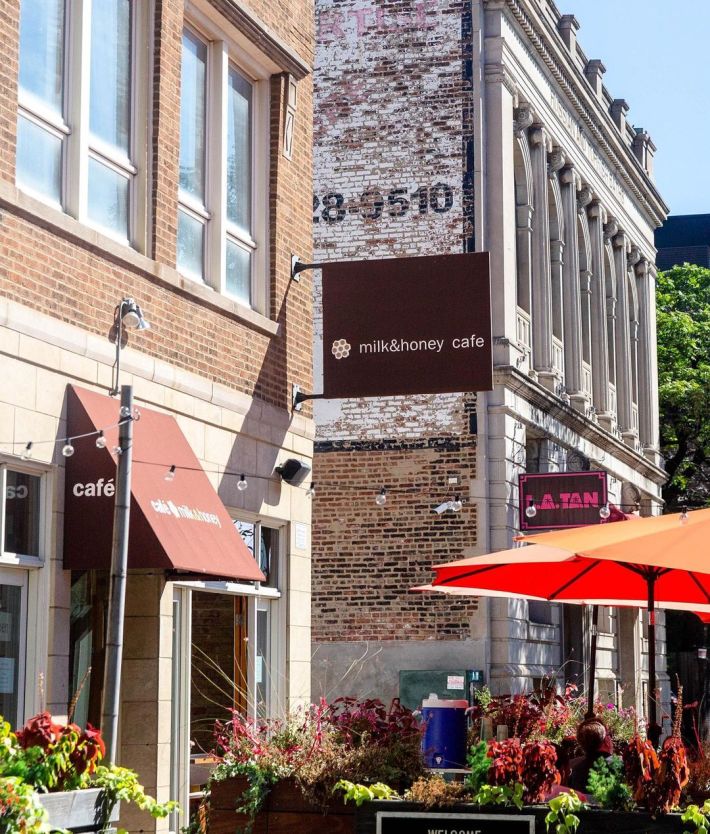 Keli Gilbertson, vice president of operations for Vitality Holdings Group, took on a larger role during the manager vacancy and said counter staffers "were upset with me when we were finding ways to balance pay."
Gilbertson was tasked with damage control but was often absent, Galauxy said. After the new manager the cafe hired failed to show up to work on time, Gilbertson told staffers "they were all f—ing replaceable," two former employees said. 
Gilbertson said her comments were taken out of context, and she meant restaurant employees are often portrayed as being replaceable. It was a challenge to manage Milk & Honey employees who had their own ways of doing things, and employees were not informed of Milk & Honey's sale "until the day we got there," Gilbertson said.
"So we kind of blindsided them, and the manager we put in place was high-anxiety, and it all created an environment that — due to lack of communication and misunderstandings — created tension and animosity," Gilbertson said. "I tried to communicate to staff how important they were to me, how much I recognized their talent and connection to regulars. I watched them work and their jobs are hard, they deserve to make good tips and they aren't replaceable.
"It was a chaotic time, and I wish I could've done more for them." 
Galauxy said the relationship between sides of the house collapsed amid changes and its management made Milk & Honey "no longer a neighborhood place."
"Staff used to have Christmas parties together. Carol gave us bonuses every year. During the pandemic, she sent us links to unemployment before everything got crazy. She told us when we were eligible to get vaccinated. She cared. She worked with you," Galauxy said. "And they weren't present."
Listen to "It's All Good: A Block Club Chicago Podcast":