CHICAGO — A local comics publisher that focuses on alternative stories has won two of the industry's highest honors.
Publisher Iron Circus won two Will Eisner Comic Industry Awards — known as Eisners — for a death-positive comic anthology it published, "YOU DIED: An Anthology of the Afterlife." Founder C. Spike Trotman said it was one of those "top-of-the-world kind of moments," as she's wanted to win an Eisner — "effectively the Oscars of comics" — since she was a teen.
The awards were given in late July at San Diego Comic-Con; the anthology, edited by Kel McDonald and Andrea Purcell, won for Best Anthology. The Best Short Story award was given to a tale in the anthology, "Funeral in Foam" by Raina Telgemeier and Casey Gilly. 
Committed to publishing "strange and amazing comics," Pilsen-based Iron Circus has put out a variety of anthologies, graphic memoirs, fiction and erotica since 2007. It's grown to have 11-13 employees and publishes several graphic novels and memoirs each year.
Trotman has been committed to publishing diverse stories because she wants people to find tales that resonate with them. She was mesmerized by Tina Turner's character Aunty Entity in the 1985 film "Mad Max Beyond Thunderdome" as a young Black girl, as she had never before seen anyone quite like Aunt Entity in popular media, she said. She wants people to have opportunities to have that same feeling of awe and recognition in comics.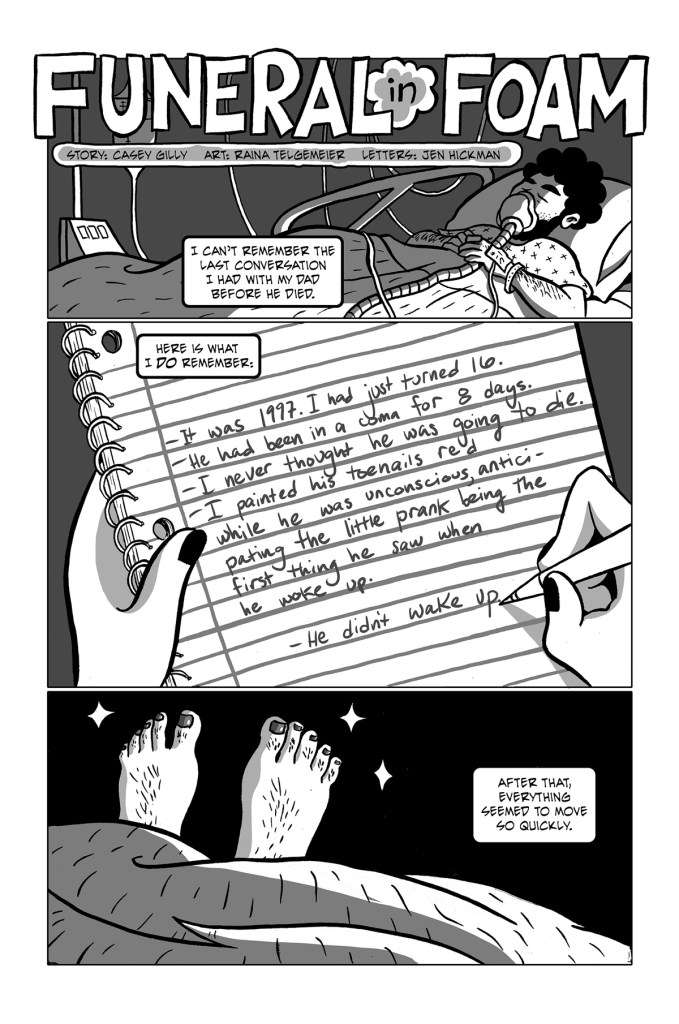 Trotman regularly uses Kickstarter to fund the publication of Iron Circus' titles, racking up widely successful campaigns and breaking funding records.
Most recently, Iron Circus raised $329,650 to publish the fifth title in its Cautionary Fables and Fairy Tales series, "The Woman in the Woods and Other North American Stories." Another campaign, this one for Iron Circus' "Lackadaisy: The Animated Short Film," held the record for most-funded short film on Kickstarter for a year after collecting $330,256.
Each campaign supports the publication of the books as well as paying contributors for their work; the more money raised for a campaign, the more artists and writers receive in compensation.
One of the press' specialties are its anthologies, which cover every topic from space travel to animals, erotica and fairytales. Iron Circus puts out a call for submissions for creators, often bringing in people who may not have been known in the comic world and paying them.
While it's a lot of work managing many creators, Trotman said she loves it because it makes sure that she finds new talent. 
One such find: The graphic memoir "Banned Book Club" came out of social media. Writer Ryan Estrada tweeted that his wife, writer Kim Hyun Sook, told him a story about how she was in a banned book club while growing up in South Korea in the '80s.
"'That sounds like it'd be a good graphic novel,'" Trotman told him, she said. "The next thing we knew we were in each other's inboxes making this come together."
The book, written by the wife-and-husband duo and illustrated by Ko Hyung-Ju, was nominated for an Eisner award for Best Graphic Memoir in 2021.
Trotman was thrilled the "YOU DIED" anthology resonated with people; death can be a taboo subject but people reacted positively to the book, she said.
The idea for the anthology came together very quickly. When Trotman went to discuss the publishing season with her team, she needed one more title. She had been thinking about Caitlin Doughty, known as "Ask a Mortician," who promotes death positivity, and Trotman decided an anthology on the topic would be a perfect addition.
"It was kind of this perfect storm. A lot of luck was involved," Trotman said.
Doughty wrote the foreword for the anthology, and award-winning cartoonist Raina Telgemeier contributed along with many other creatives.
In the near future, Iron Circus will crowdfund on its website for its sixth Cautionary Fables and Fairy Tales anthology, this one focused on South America.
Early next year, the press will release graphic memoir "Occulted" — co-written by Amy Rose and Ryan Estrada with art from Jeongmin Lee — about Rose's experience growing up in a doomsday cult, and it will release Chicago-based Sage Coffey's comic "Wine Ghost Goes to Hell" in print. 
"Chicago is bizarrely well suited for Iron Circus, and not just because I love this town. There's so much talent here in general," Trotman said.
Every time Trotman goes to the Chicago Alternative Comics Expo, she sees a lot of exciting work coming out of many comic tables in comparison to the bigger publishers, she said.
As big corporations buy up media, it's important "to support smaller publishers, independent creators of every stripe because one of the side effects of everything being owned by one large company [is that their] main priority is not making art," Trotman said.
Even though Trotman has achieved a lifelong dream of winning an Eisner, she doesn't want to fall into the trap of achieving something big and assuming that everything will fall in line, she said.
"I think a lot of people confuse their starting lines and their finish line," she said. "The Eisner is not a finish line for me. I have no intention of resting on my laurels here."
Listen to "It's All Good: A Block Club Chicago Podcast":