PORTAGE PARK — The massive Six Corners development The Clarendale is nearly complete.
The 10-story, $130 million senior living complex at 4747 W. Irving Park Road is set to be finished by the end of the year — and residents will be able to move in at the beginning of 2023, said Becky Diehl, marketing manager at Ryan Companies, the company behind the project.
The project, which will have 258 residential units for people 62 and older, was originally scheduled to be complete next month. Construction for the development, formerly called The Point, began in March 2021 and replaces an ugly "hole" that sat vacant since 2017.
The Clarendale will have 114 independent living units, 98 assisted living units and 46 memory care studio suites, leasing officials announced at the information office's ribbon-cutting in June.
Susan Scatchell, community outreach coordinator for the development by Ryan Companies, previously said the complex is taking $1,000 deposits for apartments on a first-come, first-served basis.
"We are ready to support the older adults who want to age in this community," Scatchell said. "There is a lot of history here and we want people to live in the community and stay where they want to stay."
Rents will be $4,400 a month for independent living, $6,000 for assisted living and $7,200 for memory care, Dan Walsh, senior vice president of real estate development at Ryan Companies, said in 2018.
Walsh said he understood the price tags for the senior living units seems like a "substantial amount," but they are comparable to facilities with similar amenities. The Clarendale will have an outdoor terrace, library, outings to places in the community, shuttle service and a club room.
Other amenities will be restaurants, private dining for events, a theater, continuing education programs, a salon, transportation to local shopping and medical care.
The company has had "an overwhelming" amount of applicants, officials said.
Leasing for all of the apartments is scheduled to begin in October, and applications will be considered on a first-come, first-served basis.
Representatives from Ryan Companies said tenants have still not been picked for the project. An Aldi grocery store is slated to take up the lot behind the development, but construction has not started, and company officials did not share any information when asked this week.
As the Six Corners area sees a revitalization with new businesses and more development, developers and neighbors hope the senior housing complex will contribute to growth.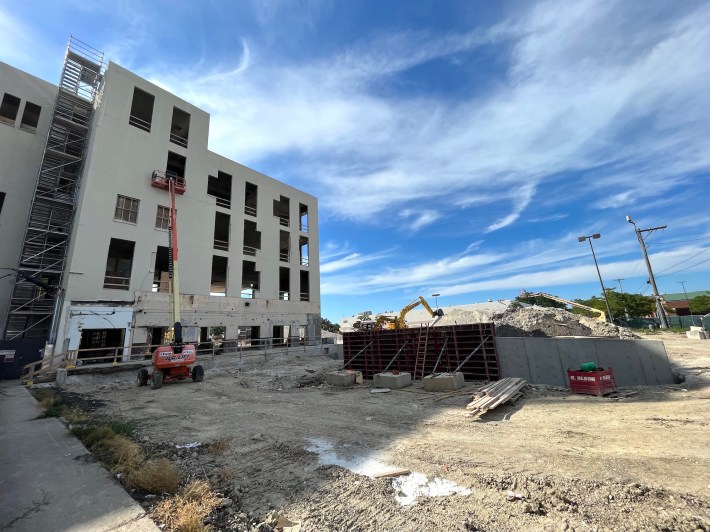 Across the street, Novak Construction is rehabbing the former Sears building, and additional sidewalk barriers were recently installed at the property facing Six Corners.
A Target is planned to be the anchor tenant of the development and should be open next fall.
The store will be about 44,000 square feet, said Target spokesperson Maddie Wojtalewicz. Questions about a construction timeline or kind of store were not answered, though typical small-format Target stores are 15,000-40,000 square feet, compared to full-size 130,000-square-foot stores, according to the company's website.
Listen to "It's All Good: A Block Club Chicago Podcast":