CHATHAM — A wine and charcuterie bar scheduled to open this month on East 75th Street is still coming — just a bit later than first expected, its owners said.
Park Manor 75, a Black-owned wine and charcuterie bar, will open in early 2023, owners Charlette Stanton and Jacare Thomas said. 
The married business duo planned to open in August at 600 E. 75th St., but permit delays have stopped progress, Thomas said. 
While they wait for the city's final stamps of approval, the couple has applied for a $250,000 Chicago Recovery Grant, Thomas said. 
The grant will allow them to open Park Manor 75 "comfortably without the stress" and invest in the community, Thomas said. The couple used their personal finances to get the bar up and running. 
The couple also launched Sea Black Charters this summer, a brand that encourages Black people to enjoy Lake Michigan on a boat. People can book "Summertime Chi Adventures" or "Dock Days" to work remotely on the water. "Sea Kids Boat" teaches kids under 18 boat safety and fun on the water. 
With the support of the city and approved permits, they could open Park Manor 75 between February and March, Thomas said. 
"We still have the same vision," Thomas said. "People can expect great wine, cheeses, small plates and charcuterie boards. We're hoping it all comes together soon."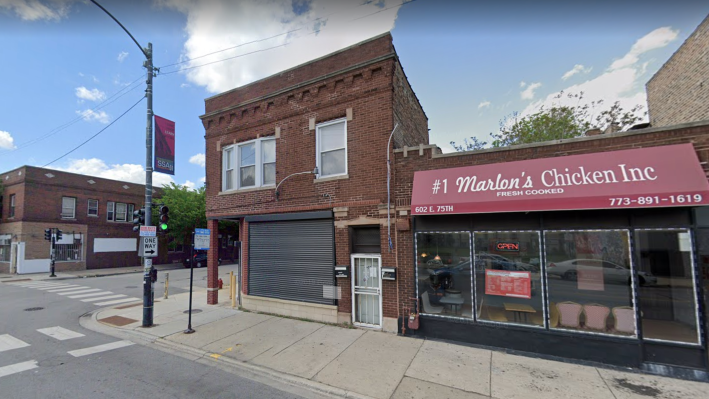 Park Manor 75 was born out of Thomas and Stanton's love for Chatham's 75th Street. The two often shopped at the mom-and-pop stores and ate at the restaurants along the strip when they dated. 
For most of their marriage, they've dreamed of opening a commercial space that would give people a place to socialize on the South Side, Thomas said in April. 
When they found an available building on 75th Street, they sold their four-bedroom, four-bathroom condo in Woodlawn and moved into the "tiny' three-bedroom apartment above the commercial space to make Park Manor 75 a reality.
When the bar opens, neighbors can expect wine, craft cocktails, mocktails and charcuterie boards born out of Stanton's love for the craft during the pandemic. 
There won't be a bar to order shots or a speaker blasting the top 40 hits, and Park Manor 75 "won't have Maker's Mark or Bulleit," Stanton said. 
Instead, a mixologist will come to your seat and tell you about the wine program or create a crafted cocktail. Low drum and bass music will play to foster conversation. Art will be plastered across the walls. 
The bar will amplify Black brewers, distillers and creatives around the city. 
Park Manor 75 is only the beginning of what 75th Street could be, Thomas said.
"I hope our business shines as a beacon of what can happen in our neighborhoods," Thomas said in April. "The opportunity and the possibility of what we can contribute to the South Side are important, and we want to be a part of that narrative. Hopefully, other people will see it and say, 'I want to cast down my bucket and build up this corridor, too.'" 
Listen to "It's All Good: A Block Club Chicago Podcast":