BRIDGEPORT — It took two minutes for Christian Durden to decide on the perfect look for his first day of second grade: a fade with a simple line on the side.
The gregarious 8-year-old — who is set to attend Woodlawn Community Elementary School — was all smiles as he sat in the barber's chair Monday at I Am A Gentleman's headquarters, 540 W. 35th St. There, veteran barber Robert Davis has been volunteering his services all month, giving free haircuts for kids heading back to class.
I Am A Gentleman has transformed the lives of boys and young men in Chicago for years through mentorship programs that focus on empowerment, healthy living and balanced relationships. The organization also has an office in Las Vegas.
Christian's mom, Kim Durden, heard about I Am A Gentleman's free haircuts from her son's principal. Preparing all of her kids for the upcoming school year can be an expensive undertaking, so Durden was grateful for the tip, she said.
"Having programs like these means the world, especially when you have a son growing up in a microwave culture where everything is 'Gimme gimme now,'" Durden said. "Programs like this — where he can see men who look like him be productive and successful in the community — that's what it's all about."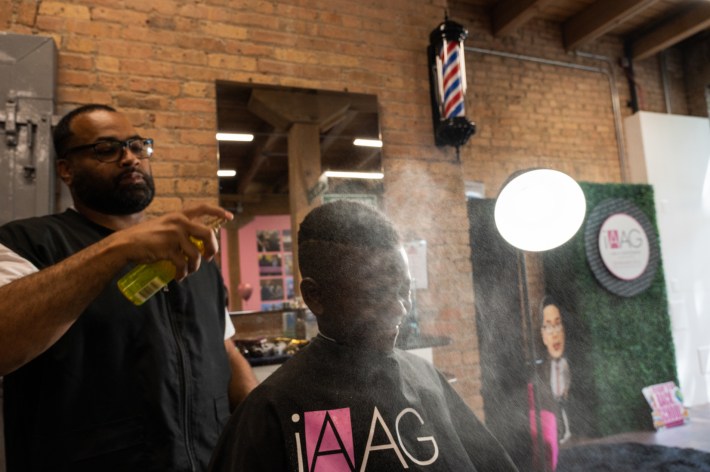 Each year, 35 boys and young men ages 14-21 from across Chicago participate in I Am A Gentleman's 14-week program.
Mentors share their expertise on a range of topics, from financial literacy to grooming, some accompanying the cohort to see sports games or on out-of-town trips to provide them with new experiences and memories. One recent trip took the group to New York City, where mentees explored Manhattan and Harlem.
Participants get a certificate of completion and a gift at a graduation ceremony. The program has become so popular that students who graduate return for additional mentoring. Slots set aside for them are filled in a matter of days, Onque' said.
Scott Onque', pastor of South Shore's St. Luke Missionary Baptist Church for 16 years, said he was impressed with what he saw when he visited the group's offices one Saturday afternoon. He started volunteering — and it's been one of the most rewarding experiences he's had, Onque' said.
"What makes the program special is the investment in the young men and all the volunteers who come and bring their different skillsets. Each of us invest our time, our knowledge, wisdom and energy into the young men and you see the results," Onque' said.
Boys who age out of the program have the opportunity to become junior life coaches, helping with Saturday program activities.
"We're saving lives. We're giving them direction and hope that they may not have gotten if they didn't participate in this program, so this is super vital when we think about all of the loss of life each and every weekend in the city of Chicago. We're hoping that what happens in this program will give them a trajectory of success," Onque' said.
The organization's mission also appealed to Davis, an Englewood native who works out of Shaun's Barber Shop in Washington Park and has donated his services to other groups throughout the years.
The friendship between the barber and Executive Director Jermaine Anderson dates back nearly a decade, starting in Davis' chair. When Anderson asked him to donate haircuts this year, Davis was all in, joining a rotating crew of stylists volunteering their skills and time.
"I'm just making sure that young men will be able to go to school with a smile. Everybody deserves a nice cut and to wear decent clothes. That's what I enjoy getting out of this," Davis said. "I remember when [Anderson] first started this, and it has to be one of the most awesome things I've ever seen. Just him being a role model and giving these guys an opportunity to pick up style and the right mannerisms … they understand that keeping up their appearance counts for everything."
To sign up for I Am A Gentleman's free haircuts, visit the organization's website. Appointments are booked through Sept. 7, but organizers say slots open up frequently as people reschedule or cancel. You can also find out more about donating or volunteering opportunities on the website.
Listen to "It's All Good: A Block Club Chicago Podcast":