LOGAN SQUARE — A developer is scrapping city-approved plans to redevelop the old Hollander Storage & Moving site, now bringing neighbors a fourth proposal for the building, which has been eyed for an overhaul since 2018.
GW Properties received City Council approval in 2021 to convert the building, 2418 N. Milwaukee Ave., into a mixed-use complex with offices, retail and nine apartments. That plan is no longer financially viable, according to the company; its leaders now wants to turn the 110-year-old property into more than 50 apartments and retail.
The project is similar to formal and informal proposals the developer floated in 2019 and 2020.
Mitch Goltz, of GW Properties, said it's a "side-step from what's already been reviewed and proposed" and "something the community can be proud of for many years to come."
But Ald. Daniel La Spata (1st) has reservations about the plans, partly because of the ever-changing proposals for the site that have gotten key backing but never come to fruition. While the newest proposal is similar to a version neighbors saw years ago, it requires a zoning change to go through City Council.
"We would like very much to see the site redeveloped. It's why we followed the feedback of the community that supported them on two different proposed zoning changes," La Spata said. "Of course, after doing two zoning changes, there's some reticence around doing a third."
GW Properties plans to rehab the Hollander building and replace the one-story building and parking lot next door with an adjoining apartment complex.
The plans call for 11,000 square feet of retail space and up to 57 loft-style, industrial apartments, a mix of one- and two-bedroom units and studios. The units will be 500-1,000 square feet. Rents haven't been determined yet, but they would be dictated by the market when the project is built, Goltz said.
Goltz also said he's willing to designate 15 percent of the units as affordable.
Two previous tenants, Guidepost Montessori and a salon, are signed onto the project, Goltz said. GW Properties is looking for more tenants to fill 11,000 square feet of retail space.
Before GW Properties, the site was home to the storage and moving company for more than a century. The Hollander family sold the Logan Square building to GW Properties in 2018 to focus on their headquarters in Elk Grove Village. In the years leading up to the sale, the building was only being used to store the company's records.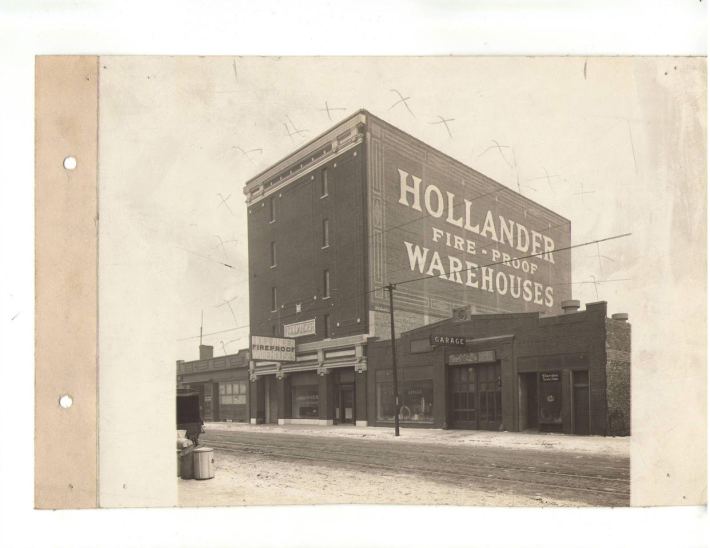 The residential-heavy proposal is the latest plan for the site, which has been vacant since GW Properties bought it.
GW Properties initially sought to bring 20 loft-style apartments and retail to the site. After community meetings, the developer came out the following year with a proposal focusing on boutique offices, restaurants and retail, including a 40,000-square-foot Brooklyn Boulders rock climbing gym and fitness center. That version didn't include any apartments.
GW Properties reworked the proposal again in 2021 after Brooklyn Boulders pulled out of the project. Citing pandemic challenges, the developer nixed the addition and sought to redevelop within the existing footprint. The City Council approved the developer's request for a zoning change to bring offices, retail and nine apartments to the site.
Goltz said they were forced to dump that plan because of skyrocketing construction costs and supply shortages caused by the pandemic. A largely commercial development isn't "leasable" in this shaky real estate climate, Goltz said.
The age of the building has created expensive renovation challenges, Goltz said. Cell towers on the roof must be relocated, which has added to the complexity of the project, Goltz said.
"If anything has been known the last two years, things change, markets change … and this project is an example of what made sense and what was viable at one point has to change to be viable," Goltz said.
This version of the project is the same as what Goltz brought to La Spata in 2020, but that never was discussed at a community meeting. The newest proposal also is similar in scale and design as what developers pitched in 2019.
"What we are presenting now, I wanted to present last year, I wanted to present the year before. These plans have been sitting in our folders for nearly two years now," Goltz said.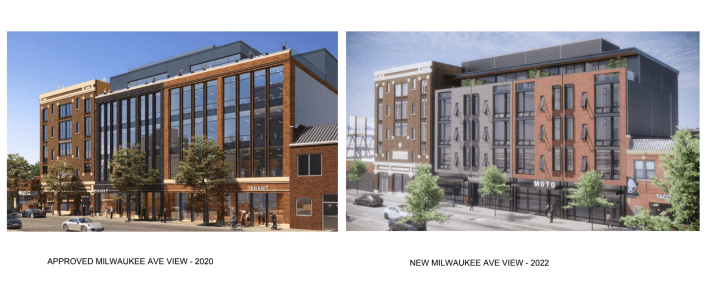 La Spata said he rejected the nearly 60-unit proposal he reviewed in 2020 after community groups asked him to hold off amid uncertainty surrounding the pandemic and its impact on the economy.
The alderman said he also had concerns about bringing more studios and small one-bedroom apartments to Logan Square, which has experienced rapid displacement in recent years. Under La Spata's predecessor, Ald. Proco "Joe" Moreno, several luxury apartment complexes sprouted up in Logan Square as the neighborhood gentrified.
"It looks a lot like what we've seen four or five years before I came into office, and based on the community feedback I've been getting, is where I would say some of my reticence is," La Spata said of the latest proposal. "There's a real interest in pushing for multi-bedroom housing. Those are considerations I'm really taking to heart when we look at new projects."
La Spata's office is collecting community feedback on the new proposal via an online form to determine next steps. A community meeting will likely be held in October.
Goltz said they're eager to finally bring the Hollander site back within the constraints of a pandemic economy.
"This is a big hole on this strip which we are definitely eager to change, and we are hoping and believing this is the plan that makes the most sense," Goltz said.
Watch our "On The Block" TV show on The U, CW26 and MeTV.
Listen to "It's All Good: A Block Club Chicago Podcast":