EDGEWATER — Edge of Sweetness bakery is changing up its business — and, in the meantime, it'll host weekly markets that showcase local businesses.
The bakery at 6034 N. Broadway opened in 2017 and is known for homemade cakes, cinnamon rolls, bagels and pastries. It temporarily closed its retail space this week due to staffing issues brought on by the pandemic, said owner Kate Merrill.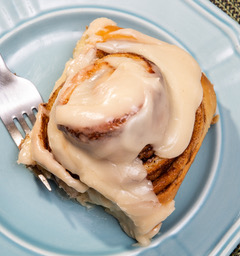 Merrill is working to "reimagine the business under a different model" as she shifts her focus toward catering and hosting events, filling orders and making her products available in other cafes, she said.
Supporters can donate online to the bakery's front-of-house staff, who were laid off.
In the meantime, the retail space will be used for weekly markets that will feature Edge of Sweetness' baked goods and products from the seven local businesses that share the industrial kitchen at Edge of Sweetness, Merrill said.
The markets will be held 3-7 p.m. Wednesdays starting next week.
"It'll be a great way to introduce our businesses to the community as well as give everyone an opportunity to get their favorite Edge of Sweetness treats and other things, as well," Merrill said. 
Cocoa & Co., Chicago Marshmallow, Ice Cream Girl, Kinetic Coffee, Luciana's Kitchen and Second Fridge Co. will be featured at the markets. 
Customers can expect to find all kinds of homemade goodies, including chocolate, marshmallows, pastries, cinnamon rolls, pies, ice cream, empanadas and cold brew, Merrill said. 
Fans of Edge of Sweetness can still get their hands on all of their favorite treats by placing orders online and picking them up 9-11 a.m. Saturdays.
Customers can also request catering services and rent the retail space to use for special events by emailing info@edgeofsweetness.com.
"Edgewater is my home, and these are my people, my family," Merrill said. "In time, I'm confident I'll come up with a solution that serves my community, my brand and my life all at once. But in the interim, I'll continue to serve our customers in these ways instead." 
Listen to "It's All Good: A Block Club Chicago Podcast":