DOWNTOWN — As a serial groper attacked women Downtown, some of the victims faced roadblocks when trying to report the crimes — something that can make it harder for survivors of sexual violence to come forward, experts said.
The Downtown groper attacked women and then took off on a motorized skateboard at least six times in June and August, prosecutors have said. But three survivors told Block Club they faced issues when trying to report the man and stop the attacks: A detective took days to respond to one, while others said 311 operators hung up on them when they tried to report the abuse.
Victor Manuel-Reyes was arrested Friday morning and has been charged with criminal sexual abuse, four counts of aggravated battery and two counts of aggravated criminal sexual abuse in connection to the attacks, prosecutors and police said.
A woman, who did not want to be named, told Block Club she was assaulted Aug. 2 near Millennium Park. A man approached her from behind in broad daylight, grabbed her and fondled her, she said.
With help from a witness, the woman reported the attack immediately. Three days went by before her case was assigned to a detective, she said. When she tried to help investigators by sharing video evidence she'd obtained, she was ignored, she said.
"I feel like I did everything to put them in like the best position, and it was still kind of treated as a joke and just discarded, and I still had to chase after them basically, every day," the woman said.
A sexual violence expert said the issues the women experienced are things that make it harder for all survivors of sexual violence to report crimes.
'I Was Not Being Taken Seriously'
The woman attacked Aug. 2 near Millennium Park said the assault occurred while she was walking home from work along South Wabash Avenue. The man grabbed her butt and tried to penetrate her, she said.
"I still had my headphones in so I didn't hear him, but then he was just laughing in my face as he rode away," she said.
The young woman said she was in shock as another woman from behind ran up to to help her.
"She just ran up to me and asked if I was OK. She's like, 'I saw the entire thing,' and I was in shock. I was like, 'I don't even know what just happened.' And she looked at me and said you were just assaulted," she said.
The two went to a nearby nail salon and a condo building to ask for video footage the establishments might have of the attack. A nearby residential building's staff offered to make a copy of its video for the police, she said.
After parting ways with the stranger, the woman walked up to a police car on Michigan Avenue and, with tears in her eyes, attempted to make an official report.
She was taken to a police station, where she described her assault at least four times, she said.
She left the station later that night and was told someone would follow up with her, but no one did, she said. When the condo building staff reached out saying they had footage for the police, she called the station and found out no one had been assigned to her case, she said.
When the woman tried to explain she had possible footage of her attack and contact information for a witness, she was met an attitude from the officer on the other end of the phone, she said.
"They were like, 'What good is footage going to do? It's not like he's rolling around with his name on his shirt,'" she said.
Officers initially categorized the attack as a battery, a simple misdemeanor, according to a police notice she received after filing a complaint.
A police spokesperson did not confirm what, if any, charges have been filed in connection to her attack.
"All they put was that it was a butt slap," the woman said. "I felt like a joke, honestly … like I was not being taken seriously. I've been slapped on the butt before at a bar. That's not what this was.
"This was to humiliate me, to violate me."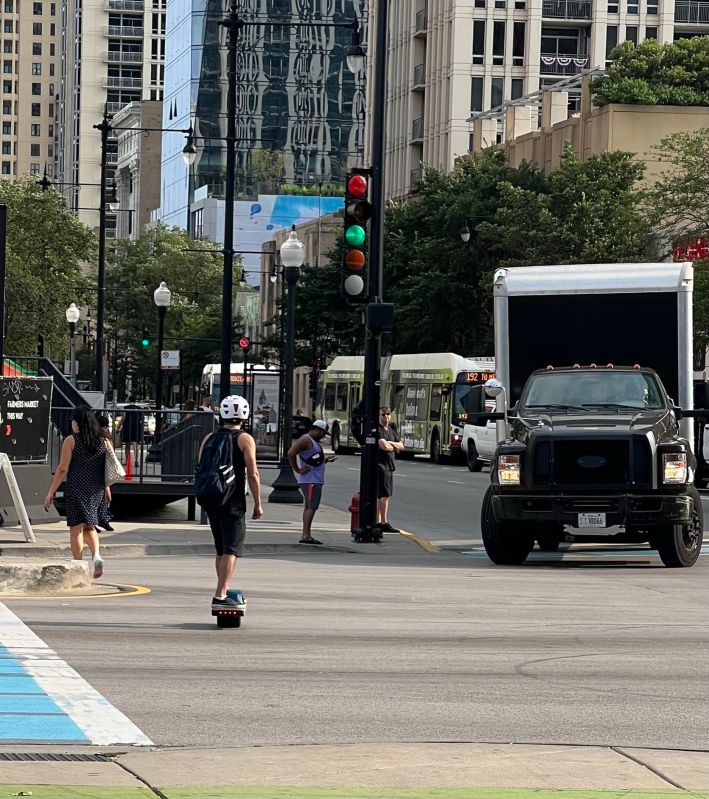 When the woman's friend sent her Block Club's story on the attacker, she recognized the man as the same person who had assaulted her. She called the police to notify them, and her case was transferred to a detective investigating other cases that are possibly linked, she said.
The woman said she thinks her persistence helped finally get her case assigned to a detective — but she again had to talk about the details of the attack and share the video footage with that investigator because she was told her report contained no details.
The other two women who were attacked and spoke to Block Club said they initially had trouble reporting their assaults through the city's 311 non-emergency number, with operators hanging up on them before they succeeded in filing complaints. Their experiences later improved, and the detectives working with them have been more responsive, they said.
Those two survivors praised detectives and credited them for arresting a suspect.
'It Feels Like An Additional Harm'
Mallory Littlejohn, legal director for the Chicago Alliance Against Sexual Exploitation, said reporting sexual violence can be a prolonged and confusing process.
An Illinois law requires police officers to complete written reports for all allegations of sexual harm. But the system still has major flaws, Littlejohn said.
It takes an average of 10 days for an assault case to get assigned to a detective, according to the Chicago Alliance Against Sexual Exploitation. Additionally, survivors wait 13-72 days on average for an arrest, which only occurred in 10-20 percent of reports made to police, according to a report from the nonprofit.
Initial reports are supposed to only have the basic information until a case gets assigned to a detective, who will follow up with a survivor to hear details of an incident — even if they have recounted it multiple times already, as the woman attacked near Millennium Park described, Littlejohn said. All of this information is updated in a new supplemental report, Littlejohn said.
"We can't ignore that the system was not made for survivors, like at all. There is so much inefficiency. There's so much of victim-blaming. The system is not trauma-informed," Littlejohn said.
Police officials would not comment on the difficulties survivors experienced in reporting the assaults.
The woman attacked near Millennium Park said she is in limbo. Police could not confirm if any charges against Manuel-Reyes are connected to her case, and the woman said she's been told to be on standby to identify who attacked her in a lineup.
She said the experience has left her feeling frustrated. That is common among survivors, Littlejohn said.
"It's like, 'I was harmed. So I go to the police.' And then for this person, especially very early, on to see this is not what I thought it would be — it feels like an additional harm," Littlejohn said. "I think because our society is just so 'crime and punishment,' everything is basically focused on the person who did the harm, and not on the people who were harmed."
When police arrested Manuel-Reyes, he admitted to touching three women "on the ass," saying he didn't remember what they looked like but that they were all wearing "something hot and short. Something women looked good in," the Tribune reported.
Police also found a white helmet and blue motorized scooter belonging to Manuel-Reyes, which matched the description of what the attacked had used.
Manuel-Reyes is being held on a $40,000 bond or a $4,000 for release, with electronic monitoring.
He is scheduled to return to court Wednesday.
Listen to "It's All Good: A Block Club Chicago Podcast":