DOUGLAS — FroSkate, a Chicago-based skate collective centering women, people of color and queer people, dropped its own Nikes over the weekend.
The "All Love. No Hate." Dunk Highs are designed by Karlie Thornton, froSkate founder and president, and Vice President L Brew. This is the first time Nike Skateboarding, more commonly known as Nike SB, has collaborated with two Black women to create a dunk.
The dunks are vivid and bright, with red, blue, orange and green accents. The shoes aren't uniform — each shoe within a pair has a different color combination.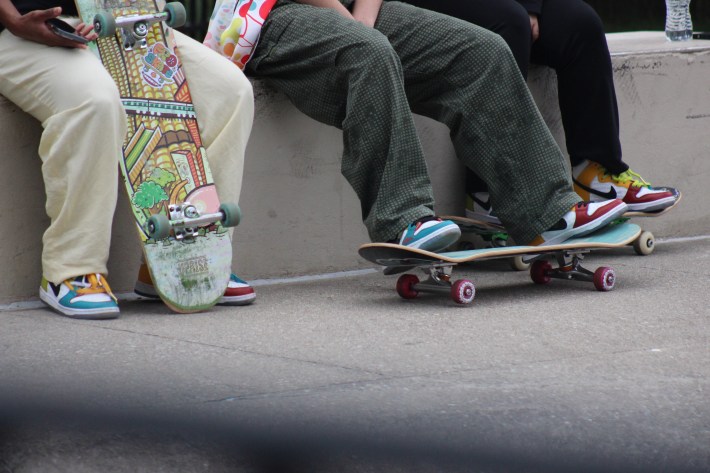 The shoes also have different color options for laces and a translucent sole. The tongue the shoe reads "froSkate" and "All Love. No Hate.," the skate collective's favorite saying.
"It really does speak to the fact that froSkate is a space for all love and no hate," Thornton said. "As soon as you hear it, you know what our message is, you know what we're about. We really do repeat it all over the shoe like a chant."
The dunks and other exclusive froSkate merchandise dropped in Nike Skateboarding shops worldwide over the weekend. Chicago's Nike skate shops are available at Uprise, 1820 N. Milwaukee Ave. in Wicker Park, and Prosper, 2620 S. Central Park Ave. in Little Village.
Fans can also buy the shoe from the SNKRS app starting Aug. 24.
"We are thrilled with Nike's support and commitment to creating opportunities for young, ambitious Black and Brown folks with collaborations like this," Brew said. "More companies should follow Nike's example. All industries should amplify the livelihood of BIPOC, LGBTQIA+ and non-cis male individuals."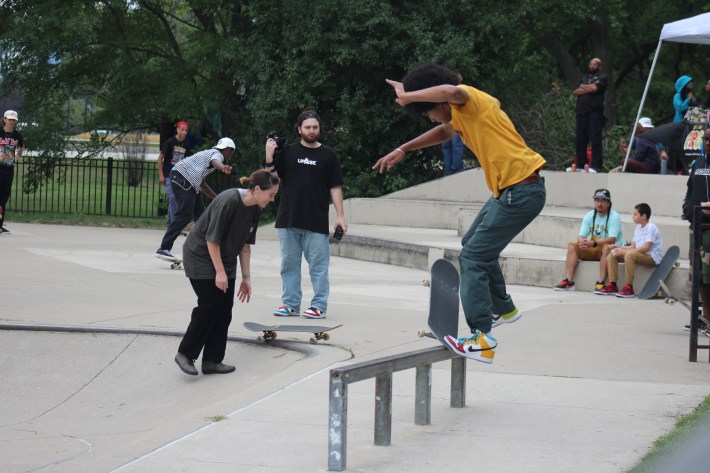 froSkate started in 2019 as a group chat among friends who wanted to skate but didn't see people who looked like them at parks. They wanted to create a space for people who traditionally haven't felt represented in skateboarding. 
RELATED: At FroSkate, Women, People Of Color And Queer Skateboarders Shine After Years Of Skate Park Intimidation
The skate collective has hosted more than 80 virtual and in-person events , including skating meetups, workshops, community initiatives and movie nights.
"When I first began froSkate, I had no idea how huge it would become," Thornton said. "It started simply as an invitation to beginners and other Black and Brown folks to come and skate with me. But it quickly exploded because it's something the community, both here in Chicago and nationwide, really need."
froSkate challenges the narrative of what it means to be a "real skater," and the Nike SB collaboration is another way to change the status quo, Brew said.
Nike SB approached Thornton and Brew 18 months ago, and the duo got to designing the shoe right away.
"One of the key reasons we wanted to support froSkate with this shoe is their unique mission," said Kelly Bird, global brand manager of Nike SB. "Thornton and Brew are committed to increasing representation and providing resources for communities typically unseen in mainstream skateboarding media."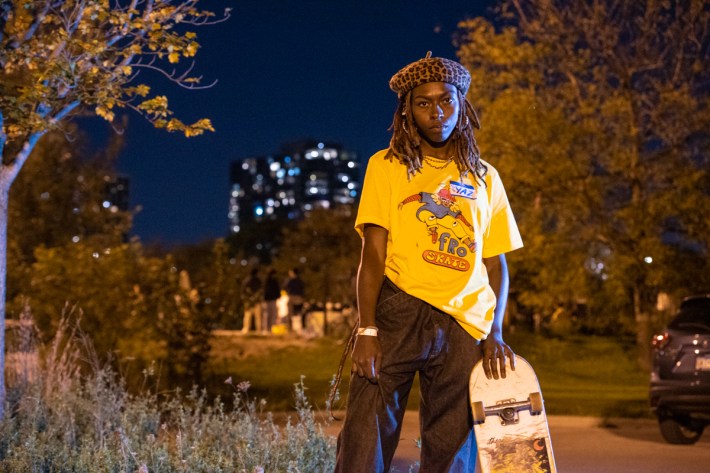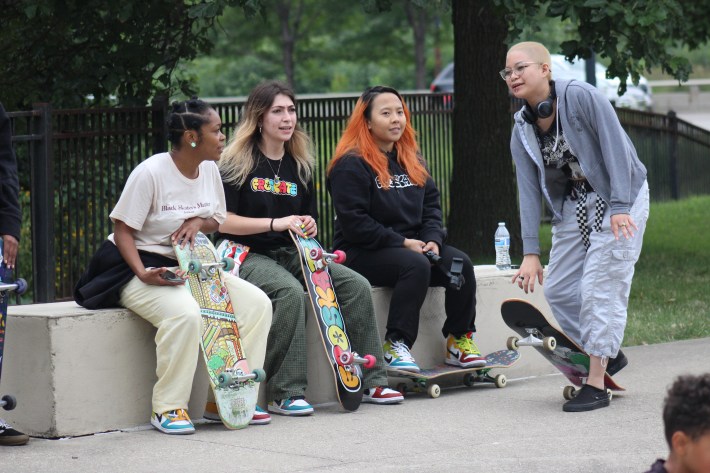 Designing the shoe helped froSkate develop a brand identity, Thornton said.
"It really kind of forced us to find our language, find our colors, find what represents froSkate the most," Thornton said. "It speaks to how creative we are, how creative Black and Brown people are, and skaters, as well. And it's very happy uplifting feeling when you look at the colors. It just felt good when we saw it, and we knew that was the one."
froSkate hosted two launch celebrations this weekend, including a Sunday skate meetup at Burnham Skatepark. And the collective is just getting started, Thornton said.
"We have a lot of cool new drops coming. The shoe isn't it; we have more fun stuff planned," Thornton said.
You can learn more about and donate to froSkate on its website.
Watch our "On The Block" TV show on The U, CW26 and MeTV.
Listen to "It's All Good: A Block Club Chicago Podcast":