LAKEVIEW — More than a dozen youth from the kids' circus program CircEsteem will put on a live show with aerial stunts, juggling and clowns Thursday in Lakeview.
The CircEsteem Around Chicago tour will host a show 6-7 p.m. Thursday at Blaine Elementary School, 1420 W. Grace St.
"Folks can expect an hour-long circus show by about 15-20 kids," said Dan Roberts, executive director of CircEsteem. "We have a 20-foot-tall aerial rig, so there will be trapeze, silks and lyra, as well as tumbling, juggling and clowning."
After the show, the performers will open the circus ring up for children in the audience to try some of the circus stunts themselves, Roberts said.
"We invite kids into the circus ring to try their hands at walking across a low tightrope, jump-roping or juggling," Roberts said.
This will be CircEsteem's 18th of 19 shows across Chicago this summer and the third performance sponsored by the Lakeview Special Service Area 27 through its Community Events & Placemaking Grant program.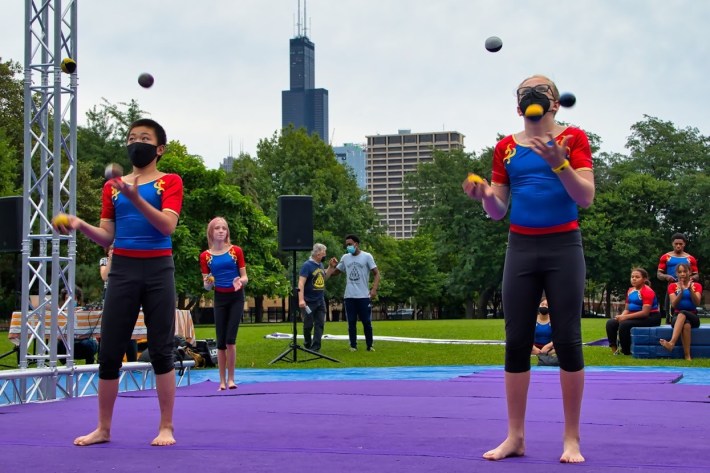 CircEsteem was founded 21 years ago and is headquartered at 4730 N. Sheridan Road in Uptown, where the organization just bought its building to own, Roberts said.
The organization offers a free after-school program Mondays, Wednesday and Fridays where youth spend half the time doing homework and the other half practicing circus acts, Roberts said. CircEsteem also has a Saturday morning program for youth 3-18 years old.
"The idea is that as kids are building these circus acts, they're also building lifelong friendships, self esteem and how to communicate or engage with people from different backgrounds," Roberts said.
More information on the Lakeview CircEsteem Around Chicago performance can be found on the Lakeview Roscoe Village Chamber of Commerce's website.
Listen to "It's All Good: A Block Club Chicago Podcast":