WEST LOOP — Two brothers from the South Side started a podcast to blow off steam about the Chicago Bears. Now, they'll celebrate its 200th episode by inviting fans to come complain with them. 
The 200th episode of "79th & Halas" will be taped Thursday at Haymarket Pub & Brewery, 737 W. Randolph St. Doors open at 5:30 p.m. and taping starts at 7:30 p.m. Free tickets can be reserved online.
Joe and Scott Lewis have run the podcast for eight years, with its name a nod to Bears founder George Halas and the street where they grew up. The show's signature "Go Crazy Hotline" will take live questions from disgruntled Bears fans in the audience Thursday. 
"It's Chicago, and the ultimate sign of respect is when someone tells you to go crazy. So we have a hotline to voice frustrations after each game," Scott Lewis said. "It's funny because when they win, we get fewer calls." 
The podcast has found an audience of Chicagoans who crowdfunded to send the brothers to cover the NFL Draft in April. The brothers are covering Bears training camp and have press credentials for every game this season. 
Scott Lewis said he planned the "200 Live" event for more than a year so he could "personally thank everyone who listens." The show has helped him forge a career as a sports reporter and personality, he said.
"We're just two guys from the South Side who like talking about our favorite team; we didn't expect all this to come out of it," Scott Lewis said. "We want to tap in with the support we have. It's one thing for people to listen, it's another if they're gonna leave their houses to come see us. We're grateful." 
RELATED: 'Brothers Started A Podcast To 'Deal With Our Sadness With The Bears.' Their Fans Paid To Send Them To The NFL Draft'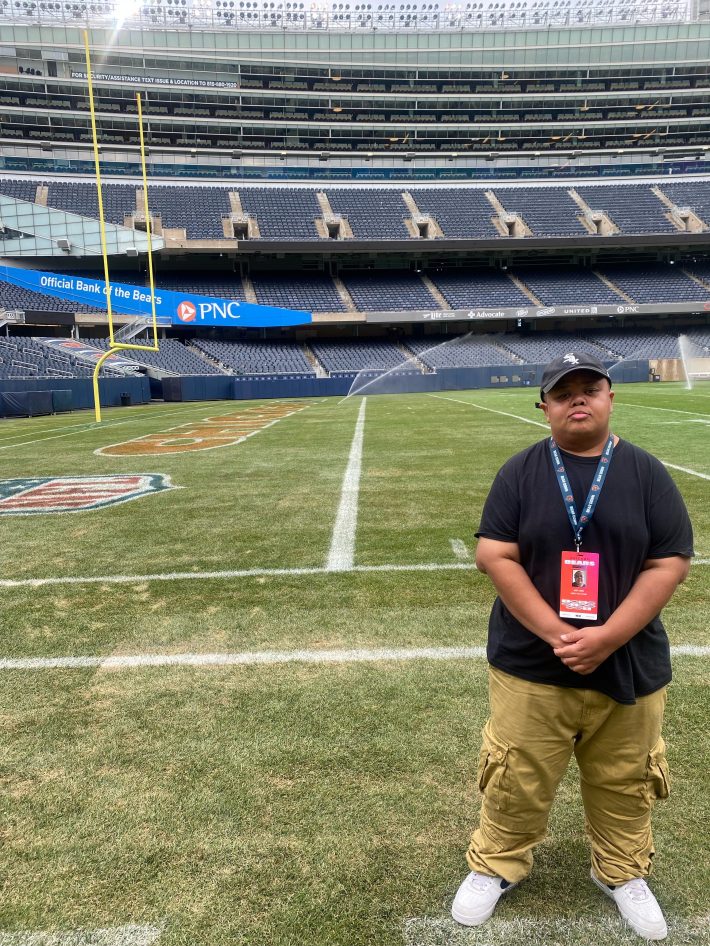 The show's success is a testament to up-and-coming Black creators finding their own way through the predominantly white sports media industry, Lewis said. In May, Joe Lewis said "it's not sacred to cover the Bears." 
"Me and Scott aren't special or different from anyone else. We just got an opportunity," Joe Lewis said in May. "For young Black men and women in the South Side, to covering the draft, the best thing we can do is open doors for each other."
The brothers grew up "in the middle of Bulls mania" and were raised on the lore of Walter Payton, Scott Lewis said. Their dad took them to Mr. Ellis' barbershop in West Englewood, where sports talk was in the air, every week.
"The barbershop was the No. 1 place to have conversation amongst Black men in the neighborhood," Scott Lewis said in May. "That's the origin of us hearing sports conversations, people not pulling any punches." 
In 2014, Scott Lewis moved to Los Angeles to work in entertainment while Joe Lewis stayed in Chicago. The brothers started recording "79th & Halas" in 2015 on "crappy computer mics" as "therapy to talk about the team that put us through so much stress," Joe Lewis said.
The podcast helped the brothers stay connected. In 2018 they launched their own independent sports media company: the Barber's Chair Network.
The goal for this season is to have Bears players on the show — and to cover their first Super Bowl, Scott Lewis said. 
Of course, Scott Lewis doesn't expect the Bears to play in it. 
"I predict them at five or six wins, but I can see a path to eight or nine. There's a lot of question marks because the team is overhauled," Scott Lewis said. "It could be bad." 
Scott Lewis once called for former Bears general manager Ryan Pace to be "sent to jail" and said new general manager, Ryan Poles, isn't doing himself any favors by driving a tough bargain with star linebacker Roquan Smith. 
"I'm blessed to be at training camp this year," Lewis said. "And Roquan isn't doing much more than just stretching." 
Listen to "It's All Good: A Block Club Chicago Podcast":