PORTAGE PARK — The owners of Portage Park's newest comic and graphic novel bookstore are launching its youth art shelf — and they want neighbors' help filling it.
Howling Pages at 4354 N. Milwaukee Ave., which opened in May, wants to showcase and sell visual art from young creators to give them a taste of what it's like to be a professional artist and market their work, founder and co-owner Alain Park said.
The shop is searching for creators and authors 17 and younger from all over Chicago who make comics, zines, illustrative artwork, stickers, prints or posters who want to take their passion to the next level, Park said.
Similar to the shop's adult art consignment section, the youth artwork will be available for customers to buy. All proceeds go back to the artists, Park said. Youth will be able to choose the prices for their works.
"When you are young, you can feel what the exciting part of being creative is about and find people to see and who like your work," Park said. "One of the things young artists can see is see themselves in a creative space" here.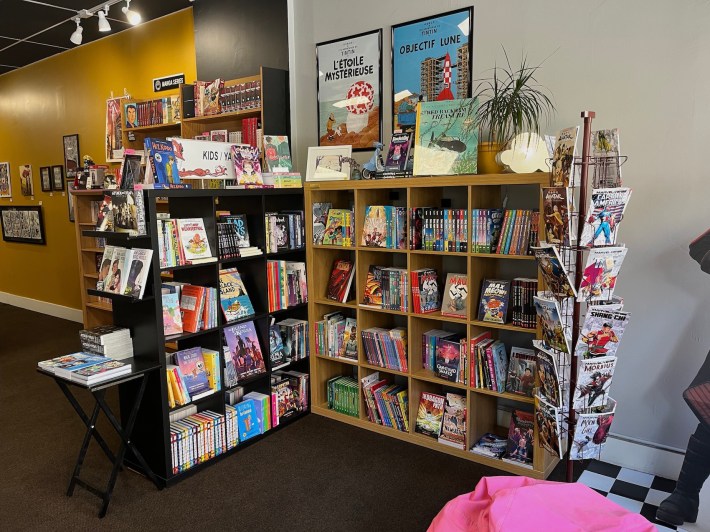 Park's 17-year-old daughter, Eloise Park, is helping organize the youth shelf, which will sit next to the kid's section on the right side of the store close to the front door. The artist — who creates realistic, anatomical illustrations — said she plans to add her own work to the shelf.
Eloise Park looks forward to showcasing her work outside of school for the first time, she said.
"It feels cool because I have never sold my art," Eloise Park said. "I thought about selling it online, but this is a lot easier. It's going to get in front of people's faces. It's not like it's lost on social media."
Alain Park hopes the initiative encourages young creators to not be shy with what they want to say through their work and show an "unfiltered perspective" without the barriers some may encounter at school galleries or for class assignments.
Sometimes it's limiting to follow themes and strict art guidelines, Eloise Park said.
"There are school galleries but there are subjects you can't put up … and the way we are going to do this is a lot more of a creative freedom format," Eloise Park said.
Youth are welcome to submit up to five pieces and their work will be displayed on a first-come, first-served basis, Elosie Parker said. If the store gets more submissions, owners may reorganize the space to accommodate more artwork or rotate it out.
About three artists have already committed to submitting pieces for the wall, the Parks said. Once it gets filled, they will be able to post examples online to show potential artists and the community what is for sale.
Creators interested in selling their work at Howling Pages will be able to submit online or stop by the shop. For more information, youth can reach out to info@howlingpages.com.
Listen to "It's All Good: A Block Club Chicago Podcast":