GRAND BOULEVARD — R&B singer and Morgan Park grad Jeremih will lead the 93rd annual Bud Billiken Back to School Parade as the grand marshal when it kicks off Saturday morning.
The Def Jam hitmaker will be joined by honorary grand marshals, including YWCA President and CEO Dorrie McWhorter and the team behind the Black Bread Company. It starts 10 a.m. Saturday along King Drive between 39th and 55th streets.
Myiti Sengstacke-Rice, Chicago Defender Charities president and CEO, said the at-home viewing experience will also get an upgrade, with production similar to the quality of the Macy's Thanksgiving Day Parade.
"We're trying to do something a little different, so we're working with some people who have done some major parades so that the viewers can enjoy it," Sengstacke-Rice said.
It will be the first time since the pandemic that the country's largest Black parade will run the full 2-mile route down King Drive.
Organizers said they expect more than 100,000 people at this year's parade, which normally draws five times that amount each summer. Created in 1929, the event marks the transition from summer vacation to the new school year.
This year's theme is "The Power Of Bud Billiken 365," a nod to the power of volunteers, organizers and sponsors who worked to make the parade happen.
"There is power in just bringing people together and showcasing everyone's hard work, especially the kids. It's a celebration of them," Sengstacke-Rice said.
Perennial favorites, including the Jesse White Tumblers and the South Shore Drill Team, will be back, as will the Kenwood Academy Marching Band and Morgan Park High School Band.
Chicago Defender Charities pairs participants with parade sponsors, who in turn raise money for transportation and uniforms. Thanks to the outpouring of generosity this year, the nonprofit was able to add more money to its scholarship fund, awarding $50,000 to college-bound students, Sengstacke-Rice said.
Paradegoers can expect increased police presence at the event after the Highland Park shooting last month.
Brown told reporters last week officers will be focused on "high ground," like rooftops, to keep attendees and participants safe.
Organizers of the beloved parade said earlier this week they've also stepped up security.
"We always had a strong security safety plan," Sengstacke-Rice said. "We work with Chicago Public Schools, we work with [the] Chicago Police Department. We have our own security that we … doubled up on this year. Not that we're worried about anything; we just make sure that we have plenty of security throughout."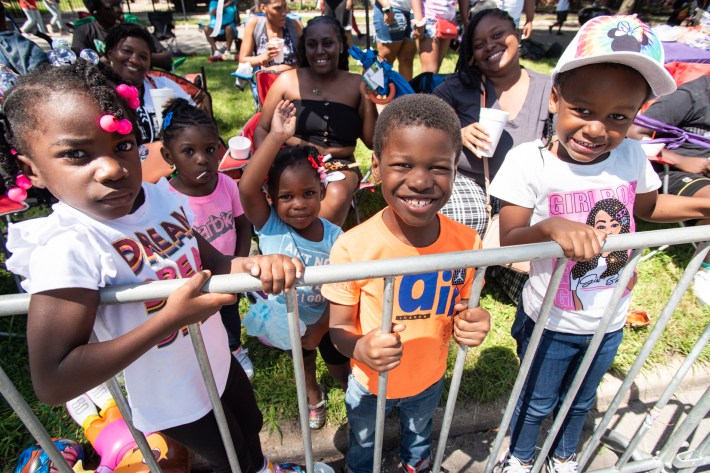 Along with police officers, there will be at least 100 marshals along the route.
"Roughly over the past 20 to 30 years, our interaction with the city agencies and other support organizations has grown tremendously," said Marc Sengstacke, executive director of Chicago Defender Charities. "We need that cooperation in order to have a successful parades that everybody can enjoy themselves."
Sengstacke said the safety precautions are being made from a "preventative standpoint," with lessons learned year by year.
"They [police] know what it means to the community, they know that it means a lot to keep this tradition going," Sengstacke said. "And they want everybody to have fun."
As is tradition, the parade will conclude with its Festival in the Park at the end of the the route in Washington Park. There, families can receive free school supplies, haircuts and other resources in preparation for the upcoming school year. There will also be a roller skating rink for paradegoers to enjoy.
Bud Billiken's live television broadcast will air at 10 a.m. ABC7.
Watch our "On The Block" TV show on The U, CW26 and MeTV.
Listen to "It's All Good: A Block Club Chicago Podcast":