LINCOLN SQUARE — Hundreds of people will float down the north branch of the Chicago River this weekend for the city's first Summer Float Party.
Participants will depart from River Park, 5100 N. Francisco Ave., with up to 500 people filling the northern branch of the river. They will float downstream on inner tubes, floating loungers and inflatable toys until they reach the finish line at Clark Park, at 3400 N. Rockwell St.
The Summer Float Party starts 12:30 p.m. Sunday. Floaters younger than 18 are welcome with a parent or guardian present.
Tickets starting at $45 are available online until 10 p.m. Thursday. Tickets are limited to 500 people ages 7 and up.
Participants must provide their own floaty and personal flotation devices, which are to be worn at all times. An inflation station for floats will be available at River Park, organizers said.
Parking is available at Clark Park. Shuttles will take participants to the River Park starting line so they can float back, organizers said.
Landlubbers can join the fun by spectating from shore. There will also be an After Float celebration 3-5 p.m. at Clark Park with music and food.
The event is organized by Friends of the Chicago River, a nonprofit working to improve and protect the Chicago River.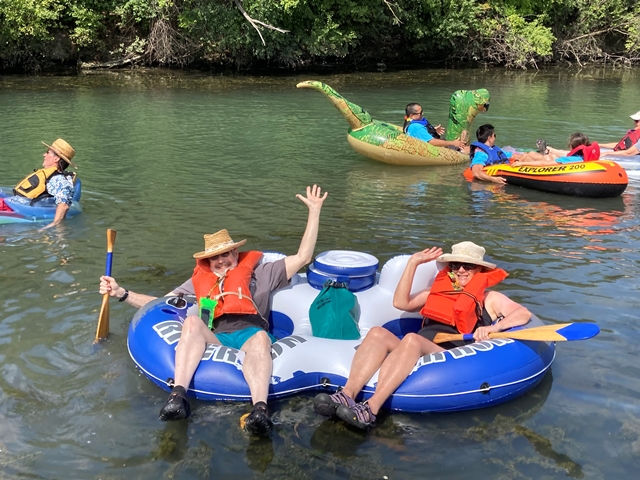 The float party was piloted in Skokie last summer on the North Shore Channel.
"When Friends of the Chicago River was founded in 1979, it would have been inconceivable to float down the river on inflatable chickens and giant unicorns, but not anymore," Margaret Frisbie, executive director of Friends of the Chicago River, said in a statement.
Over the past 40 years, the health of the river system has improved dramatically through the advocacy and efforts of Friends of the Chicago River and other local organizations, Frisbie said.
"Thanks to decades of hard work and advocacy by Friends, elected officials, government agencies and our many partners, the Chicago-Calumet River system is healthier and more accessible for recreation than it has been in over 150 years," Frisbie said.
The event will be held rain or shine and will only be canceled in the event of a combined sewer overflow, organizers said.
Click here for more information about the Summer Float Party and Friends of the Chicago River.
Listen to "It's All Good: A Block Club Chicago Podcast":