NORTH LAWNDALE — A West Side smokehouse founded as an apprenticeship program for local youth has been forced to close after burglars made off with equipment needed for the restaurant to run.
The restaurant, 5th Ave Smokers, opened in 2021 on a formerly vacant lot at 712 S. Kildare Ave. as part of a culinary arts and apprenticeship program from local nonprofit 360 Nation. The smokehouse is based out of a freight shipping container retrofitted to house a restaurant, so it relies on three generators to power the operation.
The generators were stolen in a recent burglary, leaving founder W.D. Floyd scrambling to raise the funds to replace them. The smokehouse is closed indefinitely until the generators, which cost around $2,500, can be replaced, Floyd said. Supporters can donate on the 360 Nation website or through Venmo.
The organizers have also created a GoFundMe with a goal of $7,000. It has raised more than $500 so far. Supporters can donate to it online.
"We came in the next morning and noticed that the cage that the generators were in had been broken into," Floyd said. "A generator is something you can sell and get money for … I assumed they probably sold it."
Since the restaurant has had to close unexpectedly, Floyd is also trying to raise additional funds "for the young folks that work there from the community to supplement the income that they'll lose," he said.
The restaurant began as a small community garden developed at a vacant lot where local youth involved in 360 Nation could grow herbs in raised planters. The gardening program involved people as young as 11; as they grew older, Floyd wanted to expand the kinds of skills and activities they could learn at the site, he said.
Floyd learned to smoke meat years ago, which opened doors for him as an entrepreneur and allowed him to have his own catering company specializing in barbecue. He developed the garden into a place where young people could learn culinary arts, like making sauces and dry rubs and preparing meats for smoking.
To develop 5th Ave Smokers, Floyd used the freight box as low-cost and flexible building where the restaurant could be "operated and sustained by the people," he said.
"It's mainly an apprenticeship and a culinary arts program that evolved into something that could generate some kind of economic source for the community, while also providing creative and technical skills to young people," Floyd said.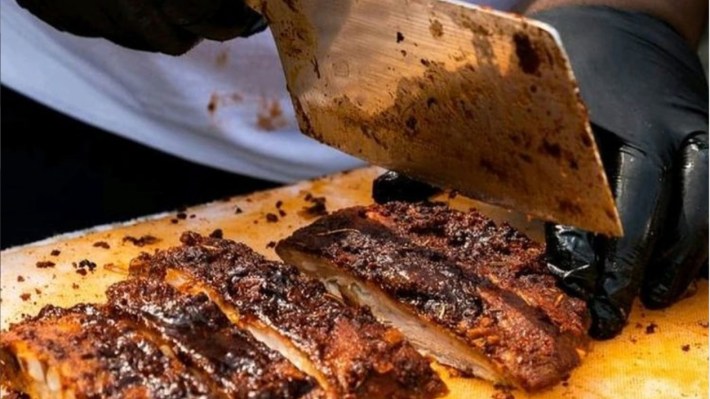 The smokehouse still uses the garden surrounding the restaurant to grow herbs for 5th Ave Smokers' signature sauces and dry rubs. Its smoked rib tips and tender brisket are crowd favorites, with sauces and seasonings that give the meat "an earthy, herby hit" that "has somewhat of a kick, but it has a sweet undertone, as well," Floyd said.
Floyd hopes to raise enough money to buy the generators so 5th Ave Smokers can reopen within a couple weeks and the teens can resume the apprenticeship program, he said.
"It's very much so a community-rooted thing. It's for young folks to learn how to smoke meat, take it home and share it with their family. It's more than just a barbecue," Floyd said.
Watch our "On The Block" TV show on The U, CW26 and MeTV.
Listen to "It's All Good: A Block Club Chicago Podcast":