ENGLEWOOD — Police are considering pursuing additional charges against a suburban man who "fired randomly" into an Englewood park Thursday and was arrested near a minivan with an assault rifle, other loaded guns, hundreds of rounds of ammunition and notes referencing a mass shooting, officials said.
Alexander Podgorny, a Woodridge resident, faces five felony charges of aggravated unlawful use of a weapon after authorities said he fired one gunshot around 3:30 a.m. Thursday into Moran Park, 5727 S. Racine Ave.
He was ordered held on $300,000 bail Saturday and remained in custody as of Monday afternoon, said Sophia Ansari, a spokesperson for the Cook County Sheriff's Office. If he posts bond to leave jail, Podgorny will be on electronic monitoring, Ansari said.
Supt. David Brown said Monday the investigation is ongoing.
"What we know is, obviously he had weapons, a cache of ammunition, that he fired randomly," Supt. David Brown said. "As far as notes and other facts about this offender … Yes, likely we are looking at other charges, but right now, just the one charge of reckless [aggravated unlawful use of a weapon] is all we have now."
Officers responding to a ShotSpotter alert found Podgorny, 29, near a minivan at the park, according to a police report. An officer at the Strategic Decision Support Center reviewing nearby surveillance camera footage saw someone outside a minivan firing what appeared to be a shotgun once into the park, the report states. Responding officers saw both the driver and passenger side doors of the minivan open, according to the report.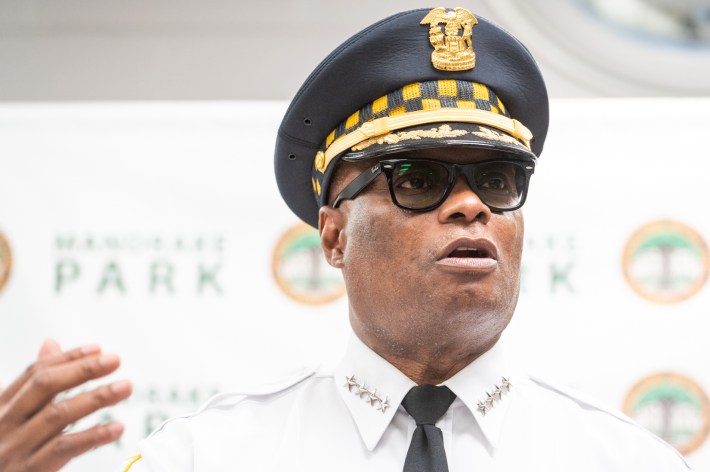 Podgorny started moving toward the minivan before officers ordered him to stop, the report states. Officers found a semiautomatic handgun in his left pocket, plus four other guns in the minivan, including an AR-15 assault rifle, according to the report. All of the guns were loaded, "readily accessible and ready to be fired," the report states.
Officers also found a spent shotgun shell in front of the minivan, more than 300 spent shell casings, "large numbers" of rounds and magazines for various types of guns, a hatchet, a pruning saw and a receipt for one of the guns, according to the police report.
Police also found "a large number of handwritten notes and various documents" in the van containing "incoherent rants and references to mass shooting events," the report states. As he was led to a squad car, he began to rant about his brother, drug addiction and his missing dog, according to the report.
Podgorny had a valid firearm owner's identification card, but not a concealed carry license, police said.
An attorney for Podgorny did not respond to a request for comment.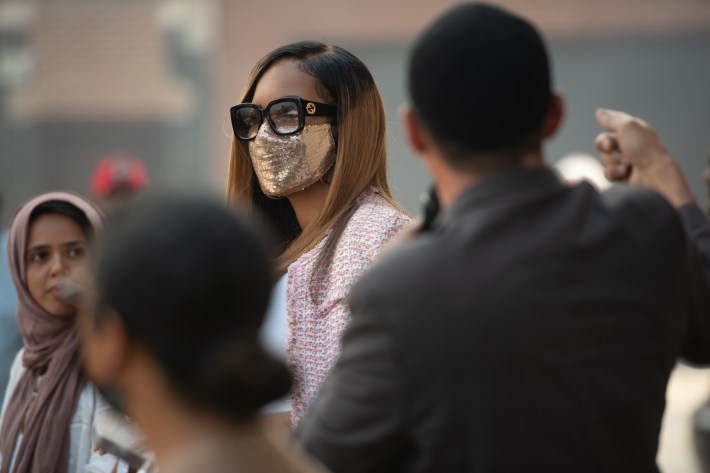 Ald. Stephanie Coleman (16th), whose ward includes the park, said she was "grateful to God" that no one was outdoors Thursday morning. The park is surrounded by residential housing, Coleman said. Police stopped someone who wanted to "assassinate a community," she said. 
"We could have been Highland Park," Coleman said. "In spite of, God blocked this. That man tried to hold Englewood back, but we're still here."
Coleman said she is working alongside the police and Chicago Park District security to order "extra surveillance" for all Englewood parks to prevent another attempt, she said. 
"When outsiders come into our community and make a plot of such, people are afraid to go to the park or outdoor events," Coleman said. "The message is that we're not going to function or live in fear. We shall continue to rise. We've got so much good happening." 
Charles McKenzie, the founder of Englewood First Responders, said the incident was "heartbreaking." Every day, his organization of 30 to 40 members patrols the streets of Englewood in an attempt to curb crime, he said. 
It's "shocking" to hear something like this happen in the community, but it encourages him to continue his work, he said. 
"It empowers me to have more of my team out and keep fighting because this is not the end. There is more work to be done," McKenzie said. "There are more people we need to catch that might do crimes like this." 
McKenzie applauded the cops who took action. If neighbors, local organizations and police work together, more crime might be prevented before it can happen, he said. 
"The bridge needs to be gapped," McKenzie said. "We need cops and lieutenants to work with community organizations to continue to see change. We have to continue to do great things." 
Leaders from Teamwork Englewood, a community organization that offers economic, educational and social opportunities for neighbors, said in an instagram post they have grappled with violence at Moran Park in the past, and the incident made them question why someone would have targeted that area.
"Moran Park has struggled with violence and was the reason that residents and stakeholders came together to work to improve and activate this park for the last few years," organizers wrote. "Stakeholders have been working tirelessly to address the ongoing violence and create positive programming and experiences for residents.
"These efforts have shown positive response and a decrease in crime in and around that park. Moran Park is a real life example of community based crime reduction strategies working to reverse the impact of years of divestment."
Subscribe to Block Club Chicago, an independent, 501(c)(3), journalist-run newsroom. Every dime we make funds reporting from Chicago's neighborhoods.