CHICAGO — Chicago Public Schools officials are scrambling to find bus drivers as the first day of class approaches and thousands of kids are at risk of having no ride.
Last fall, about 2,100 CPS students were left without a ride on their first day due to the driver shortage, with many struggling to get bus rides for months. The district still has 400 vacant bus driver positions, a CPS spokesperson said. That's left officials rolling out new plans that could leave many students without a bus when classes begin Aug. 22.
The district hired 95 yellow bus drivers, but hundreds of positions remain vacant, a spokesperson said last week. The shortage could mean some students will have to ride up to 90 minutes each way, the spokesperson said.
CPS is prioritizing seats for special education students and those experiencing homelessness. If buses fill up, students at magnet and selective enrollment schools will have to find other ways to class, the spokesperson said.
So far, the district will be able to fulfill the 15,700 ride requests that have been made, the spokesperson said.
But if buses fill up, district officials are considering offering public transit passes for students, the spokesperson said. And families of special education students and those experiencing homelessness could apply for a $500 monthly stipend to figure out their own transportation.
CPS is trying to incentivize people to apply to be a driver by working with vendors to raise the pay to a minimum of $20 per hour. CPS employs 15 private bus vendors.
But the issues last year have left parents and educators wondering if they can trust the district's bus plans.
Christine Palmieri, a special education parent and member of the Special Education Advocates Coalition of Chicago, said parents are starting to receive phone calls and letters encouraging them to take the $500 stipend. 
Last year, CPS offered families $1,000 for transportation — and then left some of them months behind on payouts. Others rejected the stipend as impractical for students with disabilities and said they weren't enough to cover costs of gas or ride-hailing services, Palmieri said.
The school district is legally required to provide transportation for students with disabilities. 
"They're trying to reduce the number of students they have to provide buses for," Palmieri said. "CPS wants to get out of the transportation business because it's hard and comes with high costs." 
Alice Costas, a teacher at Northside Prep High School, said she had a student who didn't show up to class until November because he didn't have a bus route.
Costas has "little faith in this year's plan" as CPS continues to offer "the same false compromises" like monthly stipends, she said.
"We're seeing our families being put in tough spots, between putting kids with medical needs on long bus rides or taking the money and scrambling to make it work," Costas said. "This is an emergency that can't be fixed with Band-aids. Buses need to be fully funded and functional because so many kids have already missed a lot of school."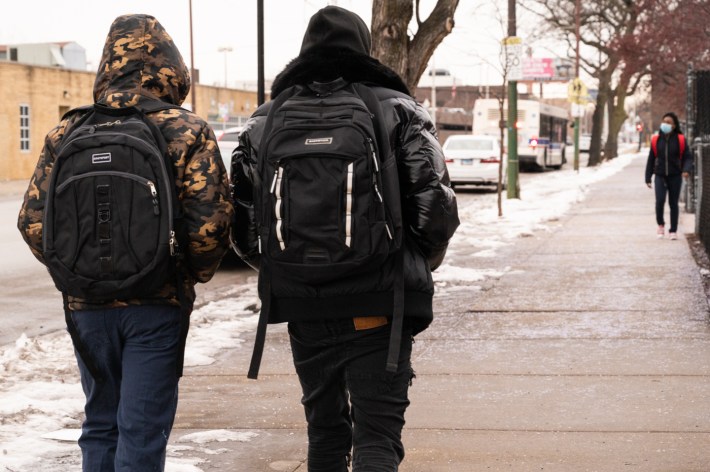 Amber Smock, director of advocacy for Access Living, a Chicago-based disability advocacy group in Chicago, said CPS' bus shortage is "a national issue that was turbocharged by the pandemic." But Chicago's school system leaves out thousands of students who "need appropriate learning options which are not readily available in their neighborhood schools," driving demand for buses, Smock said. 
Accessible, timely and reliable transportation is a lifeline for students with disabilities who need the consistency of being in specialized school programs, Smock said. 
"School transportation can be the single-most decisive factor in whether a disabled student will graduate high school ready for college or work, especially students who need in-person support," Smock said. "Our hope is that CPS can figure this out so that all students can attend every day of class this coming year." 
Parent Laurie Viets declined the stipend and applied for a yellow bus to pick up her 13-year-old son, who is autistic and can't get to school independently. She said she doesn't know which bus will come yet.
"It's always a crapshoot," Viets said. "You have to get lucky with a company with the right drivers and bus aides." 
Last year, Viets was matched with a bus service that got her kids consistently to school on time, but in years past they were assigned to vendors with drivers who didn't show up or double-booked routes for schools with competing schedules. 
Since last year's bus shortage, CPS has had plenty of time to recruit and train drivers, sweeten the job with more effective incentives and think through cost-efficient transportation options, like car services or vans, Viets said.
But the school district continues to double down on outsourcing the problem to private yellow bus vendors, Viets said. 
"It's not going to work because it hasn't in the past. They say special education students are the priority, but I'll be impressed and surprised if they are," Viets said. "Clearly, this old model of yellow school buses is not just working, but it's inconvenient to fix it. It's an outdated system." 
Dennis Kosuth, a school nurse at Walt Disney Magnet School, said some of its students missed classes or had "very long days on the bus" due to delays and the driver shortage. 
As the school district lags in hiring drivers, Kosuth worries there will be more of the same and magnet students may be kicked off buses.
"CPS talks about how it has these magnet schools set up to provide more options," Kosuth said. "If it takes too long to get there, there's a larger tradeoff. And then it stops being a real choice." 
Viets lives in Irving Park but sends her son to Harriet Tubman Elementary School in Lincoln Park due to the strong support system for his special needs. Building a sustainable school busing system will be possible if "we invest most in making every neighborhood school awesome, so everyone can get to the school they need comfortably," Viets said. 
Viets' son will be waiting outside on Aug. 22 for his yellow school bus.
"Every year we honor our commitment to be ready on time," Viets said. "But they don't."
Listen to "It's All Good: A Block Club Chicago Podcast":