CHICAGO — Christine Meissner has always loved the water. Her father, a sailor, nurtured that interest as a kid which later turned into her love of kayaking.
But as a Black woman growing up in the city, Meissner said many of her peers did not get the same opportunities to learn and enjoy those types of outdoor sports.
"I never felt I had a personal barrier of entry to the outdoors or finding people that I was able to go out in nature with, but what I always did notice was that I was the only Black person in any of the outdoor groups I was part of," Meissner said.
Meissner is part of a growing segment of outdoor enthusiasts helping more Chicagoans take up outdoor activities that long have been the domain of white, cisgender, high-income, able-bodied people.
Meissner volunteers with Outdoor Afro Chicago & NW Indiana, a local network and community group that inspires Black connections and leadership in nature. Other groups also are geared toward people of color, LGBTQ people, people with disabilities and people who can benefit from outdoor activities for therapeutic purposes.
Some of those are Sending in Color, a diverse and inclusive climbing community; Out in Nature, which organizes outdoor meetups for LGBTQIA+ people; the Chicago chapter of birding-watching group Feminist Bird Club; and Queers on the Rocks, a community of queer, trans, gender non-conforming, two-spirit and nonbinary rock climbers in the area. 
At their fingertips is Chicago, an urban nature oasis boasting more than 70,000 acres of forest preserve land, 600 public parks and access to one of the largest freshwater lakes in the United States.
"One of the most surprising things to me when we started hosting events was a lot of the people showing up were actually brand new or relatively new climbers," said Danya Rosen, a volunteer with Queers on the Rocks. 
"They were people who'd been wanting to climb but hadn't really felt safe, comfortable, or didn't know anyone within the community. We want to create mentorship opportunities for queer, trans and non-binary folks to teach and learn from one another to feel safe, and to feel supported while climbing indoors and on outdoor adventures," Rosen said.
Outdoor Afro launched in California in 2009 as a blog written by the organization's founder and CEO, Rue Mapp. Today, the national nonprofit has grown to more than 60,000 community participants, more than 100 volunteer leaders and local networks in 60 cities across 32 states and Washington, D.C.
"We really speak to two common types of Black experiences in nature," Meissner said. "The first is someone like me, who has been recreating for years but has always been the only Black person in the group. The second is Black people who might have always wanted to participate in outdoor activities but didn't feel like the opportunity was available to or for them."
Outdoor recreation doesn't always reflect Black culture, people or lifestyle, Meissner said. For people to feel comfortable joining outdoor-focused communities and events, they need to see themselves reflected in the experience, Meissner said.
Community groups like Outdoor Afro, Black-owned cycling club Streets Calling Bike Club and Chicago-based Black People Outside aim to do exactly that.
RELATED: With Black People Outside TikTok Channel, West Side Adventurers Show Followers Benefits Of The Great Outdoors
Meissner says the most common refrain she hears at Outdoor Afro events is, "I found my tribe." 
"Our community network helps Black people find kindred spirits that they can connect with and not have to worry about things like technical skills or tokenism," Meissner said. "That's why people keep coming back."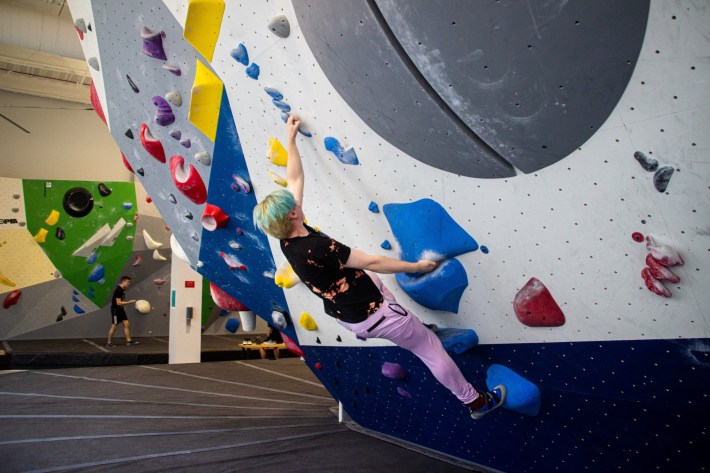 Queers on the Rocks, which kicked off during Pride Month in 2018, has steadily welcomed new and seasoned climbers into its community, Rosen said.
One of its goals is to build visibility of queer, trans, non-binary and LGBTQ climbers and help those athletes feel welcome in the area's climbing gyms, Rosen said.
Queers on the Rocks has become an impetus for many queer climbers wanting to find their way into the sport. Rosen said the organization has helped them realize, "This is a space for me, and there are people that I can feel safe with while engaging in this sport."
"Climbing is such a beautiful sport, but it can also be really intimidating, particularly for people who are just starting," Rosen said.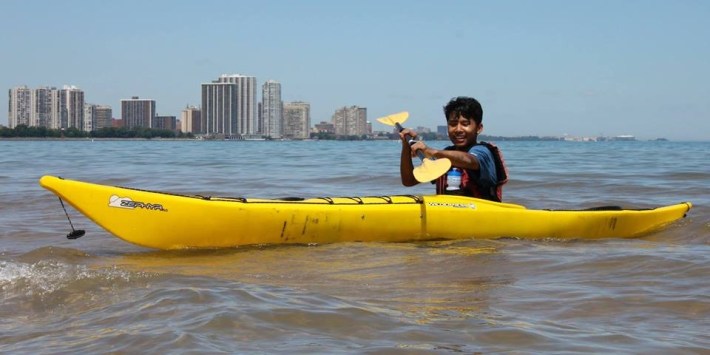 Other local organizations and non-profits leverage outdoor experiences as a form of therapy to improve the emotional, physical, and mental health of its community members, including Chicago Adventure Therapy, Chicago Run, Chicago Voyagers and KEEN Chicago.
Andrea Knepper blended her experience as a social worker and youth therapist with her expertise in kayak and wilderness guiding to create Chicago Adventure Therapy, a non-profit guiding children, youth, young adults and families through Chicago's urban wilderness.
After years of working at a community health clinic during the day and pulling evening and weekend shifts at a local kayak outfitter, Knepper realized she wanted to be able to bring the same positive impact she saw on the water in suburban Wilmette to the young people she was working with at clinics on the South and West sides.
"During my time as a kayak guide, we were taking mostly affluent white people out on vacation," Knepper said. "Meanwhile, I was working with these young people [at the clinic] who were carrying really heavy diagnoses like Oppositional Defiant Disorder, ADHD and bipolar disorder. We were asking them to sit in an office, keep still and talk to, basically, a random adult about their lives.
"These were the most private and vulnerable experiences in their lives that they had to reflect abstractly about, and I knew there had to be a better way. It wasn't developmentally right for them, and it didn't fit with their diagnoses or their behaviors."
Knepper left her community health clinic job in 2004 to start building the foundation for Chicago Adventure Therapy. She launched a one-week pilot in 2007 and did a full launch in 2008.
Chicago Adventure Therapy offers five programs involving a mixture of kayaking, biking, hiking, climbing and camp-centric activities and programs for children, youth, young adults and families, often in partnership with other city-based nonprofits.
From 35 young people in 2008, Knepper's program was serving 750 people in 2021. She said she hopes the organization can serve more than 1,000 young people in the outdoors by the end of the year.
"We're helping youth develop meaningful relationships across lines that often divide us in this country," Knepper said. "Our youth are learning new skills, getting out in conditions that are challenging and, most importantly, developing relationships by having each other's backs on these adventures."
Other outdoor meetup groups in the city are helping raise Chicago's profile as a city with a welcoming outdoor community willing to help you explore.
Those include Mappy Hour Chicago, which hosts speaker series at local gear shops and field trips into nature, and Out Our Front Door, a non-profit that leads bike packing trips in Chicago and around Midwest
"Mappy Hour has always been about connecting people who live in the city and love the outdoors," founder Sarah Knapp said. "Launching a chapter in Chicago has opened up the door to building a broad community of city-based outdoor enthusiasts both locally and throughout the Midwest. It's important to us that we keep spreading awareness that outdoor recreation is alive and well in big cities across the country."
Out Our Front Door's programs focus on helping Chicagoans explore nature in their own backyard. The group hosts guided bike packing trips where riders embark from Chicago on self-supported camping adventures via two wheels. Trip distances span anywhere from 10-mile single-day rides to 30-mile weekend trips to 100-plus-mile multi-day rides, organizers said.
A roster of trained guides host pre-ride orientations that help teach participants how to "rig up" their bikes and prepare for the rides. On the trip, guides also provide on-trail support in the chance of flats or injury.
The almost entirely volunteer-run organization led more than 300 bicyclists on trips before the start of the pandemic, organizers said. By the end of 2022, Out Our Front Door expects to lead 400 community members on trips around the region, from first-timers to experienced bike packers, organizers said.
"Our goal … is to get people so hyped and inspired to go on local adventures that they simply have no other option but to share their adventurous spirit with others," said Glenn Schneider, co-founder and president.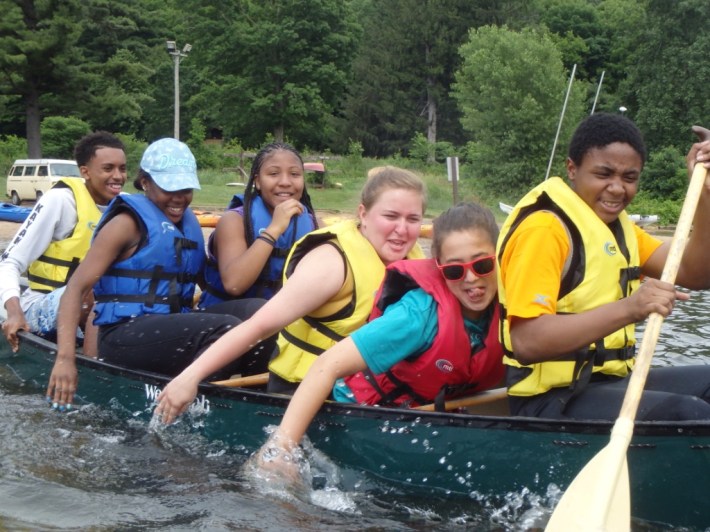 Despite the countless multi-state bike tours and international bike packing treks Schneider's done, he still rides with nothing more than a plastic milk crate zip-tied behind his seat and a spiderweb of bungee cords holding his camp gear to his bike frame.
That's partly by design, Schneider said.
"When we started doing our youth rides, we were a relatively new organization and we didn't have money to go out and buy $200 bike panniers for our riders," Schneider said. "Instead, we worked with local organizations like Blackstone Bicycle Works, The Recyclery Collective and West Town Bikes to host clinics to teach youth things like how to attach a milk crate to the backs of their bikes. We straight-up strapped all the gear they needed, in a really ridiculous manner, to their bikes. But you know, it worked."
Teaching beginner bike packers a budget-friendly way to prep their bikes for rides is a key way Out Our Front Door aims to foster a welcoming, inclusive and non-judgmental community, Schneider said. The group also aims to incorporate more adaptive opportunities into its programs, Schneider said.
"One of our board members has a daughter with disabilities, and their family has a personal understanding of just how isolating adventure-type sports can be," Schneider said. "Looking ahead, we want to push ourselves even further to create more radically inclusive programs that can accommodate youth, families, and people with all types of adaptive needs across the city. I hope other local community groups will continue to do the same."
Author's Note: Chicago occupies the ancestral homelands of the Council of Three Fires – the Ojibwe, Odawa, and Potawatomi tribes. It's important to acknowledge, understand, and reconcile the longstanding history of the land on which we recreate and reside. 
Consider donating to and supporting local organizations like the Chicago American Indian Community Collaborative, Chi-Nations Youth Council, and American Indian Center Chicago, among many others.
Listen to "It's All Good: A Block Club Chicago Podcast":