DUNNING — An iconic Chicago company is expanding its footprint on the Far Northwest Side.
Eli's Cheesecake Company broke ground last week on a massive expansion to its facility at 6701 W. Forest Preserve Drive. The 62,000-square-foot building is getting additions to its west and south sides.
The additions will add 42,000 square feet of production space for the company, said President Marc Schulman, whose father opened Eli's The Place For Steak, in 1966 and started the Eli's legacy.
Schulman's father, Eli Schulman, was also the brains behind some of the company's signature cheesecakes, which he debuted in the restaurant in 1978.
In 1984, Marc Schulman took over the business and moved its bakery to Dunning. In 1996, the company moved to its current location, which was a former mental health facility owned by the state.
"We were the first tenant in this park," Schulman said. "The fact that we had the land and now that we have this to plan for the future is great."
The $9.5 million expansion project has been seven years in the making and is financed by Huntington National Bank and Eli's, which received a tax credit from the state's Department of Commerce and Economic Opportunity for creating jobs. 
The expansion will allow the company to hire more people, "spread out" and be more efficient, release new products and add equipment, like a tunnel oven and a designated gluten-free kitchen, Schulman said.
Eli's sells its cakes at Culver's locations nationwide and on United Airlines flights, and it ships its products around the country. Celebrities and politicians have visited the bakery, and it has made giant cheesecakes for the city's many milestones, Schulman said.
Expansion plans were designed by Michael Aragona, of Aragona Architects, who also worked on the building in 1994. The project should be complete by spring, Schulman said.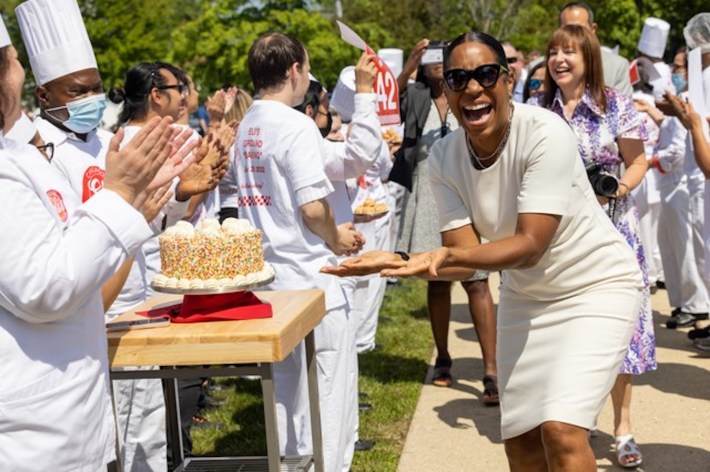 The expansion is projected to create 65 temporary construction jobs, and Eli's has pledged to hire at least 75 people when it's finished, according to a news release.
Last year, the company released the 40th anniversary edition of the Eli's Cheesecake Cookbook, which features recipes from its workforce.
Listen to "It's All Good: A Block Club Chicago Podcast":