WEST HUMBOLDT PARK — A nature play area with tree swings, mulch mounds and a mud kitchen popped up at a busy West Humboldt Park intersection last year, an alternative playground for Humboldt Park Montessori students and neighborhood kids.
Now, the locals who built the Humboldt Park Play Garden are seeking community help to maintain and expand the public play space so it continues to be an oasis for kids in the area.
The fenced-off nature play area is at the southeast corner of Chicago Avenue and Sacramento Boulevard next to Humboldt Park Montessori, 2950 W. Chicago Ave.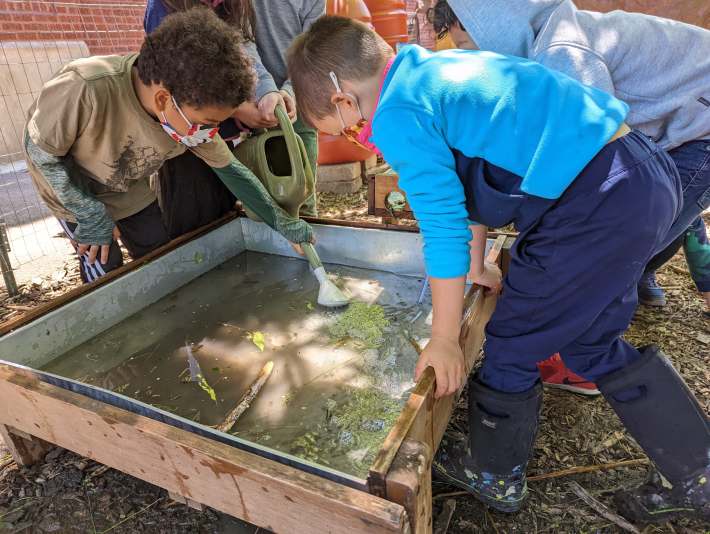 Prior to moving the school into the Chicago Avenue building last fall, Humboldt Park Montessori's director, Kristen Ediger, worked with the city's Department of Transportation, urban land trust NeighborSpace and People's Gas — which has equipment on the site — to secure permits for the project, a process that took about a year.
Once city approvals were in place, Ediger teamed up with Humboldt Park Montessori parents and teachers to convert the unremarkable grassy boulevard into a woodsy hangout for kids.
Unlike a traditional playground, which has equipment made out of hard plastic, the Humboldt Park Play Garden was made out of mostly natural donated materials.
Kids play against a backdrop of trees, bounding onto mulch mounds and wood structures; they help water flower beds and other plants with water from rain barrels; they compost vegetables and they make creations out of weeds, sticks and seeds in a mud kitchen. A tree house is being built on the south end of the play area.
All of the improvements were made through donations to the school.
"We're in the middle of the city, in the middle of a busy intersection. We want them to be able to see plants growing and see the cycle of things," Ediger said. "We want them to have that time to run around be kids, like, 'Oh, I have a bunch of milk crates or boards. What can I make?' And be super creative."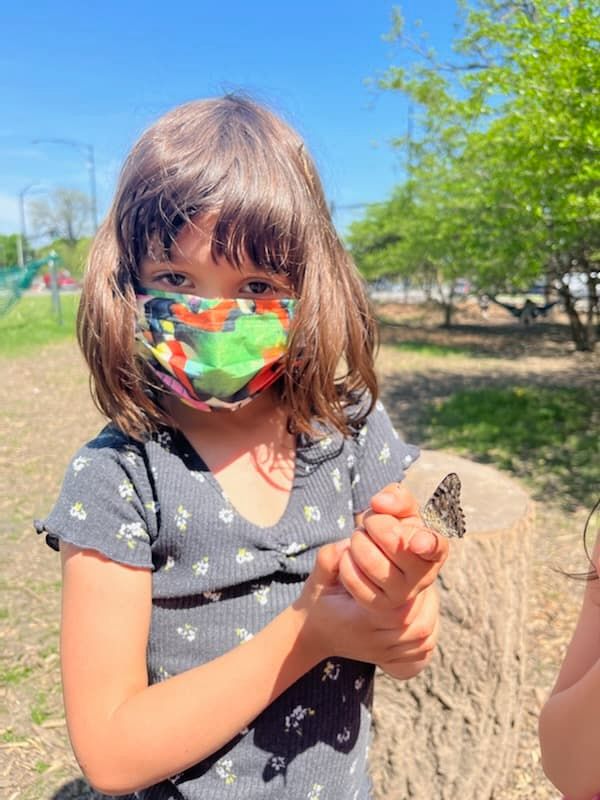 For the past year, Humboldt Park Montessori kids have used the play garden two hours a day in the afternoon. The school enrolls 55 kids, ages 3-12.
But Ediger, parents and teachers designed the play area to be open to the public. Ediger said neighborhood families are welcome to use the play area anytime Montessori students aren't using it, though if families stop by during school or camp, she's likely to let them in.
"We want it to be a space that anybody can use to come and play and relax and rejuvenate," she said. "I feel like we've been through a hard couple of years and, having as many play spaces, especially outside, is so helpful to everyone's healing, as we come back as a city and as a community."
Ediger said they applied for a $100,000 grant through the city's Together We Heal program to grow the project. In the meantime, they hope more neighbors will get involved through donations or volunteer work, Ediger said.
The garden group needs help weeding and constructing a sand pit, a meditation spiral and the tree house, among other things, Ediger said.
The school is hosting a fall equinox event Sept. 22 with fall activities, food and drinks that will double as a fundraiser for the play area's fence.
"What we really need the most is people to build stuff with us, plant things and help us care for the space — and feel like it's theirs," Ediger said.
You can donate to support the play space here.
Listen to "It's All Good: A Block Club Chicago Podcast":