LOGAN SQUARE — A new bar is replacing The Rocking Horse, a popular Logan Square bar/restaurant that closed during the pandemic after a months-long dispute between the bar's owner and the building's landlord.
Renovations are underway at 2535 N. Milwaukee Ave. to make way for the new spot, building owner Martin Barboza said. The Rocking Horse's signature horse sculpture came down last week.
Barboza declined to provide details about the new establishment, but the project will bring the Milwaukee Avenue space back to life after sitting vacant for much of the pandemic.
The plans also mark the end of a long and heated battle over back rent and other building issues between Barboza and Rocking Horse owner Anthony Fiacchino.
The Rocking Horse opened in 2009 as a neighborhood bar and grill with an extensive beer list, said Georg Simos, one of the original owners. The bar was a fixture of Logan Square's Milwaukee Avenue for more than a decade, even as trendy new restaurants and bars sprung up around it.
A few years before the pandemic, there was a shakeup in ownership.
Barboza, a local real estate developer, and his business partner, Matt Focht, bought The Rocking Horse's building in 2018. Cook County property records show they paid $1.6 million for the Milwaukee Avenue property.
Around that time, former owners Simos and Alex Tsolakides sold The Rocking Horse to Tsolakides' friend, Fiacchino, an air freight and logistics professional who wanted to use his family's restaurant industry experience to bring fresh eyes to the place.
But like many businesses, the pandemic dealt The Rocking Horse a major and unexpected blow to operations.
Fiacchino said he struggled to make rent during the shutdown and the industry's subsequent shift to a carryout-only model. When restaurants were allowed to reopen for dine-in, persistent issues with the building, including leaks from the ceiling, prevented the bar from staying open for very long, Fiacchino said.
In the midst of the pandemic chaos, Fiacchino said Barboza and Focht tried to raise his rent a few thousand dollars.
"Everything was going beautifully until COVID and the restrictions therein … and first-time property owners that were in a panic mode and decided, rather to collaborate and work together, they decided to strong-arm me and draw a line in the sand. It was kind of a bummer," Fiacchino said.
Barboza said that's not what happened.
Barboza said Fiacchino owes them $150,000 in back rent and other costs dating back before the pandemic. The landlord and real estate developer said they understood the pandemic challenges Fiacchino was up against and tried to work with him to make them whole, without putting any pressure on him.
"I was very patient with that process," Barboza said. "We were about six, seven months without any sort of income. No rent. I have a family, too, so I had to literally pay the mortgage out of our pocket so we didn't get foreclosed on."
Barboza also denied that problems with the building went unfixed. He said they addressed issues as quickly as possible and completely redid the roof to prevent water damage and leaking.
Barboza said they eventually tried to recoup a small portion of the back rent Fiacchino owed through a deal that would've made them shareholders of The Rocking Horse. But when Fiacchino insisted they take on his $200,000 debt incurred during the pandemic, Barboza said they spiked the deal.
"You bought this restaurant from Alex and Georg a year ago for $250,000, and now you're telling me for this same space that you owe us $100,000-plus, you have a $200,000 debt?" Barboza said. "You're expecting me to take my space back over for more than you bought it for? It makes no sense. The dollars and cents just don't add up."
Fiacchino said negotiations fell apart because Barboza and Focht wanted to "have their cake and eat it, too."
"The roof is Swiss cheese. The electricity doesn't work. The place is near condemned, and you guys are trying to nickel and dime it?" Fiacchino said.
After months of tense disagreements, Barboza served Fiacchino with an eviction notice last fall, sealing the bar's fate.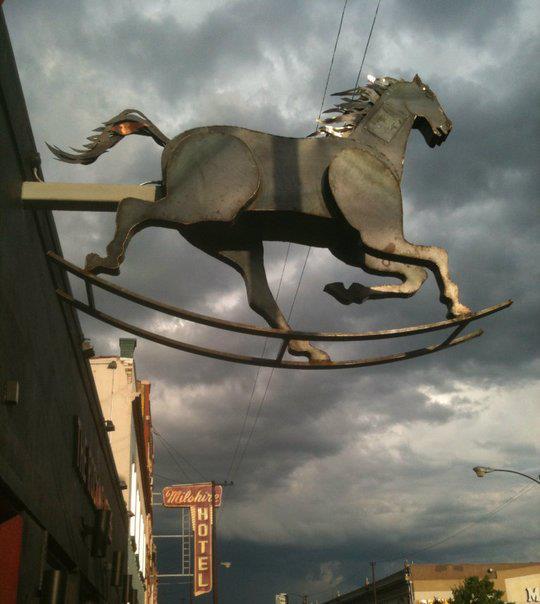 The Rocking Horse sat empty and the bar's social media pages were dormant as this clash played out behind the scenes, a slow fade into permanent closure.
Neighbors were crushed when word spread on social media last year that The Rocking Horse had closed for good. The bar was a favorite among locals for its unpretentious vibes and solid food menu.
"It absolutely stings, and it hurts because we were a part of an active community that was alive and breathing, and we were a family," Fiacchino said.
With Fiacchino out of the picture, Barboza is working with a new tenant on reviving The Rocking Horse. Barboza declined to answer questions about the establishment, but he said it won't be called The Rocking Horse because Fiacchino owns the name.
Having grown up in the Logan Square area, Barboza said he's passionate about making improvements to Milwaukee Avenue that benefit neighbors.
In addition to The Rocking Horse building, Barboza owns the building next door and other residential properties, including a two-flat in Logan Square. He also recently bought the Father and Son Restaurant site down the street from The Rocking Horse at 2475 N. Milwaukee Ave.
"I don't want anyone thinking these guys came in and they ruined something great. I wanted the best for [Fiacchino]. I wanted the best for this," Barboza said. "I don't want it look like we didn't do everything in our possible will to try and make it work for The Rocking Horse."
Watch our "On The Block" TV show on The U, CW26 and MeTV.
Listen to "It's All Good: A Block Club Chicago Podcast":