WEST LOOP — A new street fest is coming to the West Loop next month to bolster businesses along Madison Street.
The West Central Association will host its first Madison Row Fest 10 a.m.-8 p.m. Saturday, Sept. 17 on Madison Street between Morgan Street and Racine Avenue.
The event, which aims to revitalize the West Loop stretch, has been "years in the making," but was delayed because of the pandemic and other reasons, said Armando Chacon, president of the West Central Association.
"This is an opportunity to celebrate getting back to normal to some degree and continue our efforts as we think about … what we want Madison Row to be moving forward," Chacon said.
The festival is free for attendees and local businesses that want to participate. It will feature musicians, artists, kid-friendly games, neighborhood bingo and more.
Madison Street businesses will also be invited to a compete in a window-dressing contest to win prizes.
"We're encouraging all the businesses to open their doors and either extend outside or just create an environment that encourage people to go in and grab," said Carla Agostinelli, director of community partnerships and development at West Central Association.
Organizers are looking for local musicians who are interested in playing at the festival. Email carla@wcachicago.org for more information.
A list of participants and entertainment will be available closer to the event.
Madison Row Fest is being funded through a $65,000 grant from the city, $20,000 of which will be used to create bright, semi-permanent asphalt art at four intersections along Madison Street — at Morgan, Aberdeen, Peoria and Throop — in an effort improve street safety.
The West Central Association plans to commission local artists to paint the intersections with themes that incorporate safety.
The art plan comes after cyclist Paresh Dinesh Chhatrala was hit and killed by a driver on Madison Street in April.
The West Central Association is also lobbying the city to make other pedestrian safety improvements to Madison Street, including raised intersections, pedestrian refuge islands, corner and mid-block bumpouts.
"There's been a lot of conversation about what we can do to make streets safer. One of the ideas has been to better mark the intersections," Chacon said.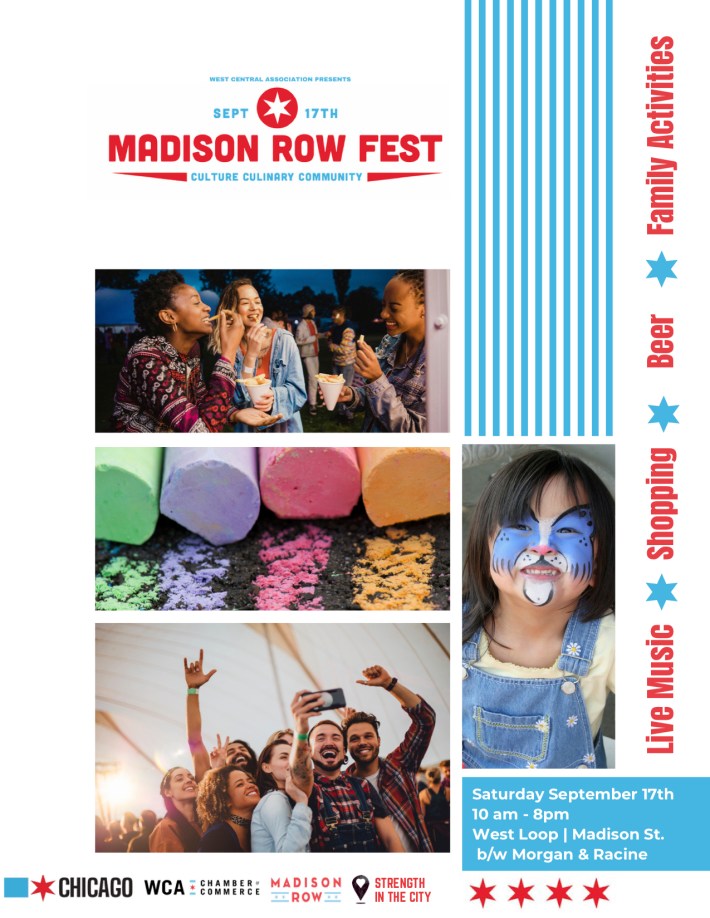 Listen to "It's All Good: A Block Club Chicago Podcast":