WICKER PARK — A bakery from a James Beard award-winning Chicago chef and baker is open near the center of Wicker Park.
Mindy's Bakery opened Saturday at 1623 N. Milwaukee Ave. The bakery is the latest project from Mindy Segal, who owned Mindy's Hot Chocolate, 1747 N. Damen Ave., in Bucktown for 15 years before closing it in 2020.
The bakery sells morning buns, cookies, croissants, bagels and many more sweet and savory items. It also sells gluten-free bagels, cookies and more.
Since closing Hot Chocolate in 2020, Segal has hosted pop-up sales of her baked goods at her former restaurant and businesses around Wicker Park, which proved massively popular.
After decades in the service industry, Segal said the bakery is an attempt to simplify her life and give her team of bakers a space to do what they do best.
"I've always wanted a bakery since I was a little girl, and I'm a pastry chef by trade," Segal said. "I just want to bake at that table and say hi to people. I just want to bake, I don't want to do anything else."
The renovated space was formerly home to a Pork & Mindy's location and, before that, Red Hen Bread. It includes a large bakery space in back, with a front counter displaying cakes, cookies and pastries that were baked a few feet away, often just minutes before.
The bakery features two menus, an "A.M. Bake" with bagels, danishes and croissants, and a "P.M. Bake" that focuses on items like laminated brioche, tarts, cakes and more.
"Everything's warm and fresh, and when it runs out … then we make more stuff," Segal said.
The bakery has limited seating indoors and on the sidewalk along the store's large front windows.
Segal had hoped to open by Valentine's Day this year, but like many business owners, she ran into construction and supply chain delays, which set her back about six months.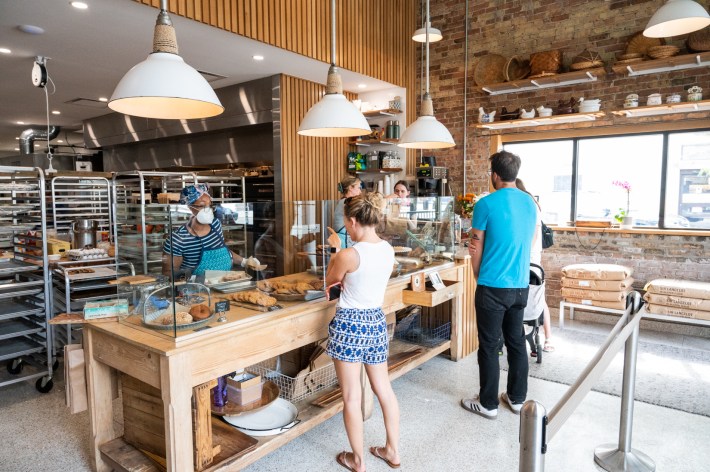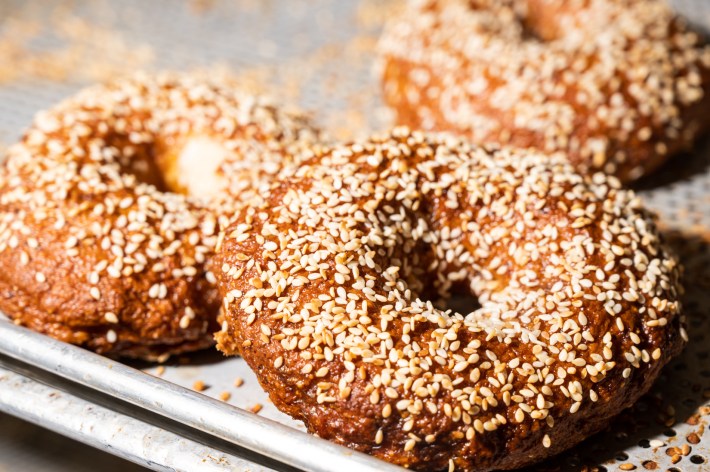 The space is filled with personal touches from Segal's antique collection, like a 19th-century Italian bakery table that serves as the front counter, chicken-themed casserole dishes and picnic baskets. The lamps above the counter were repurposed from Hot Chocolate, Segal said.
The bakery also features subtle tributes to Segal's family.
Next to the front door is a portrait of Segal's great-uncle, Meyer Sokolow, who owned a bakery on the West Side in the 1800s. Segal had an artist redraw the font from his bakery's logo to use on her own.
And above the door is a small mural that reads, "I Love You, I Love You, I Love You." They were the final words spoken by Segal's father, who passed away a few years ago.
"I wanted to have him here. He's here," she said.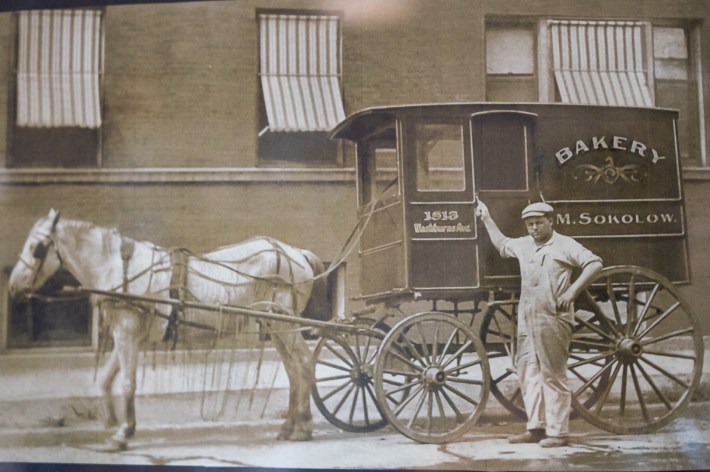 Most of the bakery's staff have worked with Segal for years, including Bo Durham, the business's executive chef.
"This is a passion project. Of course, we're going to make money. But I just want my staff to have a home," she said. "It's a very special place."
In addition to baked goods, Mindy's Bakery will sell hot and iced coffee, as well as Segal's signature hot chocolate mix and dog treats.
Mindy's Bakery opens 7 a.m. Wednesday-Friday and 8 a.m. weekends. Segal said the store closes when they run out of baked goods, or by 3 p.m.
Listen to "It's All Good: A Block Club Chicago Podcast":