WICKER PARK — At least two more women have been attacked in the weeks since police warned Wicker Park and West Town residents about a man who is sexually harassing women in the area.
In July, three women told Block Club they had been approached by a man asking for directions, who then exposed himself or was masturbating. A fourth woman said a man accosted her while she walked her dog, yelling "sexually aggressive" comments before chasing her down a street.
At least two more women reported similar attacks Friday in Wicker Park and Ukrainian Village. Both filed police reports and said the attacker scrolled through their photos after asking to use their phones to look up an address. One of the women had her child with her when the incident occurred, she said.
A police spokesperson said the department had no additional details beyond a previous community alert which outlined the incidents but did not include a physical description of a suspect. Police also have not said if they believed one or multiple men are behind the attacks.
Both women said the attacks left them feeling rattled.
"I'm really mad at him and I wish I could have taken a picture — or, I mean, honestly, I wish I would have like beat the s— out of him. But that probably wasn't an option in the moment," a Ukrainian Village woman said. "I'm probably the most upset that he was looking at my personal photos."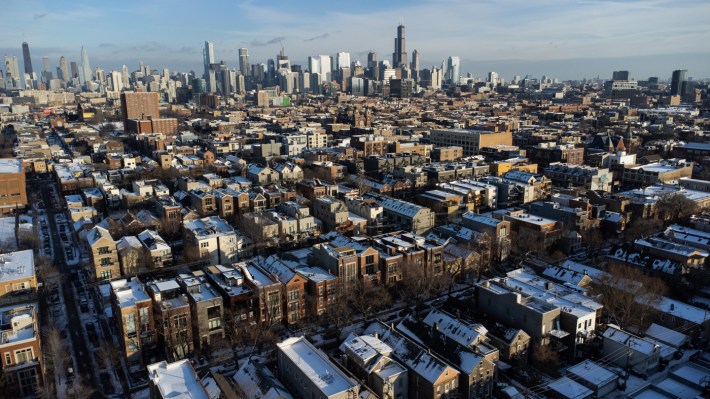 'I Felt So Immensely Violated In That Moment'
Wicker Park resident Jeanne Heffron was walking in the neighborhood Friday morning with her young son when a man approached her and asked for directions, she said.
The man, who had pulled up behind her on a bicycle, asked if she knew how to get to "1902 North Keystone." Heffron looked it up on her phone and instructed the man how to get there, she said.
Heffron handed the man her phone after he asked to look at the directions himself, she said.
That's when Heffron looked at her son and realized something was wrong, she said.
"And as I looked back to the man I had been speaking with, I realized, 'Oh my god, he's masturbating underneath his sweatshirt,'" she said. "And in that moment, I kind of froze for a moment in disbelief, as I thought about what I needed to do."
With the man still holding her phone, Heffron thought about running away without it, but she realized the man would have access to her personal information, so she grabbed it back, she said.
"So when I snatched my phone back from him, I looked at the screen, and I saw that he was not in Google Maps any more. He had opened my Google Photos and had been thumbing through my family photos … and I felt so immensely violated in that moment. And so, so disgusted that someone would pose as looking for help as a way to lure in a victim, especially with a small child present," she said.
Heffron ran away and eventually back to her home, where she called the police. She said she filed a police report this week and has been in touch with a detective.
About 16 hours later, around 1 a.m. Saturday, the Ukrainian Village woman said she was approached by a man asking for directions.
The man asked the woman how to get to "1902 Milwaukee," she said.
"And he was like, 'Can I see Google Maps?' So I gave him my phone, and he went through my pictures. I didn't know he was going through my pictures until I took my phone back. But so he was going through my pictures and he started masturbating under his giant hoodie," the woman said.
"I didn't really realize he was at first, and then I wasn't really sure, and then he actually pulled his penis out. So that was when I grabbed the phone … and I said f— you and I went inside."
The woman called 311 that night and spoke with a police officer the next day to file a report, she said.
The Ukrainian Village woman said this wasn't the first time she's encountered the man near her house. A few weeks earlier, the same man asked her for directions one night and used her phone. She said she didn't notice if he was masturbating or had exposed himself in that instance.
The woman said she had worried the man might targeting her since he appeared twice outside her home until she read news coverage showing the attacks to be more widespread.
"I was really concerned that he was stalking me until I started reading the articles and realized that he was kind of just doing this to everybody around in the neighborhood," she said.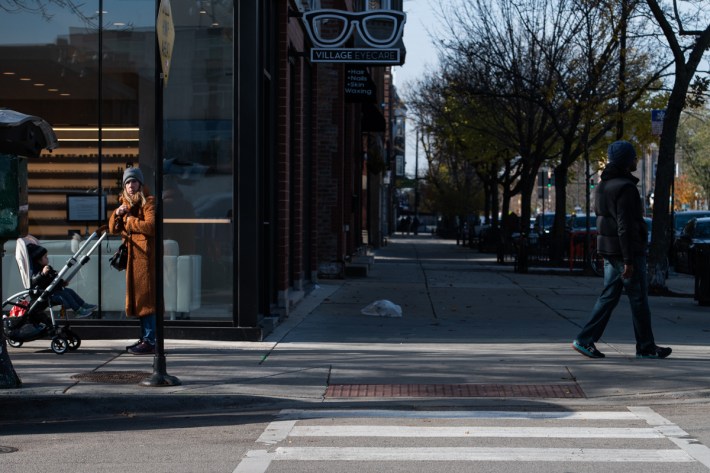 'I Hope, I Trust That [The Police Department] Is Taking This Seriously'
After a series of attacks dating back to October, the 12th Police District issued a community alert in mid-July warning of a man approaching women and trying "to engage the female by asking for directions or to utilize their cellphones, after which the individual touches himself and attempts to follow the female."
The attacks occurred between North Avenue and Division Street and Western and Milwaukee avenues in the 14th District and from Division Street to Chicago Avenue and Wood Street to Campbell Avenue in the 12th District, according to the alert.
Police have not provided public updates on the attacks since issuing the community alert. A police spokesperson this week encouraged people to call 911 immediately if they encounter the attacker, to remember unique characteristics and to never chase a "fleeing assailant."
Police have not provided a physical description of the attacker.
"All of the latest information available is what's on the community alert. The incidents remain under investigation," police spokesperson Kellie Bartoli said in an email Tuesday.
Ald. Daniel La Spata (1st), whose ward includes parts of Wicker Park and West Town, urged anyone approached in a similar situation to immediately call police. He said he's been regularly bringing up the incidents in weekly meetings with the 12th and 14th districts.
"My big concern is people don't feel safe as women in their communities, and that can't be the way we're forcing people to live. This is a really gross behavior for people to engage with," La Spata said. "This is an instance where we really need folks, even if you're feeling really traumatized and frustrated by what happened to you, to try to call 911 as quickly as possible."
The women attacked last week described the man as Latino, around average height and wearing a hoodie, a description that largely matches what was described by other women who talked to Block Club about previous attacks.
La Spata said police did not provide him with a description of any suspects, but he promised to update neighbors when he has more details.
"We are trying to do our best to get actionable advice out to our residents, ways that you can act rather than just be afraid. So as soon as we have that kind of information to provide, we will make sure to share it," he said.
The Ukrainian Village woman said a detective followed up with her about the attack this week, but the officer didn't share many additional details.
Heffron said she's disturbed by the incident, but overall she's doing OK. She also said the detective she spoke with seemed to be taking this seriously, and she hopes that remains the case to find and stop whoever is responsible.
"Just because he didn't touch my body doesn't mean that I was not profoundly violated by the experience," she said. "I hope, I trust that [the Police Department] is taking this seriously so more women aren't accosted and living with the memory of that experience."
Listen to "It's All Good: A Block Club Chicago Podcast":