ROGERS PARK — One of Rogers Park's newest stores doesn't charge its customers — instead, it pairs neighbors with everyday items as a form of mutual aid.
The Rogers Park Free Store opened in early 2021 to help through the pandemic. But the store's lease ended in July, putting in jeopardy its ability to provide assistance to the community.
The store most recently operated out of Living Water Community Church, 6808 N. Ashland Ave., where it provided neighbors with free household goods and personal items.
Its agreement with the church ended Saturday as Living Water plans to turn the area occupied by the free store back into a nursery. Now, the store is without a location to store or distribute goods. Rogers Park Free Store's volunteers have looked for a new location but have yet to find one.
"We definitely want to continue," said volunteer Matt Baron. "A lot of inspiration to start the free store was an extension of projects responding to COVID. We knew there would be a need for this community support system even after COVID."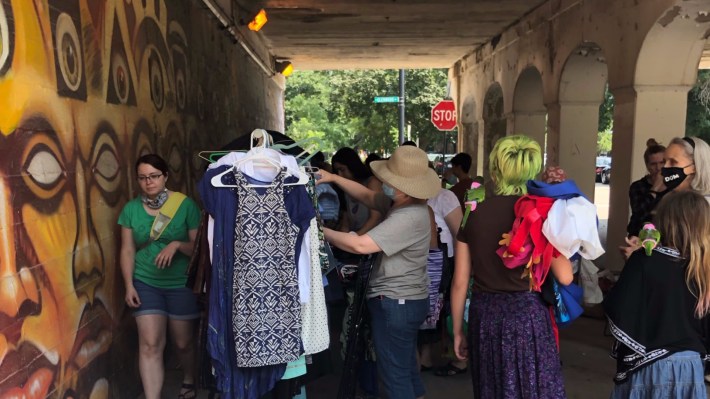 The Rogers Park Free Store was founded by members of the artist and community aid group PO Box Collective and by volunteers with the Rogers Park Community Response Team, which formed in the early days of the pandemic.
PO Box held a clothing swap and many neighbors donated other household items. Volunteers decided to build on that effort's success, said Gerardo Marciano.
"A lot of people gave us shoes, bags, things like that," Marciano said. "Out of that, the conversation turned to, 'Let's open a store.'"
The store opened at the corner of Glenwood and Morse avenues, where landlord Al Goldberg gave the group free space on the prominent corner.
From that location, Rogers Park Free Store offered goods on a weekly basis, including cleaning supplies, toiletries, clothing and baby supplies. It has raised more than $90,000 from the community to fund the endeavor.
That corner storefront ended up becoming the new home of Malliway Bros. witchcraft shop. Rogers Park Free Store was asked to move and, in spring 2021, moved into New Life Community Church.
With its time at the church space at an end, the free store is looking for its next chapter.
Demand for its services remains strong, and the volunteers would love to expand the store's scope and impact if the right fit comes along, Baron and Marciano said. The store is open on Saturdays, but its hours could be expanded if more funding and the right location are obtained.
Ideally, the group is looking for a vacant space it could lease for free. Such an agreement could work out for a landlord, as evidenced by Milliway Bros. moving into the free store's space on Morse, they said.
"We can make it more viable and make it look like a store," Marciano said. "You can see the foot traffic that comes along."
The space should be big enough to operate as a store where customers can shop. The model provides more dignity to people in need than other forms of aid, like the handing out of pre-packaged goods from food pantries and other organizations, volunteers said.
"We want people to have self autonomy and [be] able to make decisions based on what they need," Baron said.
To contact the free store with leads on a possible location, email rpfreestore@gmail.com. For more information on the free store and ways to get involved, click here.
Watch our "On The Block" TV show on The U, CW26 and MeTV.
Listen to "It's All Good: A Block Club Chicago Podcast":