LAKEVIEW — Brant and Sandy Lidman are used to being recognized in Chicago — but they might be the rare celebrities who will recognize you right back.
Byron's Hot Dogs — a family-owned and -operated hot dog restaurant — opened in 1975 and has two locations. It's become a staple on the North Side, serving classic fare like hot dogs, hamburgers and chicken sandwiches. But just as beloved are Brant and Sandy Lidman, two employees who, from behind the counter, have seen it all for nearly 30 years.
The Lidmans remember when Byron's only sold hot dogs and hamburgers, and they can recall a time before customers got used to eating cucumbers and lettuce on Vienna beef wieners — a trend Bryon's started, Brant said.
The couple has worked side by side at Byron's Hot Dogs, 1017 W. Irving Park Road, for so long they've become local celebrities. Regulars know them by name, and people stop them on the street, they said.
"Oh my God, people recognize us everywhere, across the whole city there's always someone who knows us," Brant said last week, he and Sandy laughing as he grilled chicken. "I always call them by their sandwich. I look at them for a second and then go, 'Hey, double cheese!'"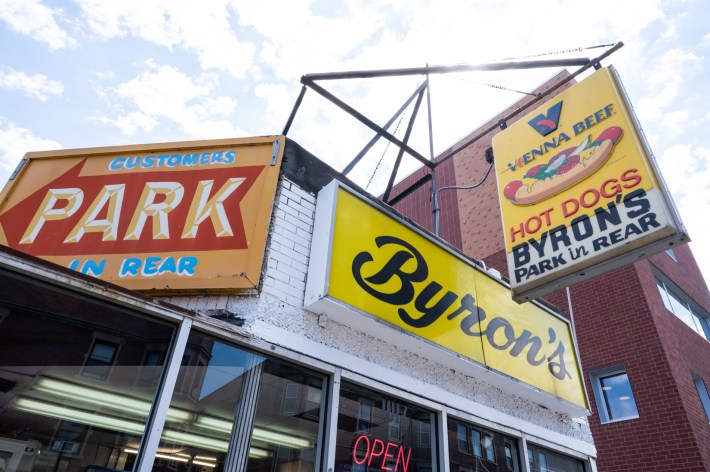 Decades Of Hot Dogs, Decades Of Love
Brant and Sandy Lidman got married Valentine's Day 1983, but their love story started when they were just kids who played together because they lived on the same street in Lakeview.
The Lidmans started dating while attending Lake View High School; they have lived in the area their whole lives.
The two built their family while slinging hot dogs at the beloved Chicago stand.
Brant Lidman, 63, started working at Byron's almost as soon as it opened in 1975 — then a teenager, he turned in his application when he saw people hoisting the iconic yellow Byron's sign onto the building, he said.
Byron's owner Mike Payne remembers hiring Brant when he was just 15 years old — and "the rest was history," he said.
"They're both complete team players. It's been a pleasure to work with them this long," Payne said. "I have complete confidence in them and always know everything is good at the store when I'm not there."
Brant convinced Sandy, 64, to join him about 20 years later in 1995. The chain was expanding to Wrigleyville at the time, and there was money to be made in hot dogs.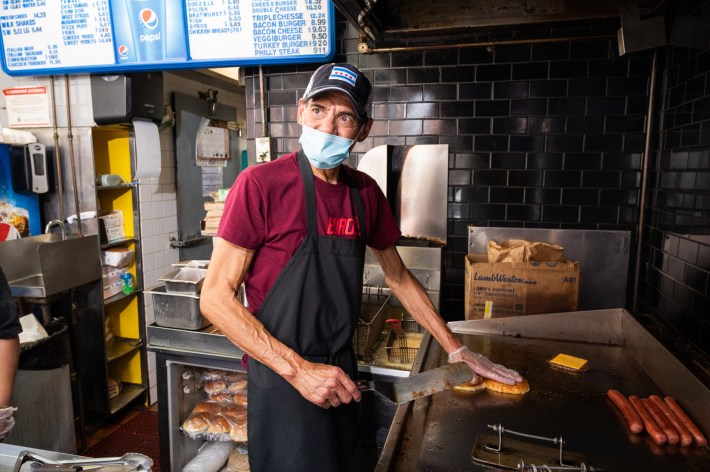 Sandy Lidman got the job. Now, after more than 25 years of spending the majority of their time together at Byron's and at home, they are so close they tell stories in tandem.
Though they remember things a little differently about how Sandy Lidman came to the restaurant.
"After seeing a month of baseball season, I mean, it was just ludicrous," Brant said. 
"The money, and the sheer number of customers," Sandy said. 
"When I realized what we could be making, I told her I'd teach her everything she needed to know and double her pay," Brant said. 
"Didn't double my vacation, though," Sandy joked. 
"I told her I needed her to be in charge of the front and manage all the girls," Brant said. "But she didn't like it at first. She was jealous I was working with all women." 
"Actually, it was too much work, and I was there night and day," Sandy corrected. 
Over time, Sandy Lidman found her rhythm and got used to the relentless stream of customers, she said.  
Brant said their success was because he "made the job fun" by sharing inside jokes with Sandy and chatting up people who come into the shop — and, he quietly added, it helped that the women they worked with moved into their building and are now some of their best friends. 
"That's what's important, making work fun," Brant Lidman said. "If you don't like your job, what're you doing there? You have to do something that makes you happy in life."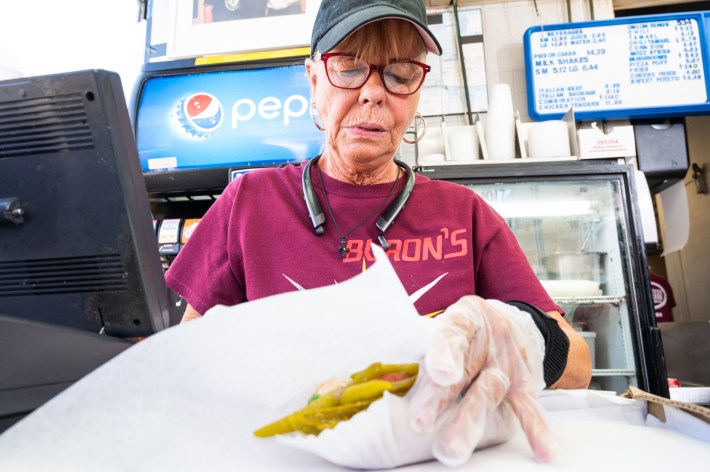 Keeping up with the constant rush of people at Byron's, usually as a duo, involves a lot of finishing each other's sentences and reading each other's minds.
"I know I can always count on her," Brant Lidman said. "Plus, she's so pretty, I get to look at her every second."
The two's love for each other deepened as the years — and their time at Byron's — went on, even through tough times. Their son, Steven, died shortly after graduating from high school in the late '90s after a seven-year battle with childhood brain cancer, Brant Lidman said. 
"They gave him a year when he was diagnosed at 11," Brant Lidman said. "He wasn't supposed to live, but he got seven more years. He was a fighter."
Even in their free time, the two find ways to be together: They enjoy grilling outside for themselves, and they go to concerts together, they said.
"She's country and I'm disco," Brant Lidman said. 
Brant Lidman also plays pool in a league, and the pair enjoy bowling on a team together. 
"We don't go to too many bars anymore. We used to before we got old," Brant Lidman said.
"Those are for the young peeps," Sandy Lidman said. 
'There Are Definitely Perks Being Here Together'
The Lidmans have continued to clock in for decades because they love making friends with the people who make up the long lines that stretch outside Byron's small stand, they said. 
Since most of the regulars are their neighbors, getting to know people — by asking about their day or checking in about how their family's doing — makes Brant Lidman feel closer to his community, he said.
Brant Lidman especially loves that customers can watch him put together their meals from the other side of the glass counter.
"I just love when people walk in and say, 'Hey, Sand, what's up?" Sandy Lidman said. 
Payne said he's positive the couple has worked at Byron's all this time because they "love the business, the interactions with customers and the camaraderie."
"They're like me," Payne said. "One of my favorite things to do after the lunch rush is to go and stand out by the dining room and take a look at all the people enjoying our food, talking and laughing. That always makes me feel good, and I know that's how [the Lidmans] feel, as well." 
Brant and Sandy Lidman have watched the classic, no-frills hot dog and burger shop become a Chicago staple.
And they did all that work together.
"When we're at work, it's all business," Brant Lidman said. "We're very professional and usually so busy filling orders that we just keep it moving, keep surviving, but there are definitely perks being here together."
When asked if they ever get annoyed with each other since they spend so much time together, Sandy Lidman laughed and said, "Oh, of course we do. We're married." 
Just like the regulars who don't get tired of ordering the same thing for lunch every day, Brant and Sandy Lidman said they still enjoy frequent meals at Byron's, though they do tend to rotate through the menu to keep things interesting.
But there's nothing that tops a hot dog with everything on it, they said.
"Hot dogs have been around for centuries, and how good are they?" Brant Lidman said. "They're fresh and hot, the buns are nice and soft, the grilling's perfect. That's what keeps people coming back. Everyone in Chicago's got their hot dog place they go to; you just have to know what you like."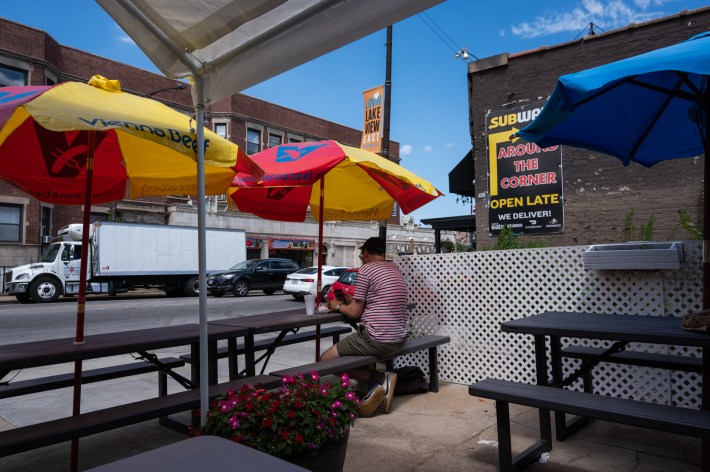 Listen to "It's All Good: A Block Club Chicago Podcast":