LOGAN SQUARE — A food truck plaza is set to open in Logan Square this weekend, the culmination of years of community planning.
Community leaders got approval to convert a city-owned site along the Blue Line tracks at 2420 N. Sacramento Ave. into a food truck plaza with regular programs.
A kickoff event — the plaza's first food truck social — is set for 4-9 p.m. Saturday with about 10 food trucks and food vendors, including Soul & Smoke and Cafe Tola, and a house music set from DJ Lugo Rosado.
The plaza will host Saturday events through the fall with a rotating lineup of food trucks and musical acts, said Nilda Esparza, the executive director of the Logan Square Chamber of Commerce.
"Vibrant community spaces are needed," Esparza said. "I know that with this pandemic, we have to learn how to be outdoors more. It's difficult in Chicago because of our weather conditions, but we have to provide these platforms. We see this time and time again, folks want this."
The food truck park will bring life to a site that has languished for decades.
The city bought the Sacramento Avenue lot in 1967 to support CTA operations several years before extending the Blue Line to Jefferson Park. But for the past decade, an auto repair shop was illegally using the site as a parking lot.
Andrew Schneider, Logan Square Preservation's president, came up with the idea to convert the roughly 7,000-square-foot site into a community gathering area several years ago. Schneider was inspired by a 2004 study that found Logan Square lacks parks compared to other city neighborhoods.
"How do we find a way to capitalize on the assets we have? This is a site that's vacant, that's city-owned. Is it perfect? No, but it was a space that the city already owned and could be programmed in some way," Schneider said.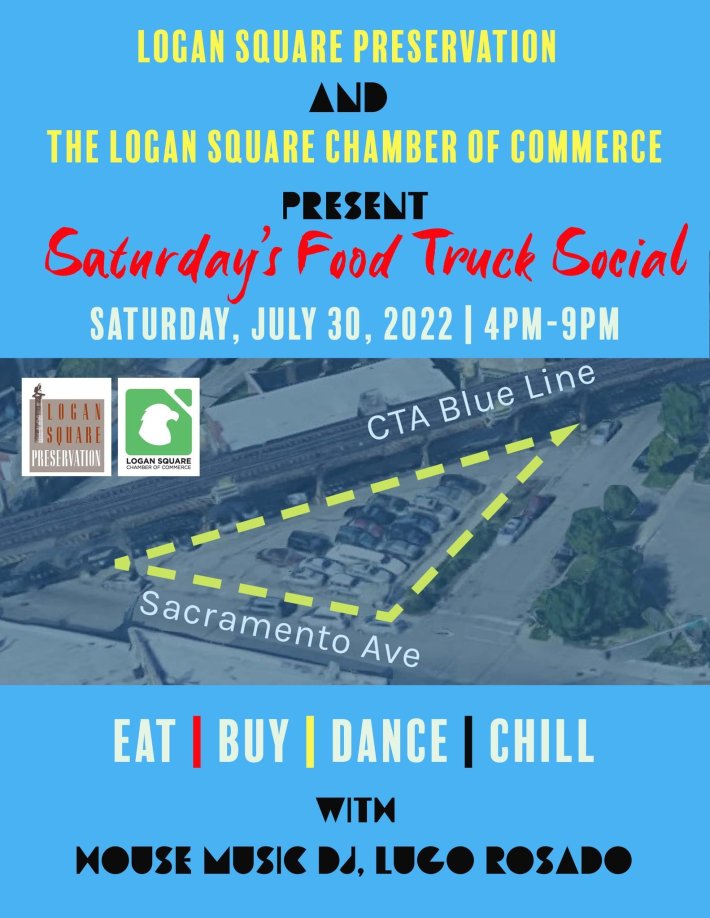 This spring, the City Council signed off on the plans after years of back-and-forth between city officials and local leaders, including Ald. Scott Waguespack's 32nd Ward office. More recently, city officials agreed to let Logan Square Preservation and the Logan Square Chamber of Commerce make improvements to the site and use it for regular programs, Schneider said.
Schneider said they're patching the asphalt and adding planters with the goal of bringing more plantings and seating to the plaza down the line, hopefully next year.
Schneider's group has secured $53,000 in state capital funds for the project, which will cover a large portion of the work.
In addition to food truck socials, organizers hope to use the plaza for a Christmas market and as a Christmas tree lot in the winter months "so it stays active," Esparza said.
"Having an active community organization with people that are looking out for the longterm benefits of the community, that's when you get outcomes like this," Schneider said.
Watch our "On The Block" TV show on The U, CW26 and MeTV.
Listen to "It's All Good: A Block Club Chicago Podcast":