WOODLAWN — Sam Greenlee's debut novel was so radically Black, mainstream publishers didn't want to touch it.
The Woodlawn native, a pioneering Black U.S. government agent, channeled his struggles with identity and oppression into his 1969 debut novel, "The Spook Who Sat by the Door."
The semi-autobiographical book followed a Black man in the CIA as he masters espionage before using those skills to support a Black revolutionary group. Numerous publishers in the U.S. and overseas rejected the novel before London-based Allison and Busby printed it in March 1969.
"The people in the community loved it — that's always been my father's audience," Greenlee's daughter Natiki Hope Pressley said. "Outside of the community, it was controversial, and it was uncomfortable for [some] people."
South Siders will celebrate the author and his incendiary novel with a "Sam Greenlee Day" in and around his home neighborhood Wednesday, which would have been his 92nd birthday. He died in 2014.
The festivities begin with a proclamation reading at 9 a.m. outside his longtime home, 6146 S. Kenwood Ave. in Woodlawn. Pressley will then host a meet and greet noon-1 p.m. at Da Book Joint, 330 E. 51st St. in Washington Park.
The day culminates with a conversation between Pressley and author Oneita Jackson 6-8 p.m. at the Stony Island Arts Bank, 6760 S. Stony Island Ave. in South Shore.
Pressley will also sign copies of the second pressing of "The Spook Who Sat by the Door," which was released June 28 and features an introduction she wrote.
"The legacy of my father really was about liberation, and his desire and passion for the freedom of Black people," Pressley said. "My father spent all of his life primarily putting his heart and soul into caring for Black people in America — all over the world, but especially in America."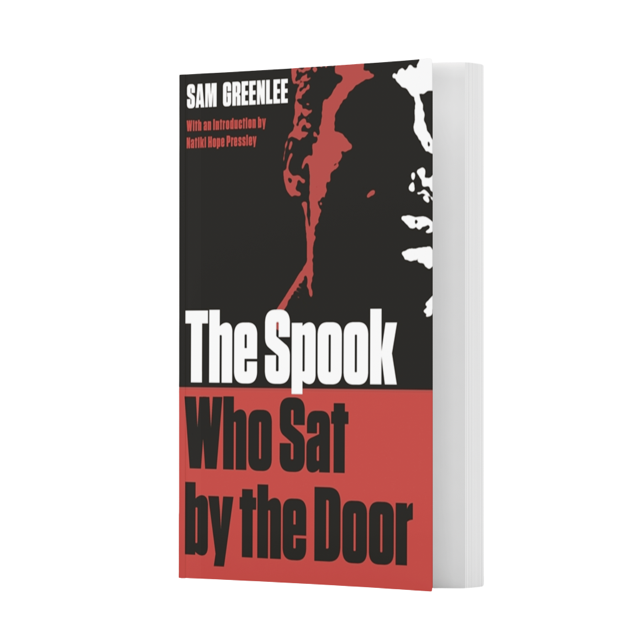 Greenlee was born July 13, 1930, and may have been the first Black person born at the segregated St. Luke's Hospital, according to The Guardian.
Greenlee graduated from Englewood High School and also was an educator, a guest speaker to local community organizations, a mentor to youth and a radio host, Pressley said. He also authored "Baghdad Blues" in 1976, a novel based on his experiences in Iraq during a 1958 coup d'état.
"Everything my father did was grassroots," Pressley said. "He regularly walked around Woodlawn with his books in his bag, giving them away or selling them, depending on the day."
"The Spook Who Sat by the Door's" exploration of Black militancy and "freedom fighting" made Greenlee a "threat" to local and national power structures, Pressley said.
Greenlee helped develop the novel into a 1973 film, which used "guerilla-style filmmaking" when the film crew struggled to get the licensing and permissions they needed, she said.
Though "The Spook Who Sat by the Door" is set in Chicago, co-producer Greenlee, director Ivan Dixon and cinematographer Michel Hugo filmed most of the movie in Gary, Indiana.
Then-Chicago Mayor Richard J. Daley refused to allow such a movie to be produced in his city, but Dixon filmed a few shots in Chicago anyway, according to KPBS. Jazz icon Herbie Hancock, a Hyde Park High School graduate, composed the film's score.
FX ordered a pilot for a TV series based on "The Spook Who Sat by the Door" in 2021, but did not move forward with it. That project is now being redeveloped, Pressley said.
"I battled with the idea of putting it on TV — my father probably would not agree," Pressley said. "But there's a generation of people who may never pick that book up. If we could make it something visual … in a format that they could receive it, then they could be open to it."
Wednesday's celebration of Greenlee and the ongoing work to create a new, on-screen adaptation of his debut novel reflect the power and relevance of his writing, more than five decades after it was published, Pressley said.
"There an opportunity for us to collectively organize, to deal with the challenges of racism in America," she said. "There's a strategy — my father's work offers that strategy."
Listen to "It's All Good: A Block Club Chicago Podcast":