LITTLE VILLAGE — A fresh market from New Life Centers dedicated to distributing free groceries in Little Village, Lawndale and the surrounding communities will soon be open to the public.
The Pan de Vida Fresh Market is opening at 2701 S. Lawndale Ave., just across the street from New Life Centers' existing building. In partnership with the Greater Chicago Food Depository, the center will provide fresh produce, pantry staples and more to neighbors Tuesday-Saturday beginning next week.
The market, an extension of New Life Centers' existing Pan de Vida food pantry, is arranged like a traditional grocery store with aisles and fridges so people can choose what they want.
The first floor of the building houses the groceries and walk-in fridges, and the second will serve as a community resource center where people can use computers, hold meetings and get information on New Life resources.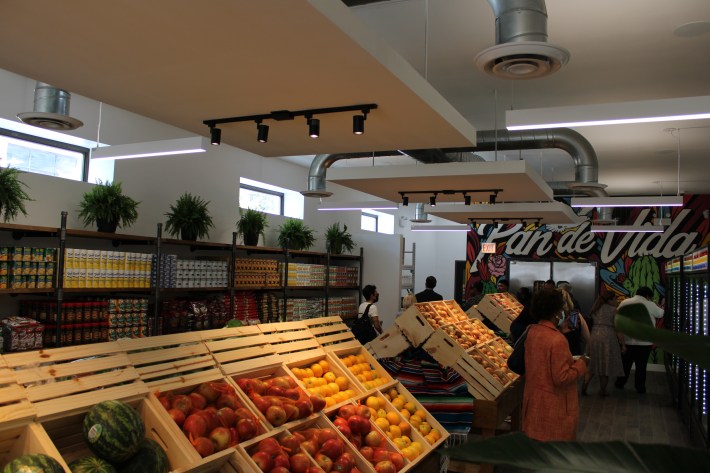 Building the Pan de Vida hub was a years-long process, Executive Director Matt DeMateo said during Thursday's grand opening. Since the pandemic, the group's food pantry have been able to reach 2.2 million people through walk-in services and home delivery, DeMateo said.
"Hope has a new address," DeMateo said. "Today is about celebrating the strength, resiliency and hope of community. Today is about remembering all that we've come through and looking toward a hopeful future. Today is about seeing what can happen when we stop working for our own name and glory, but come together for the good of our city."
DeMateo said young people in the neighborhood played an important role in supporting Pan de Vida, "for rising to the challenge and leading with love in this pandemic."
Diana Franco, the administrative coordinator at Pan de Vida, said she has seen throughout the pandemic the impact free groceries have had on families facing economic hardship.
"We are able to give hope with the boxes of food we offer," Franco said. "Sometimes we even get to reach beyond just the food. We get to speak to people who haven't come in contact with people, we get to give resources to moms who need help, we get to give someone an ear to listen."
Resident Margarita Marquez said she's been able to get groceries delivered to her home through Pan de Vida during the pandemic so she hasn't had to leave her kids at home alone while she shopping or bring them to the store and potentially expose them to COVID-19.
"I continue to benefit from the food pantry as prices have gone up, and I can use my money on other essential things like rent and bills and family things," Marquez said.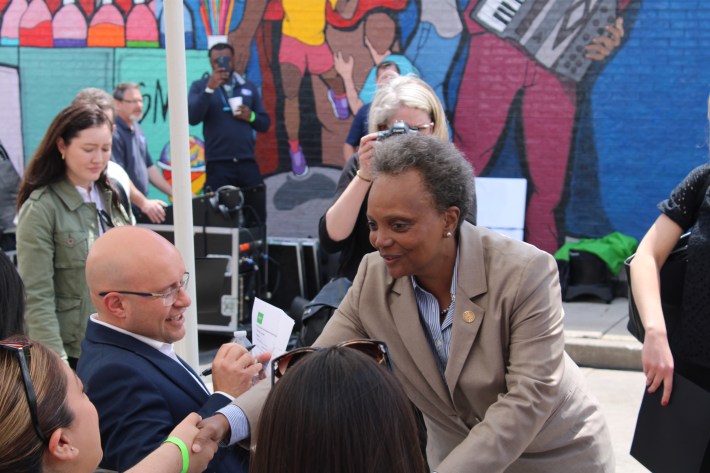 Mayor Lori Lightfoot praised the asset to the neighborhood, saying it is a "community-driven solution."
"Any challenge that we have in our city, whether it's public safety, whether it's food insecurity, we have to come into community with a humble heart and a listening ear and ask the questions that the community wants: What do you see from your perspective? And how can we help? Or how can we get out of the way?" Lightfoot said.
The building is adorned with a sprawling mural from local artist Sam Kirk, depicting unity in the community.
Listen to "It's All Good: A Block Club Chicago Podcast":